WATCH: Virat Kohli and Cheteshwar Pujara involved in ugly run-out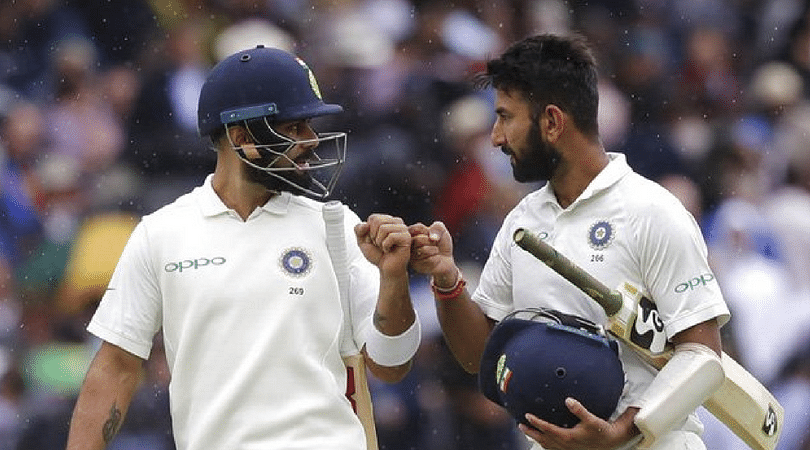 Test cricket returned to the home of cricket after Day 1 of the second test saw no action due to persistent rains. Early on, England won the toss and elected to bowl in a cloudy afternoon at Lord's. The hosts did not take long to strike as Anderson struck twice to reduce India to 10-2.
Cheteshwar Pujara, who was excluded in the first test managed to breakthrough the side in place of Shikhar Dhawan made his way to the crease in the first over itself after Anderson cleaned up Vijay with a beauty.
Pujara was soon joined by skipper Virat Kohli at the other end after Rahul departed as well, the English bowling line-up were right on top making use of the excellent conditions.
The No.3 batsman was not having the time of his life out in the middle after scoring 1 off 24 deliveries after being involved in a shocking mix-up with Virat Kohli to reduce India to 15-3 with rain interrupting play yet again.
Pujara, desperate to get off the strike and rotate, nudged a ball to the off-side before setting off for a run, only to be sent back by the skipper by which debutant Pope flicked the bails to hand England their third wicket.
This continues Pujara's run-out conundrum as this is the batsman's 8th run-out in his last eleven tests.
Check out the video:
— Hit wicket (@sukhiaatma69) August 10, 2018
India find themselves in a massive spot of bother here with 3 wickets down for just 15 runs, Ajinkya Rahane is scheduled to come in next. How much do you think India can get in the 1st innings?
---