WATCH : The 02 arena chuckles as Federer is distracted by Sock's backside!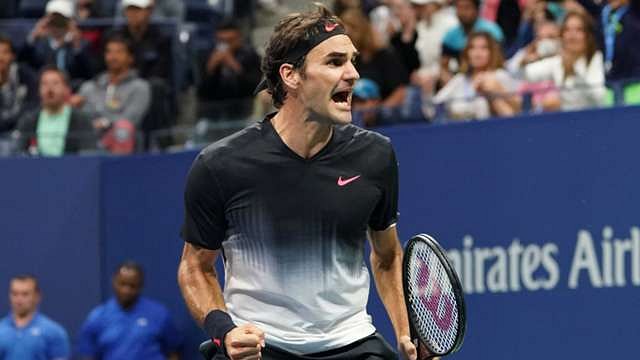 The Swiss maestro Roger Federer maestro clinched his straight-set victory over Jack Sock at the ATP Finals in London. The six-time ATP Finals Swiss champion won 6-4 7-6 (7-4) at the O2 Arena on his 15th appearance at the season-ending tournament. It was the first time for an American to play at the ATP Finals since Mardy Fish in 2011.
The 25-year-old Sock from Nebraska, who qualified after pulling off the Paris masters title last week. After four meetings, Sock presided to take the Swiss to a tie-break, but the American double-faulted at 4-5 which gave Federer a match point and he swept past Sock.
There was a funny incident for the 19-time Grand Slam champion as he missed an easy shot against the American in a moment of slapstick comedy at the O2 Arena. The audience out there burst out laughing when Federer ambled towards the net to strike hard on Sock's side for an easy winner.
But Federer's mind got sidetracked as Sock turned around and showed his back side towards the net. This is an amusing tactic which is also carried out by Sock's companion Nick Kyrgios when he finds himself helpless on the court.
Federer had the entire court to himself but the maestro landed up hitting the tennis ball on the tape of the net. In the press conference, Federer was asked his unusual move on the court, Federer replied, "It was a big distraction, I'll tell you that because it [the bottom in question] was very big. That's what I should have aimed for. That target was bigger than the down-the-line court that I had."
---