Four Reasons why Indians love Viru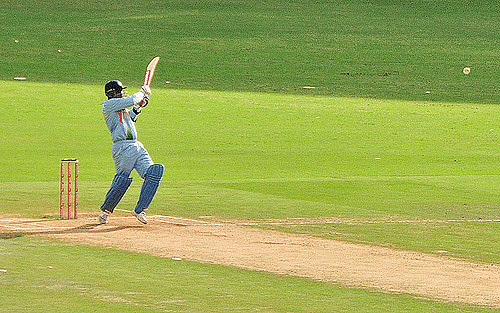 Virender Sehwag's turned 38 today. He has always been a fan favourite and has earned multiple pet names such as Viru, Nawab of Najafgarh and Sultan of Multan. As a tribute to him, we write 4 reasons why the nation loves Viru. The number of reasons have been consciously chosen as 4, owing to the large number of boundaries he has accumulated in his career.
Sehwag's explosive opening
Initially, Viru started his career as a middle order player. But owing to his explosive batting skills, he was promoted as an opener.
In limited overs cricket as well, Viru was an able partner for Sachin. The pair kept both the ends of the pitch interesting. While there was pure class at Sachin's end, the other end was purely demolishing. Viru has carried India single-handedly in many matches and is a true match winner.
Be it seaming conditions, or bouncy conditions one can always expect a Sehwag special.

 Approach to test matches
India has always played for a win after the entry of Sehwag is in the team. The entire dynamics of the team changed. A run rate of 3 was considered good enough until Sehwag entered. With him on the crease, the run rate dipped below 4 on rare occasions. India played attacking brand of cricket and always went for the win. He played a crucial part in India's tours to Australia, New Zealand, South Africa and many other nations throughout his career. He is the only Indian to have scored 2 triple centuries in test matches.
Sledging the opponents
Sledging is a generally a term not associated with Indians. Indians were believed to be humble and to mind their own business. However, this man changed it all and rightly so. As his confidence in the international scenario grew, his presence in the field became very evident. Here are a couple of instances where his sledging was experienced:
When Shoaib Akthar was taunting Sehwag to hit a hook shot of his bouncers, he asked Shoaib to bowl the same to Sachin Tendulkar, who was then at the non-striker's end. When Sachin hooked Shoaib for a six the next over, Sehwag quipped with ""Beta Beta hota hai, baap baap hota hai" (The daddy is always the man, the son will always be the son).
Once Michael Clarke was sledging at Tendulkar continuously for his age by saying he needs to retire. An irate Sehwag went to Clarke and asked "Your friends call you 'pup', right?" Clarke replied, "Yeah, mate." Sehwag shut him up by asking, "Which breed?"
Sense of humour
Sehwag has always been a source of entertainment, on and off the field. His amazing sense of humour has been on display multiple times. Here are a few examples
Sehwag was compared with Sachin throughout his career and once when the interviewer asked him what's the difference between him and the master himself, he retorted by saying "bank balance".
His recent twitter battle with Piers Morgan is something that keeps him connected with the fans even after this retirement.
Wish you a happy birthday Viru and have a long life !
---