Amitabh Bachchan praises Sachin's biopic, Tendulkar thanks him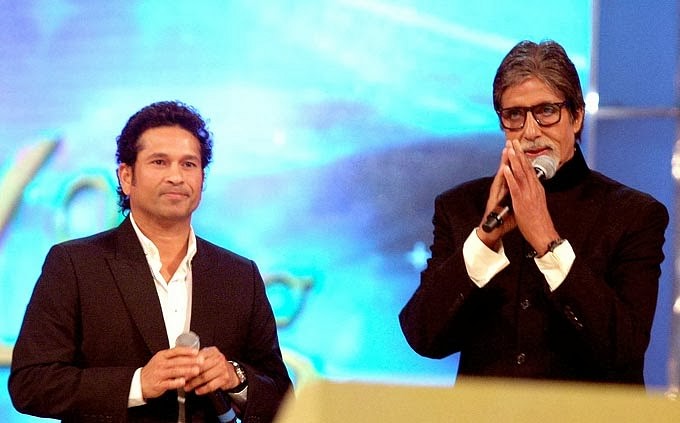 The much awaited biopic of Sachin Tendulkar has finally hit the theaters, and the audience can't seem to have enough of it. Sachin had held a premiere for the movie, which was attended by several A-list celebrities. The entire Indian cricket team along with several Bollywood actors were on the guest list. While everyone lavishly praised the film, Amitabh Bachchan has some special words for Sachin and the film itself.
The legendary Bollywood actor had attended the star studded premiere with his entire family. He was seen having a long conversation with Sachin after the screening, and then took to Twitter to applaud Sachin and the film.
This is what he said on Twitter,
"T 2435 – 'SACHIN a Billion dreams' movie last night ..filled with pride and emotion .. मैं उस देश का वासी हूँ जिस देश में Sachin बहता है !!!
T 2435 – 'SACHIN a Billion dreams' movie last night ..filled with pride and emotion .. मैं उस देश का वासी हूँ जिस देश में Sachin बहता है !!! pic.twitter.com/7n4BW2a5JW

— Amitabh Bachchan (@SrBachchan) May 25, 2017
And the iconic batsman was quick to respond to Mr Bachchan's tweet. Sachin replied with a tweet of his own, in which he thanked Mr Bachchan for firstly attending the premiere, and then for his kind words and good wishes for the film.
Speechless and deeply honoured with your presence for the premiere of my movie. Thank you for your blessings and good wishes. https://t.co/yHlfk5AtCh

— Sachin Tendulkar (@sachin_rt) May 25, 2017
This is not the first time that Sachin and Mr Bachchan have exchanged tweets on social media. They publicly spoke of their admiration for each other, which stems from the respect that they both have for each other's work.
Sachin's biopic has opened to full houses across the country, as people have thronged in their numbers to watch the story of India's greatest batsman unfold on celluloid. It already looks like a film that will earn bucket loads of money, as the movie gives the fans an inside scoop on the life of the cricketing legend.
---