Barcelona star Lionel Messi 'abused' referee, Ramos blames of 'influencing' the official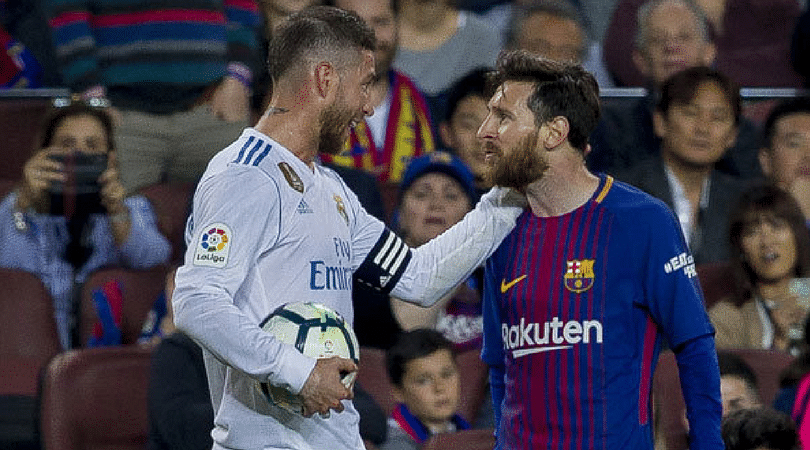 Sunday's El Clasico was a heated encounter, but Sergio Ramos thinks Barcelona striker Lionel Messi tried to influence the referee.
After an exciting El Clasico evening at the Camp Nou, war of words have begun as Real Madrid captain Sergio Ramos accused Barca star Lionel Messi of 'influencing the referee'.
Real Madrid left Barcelona with a point, as they came from behind twice to secure a 2-2 draw in a thrilling encounter.
Real Madrid captain raised many eyebrows as he spoke to Spanish football-based newspaper Marca after the match. In the interview, Ramos said that Messi put a 'little pressure on the referee in the tunnel'. He thinks that this may have led to the official not doing well in the rest of the game. Ramos and Messi had a minor bust-up after the former fouled the Barca striker in the first half.
The Catalan club was reduced to 10 men shortly before the half-time break, and Messi was still raging after the whistle as players left for the dressing room.
Also read: Phillipe Coutinho wants Emre Can at Barcelona next season
According to British website Metro.co.uk, Spanish radio station 'Onda Cero' said that Messi had allegedly abused and blamed the referee of favoring Real Madrid. "Enough with gifting them things, you sht in your pants, you sht in your pants", Messi said to the referee.
In the second half, the referee failed to spot a foul on Marcelo by Jordi Alba which could have led to a penalty for the Madrid club. Real Madrid midfielder Casemiro, however, said after the game, "We cannot talk about him (referee), he wants to do his best."
The El Clasico, which ended with a 2-2 draw, has now given Barcelona a great boost to their invincible run. Even after the red card to Sergi Roberto, Messi gave Barca the lead early in the second half, before Gareth Bale secured a point for Real Madrid.
Barcelona, who have already won the league title, now need to secure a win or a draw in their remaining two games to become the first Spanish team to complete the invincible run since the 1930s.
---