Bookies reveal the winner of the India-Pakistan Champions Trophy Final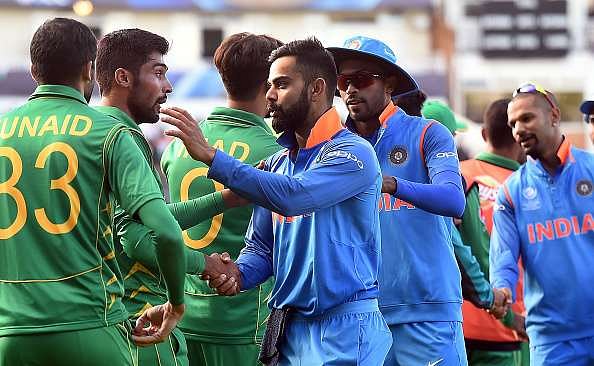 The Champions Trophy 2017 couldn't have asked for a better culmination, with two cricket frenzy nations, with so much history, political and sporting, taking on each other in a mouth watering clash at the Oval. India have been clinical in the event and suffered just that small little blip against Sri Lanka in the second group game. Pakistan on the other hand have played like Pakistan. They have been unpredictable, exciting and full of fire in this tournament.
After receiving a drubbing from India in their first game, Pakistan have gone onto put forth awe inspiring performances against sides that were believed to be way better than them on paper. They would be hoping that they can do it one more time tomorrow.
India are the favourites going into the contest but would be wary of the Pakistan threat as you don't really know which version of their team would turn up on a given day. Virat Kohli has tried to spread calm during his press conferences, saying that India would look to do the simple things properly in the big final, and would be treating it just like any other game.
While the fans are eagerly waiting for the big game, the betting world too is excited, as big money is reported to be splurged tomorrow. Bookies have revealed that close Rs 2000 crore would be at stake tomorrow, according to reports in the Times of India.
The All India Gaming Federation has quoted the 2000 figure in a report and has also said that India are the favourties to win the tie. Odds for an India win are 1.47/1 and for a Pakistan win are 3/1.
"It has been estimated by many studies that roughly a total of Rs 2 lakh crore is wagered on all matches that India play throughout the year." said Roland Landers, CEO of AIGF
India and Pakistan have come together in an ICC final after a decade and the fans, players and bookies would be hoping that it proves to be a blockbuster event.
---
Share this article