Champions Trophy 2017: Twitter erupts as India lose to Sri Lanka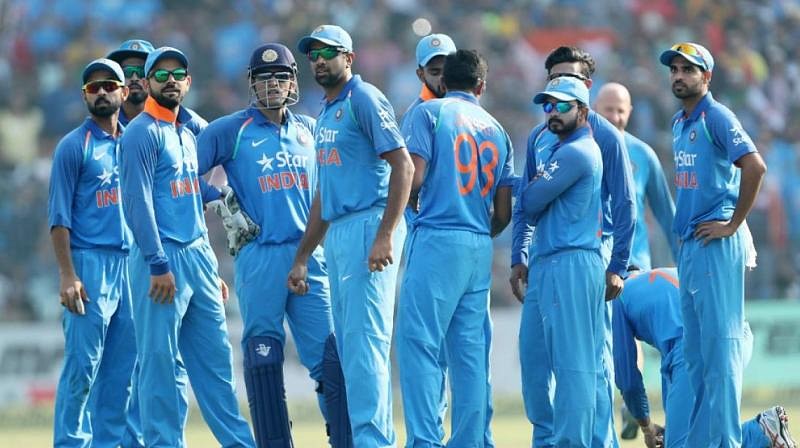 The Indians have been stunned. They have been outplayed through and through by a spirited, young Sri Lankan outfit, that played some fearless yet sensible cricket. The way the young Sri Lankan batting line up paced that chase was phenomenal to see, taking Jadeja and Pandya for a ride and keeping it simple against the brilliance of Bumrah and Bhuvi. It was a chase that was masterminded by their top 3, and finished off by a beautiful innings by Angelo Mathews.
During the half way mark, when India had 321 on the board, it felt like it was India's game to lose. But it just didn't pan out in the way everyone had expected it to. The Indian bowlers bowled decently well, it was just that the Sri Lankan batsmen were far better than anyone had expected them to be.
Kusal Mendis and Gunathilaka scripted one of the most famous partnerships in Champions Trophy history to just throw Virat Kohli off guard. He was forced to use himself and Jadhav during the middle overs, as the ever so dependable Jadeja was taken to the cleaners by Mendis.
Even when Mendis and Gunathilaka got out, Mathews and Gunaratne were there to finish things off. It was a complete team effort from Sri Lanka, and you sort of need that when you have to beat the mighty Indians. They were better on the day and now they find themselves in a virtual quarter final against the unpredictable Pakistanis.
India now take on South Africa in a super quarter final on Sunday, where a loss would end their Champions Trophy campaign!
Virat Kohli would be pondering over a few changes and hopefully he finds a way to draft Ashwin into the side, as the current Indian bowling line up lacks variety. Shami too needs to drafted in for Yadav as he can bowl short and bowl full during the death.
This is how Twitter reacted to this HUGE upset:
RT If You Feel #Ashwin Should Be Included Into Playing XI. We Missed Him Badly Today. #INDvSL #IndVsSL #CT17 pic.twitter.com/cohOzO4V5d

— Sir Jadeja (@SirJadeja) June 8, 2017
#INDvSL
Experts , Commentators , Fans all thought ki yeh match toh India hi jeetega.

Then Srilanka :- pic.twitter.com/b5WzrjHu0o

— Sudhir SRKian (@sud_tyagi) June 8, 2017
https://twitter.com/iam_zaid/status/872867123848249345
https://twitter.com/Im_Dravid/status/872867509979840512
#INDvSL after watching Match
Every Pakistani be like pic.twitter.com/t8sQTMfQrv

— Aleem (@aleemdesaith) June 8, 2017
Modi visited Sri Lanka recently. He is the reason behind this loss.

MUDI MUST RESIGN.#INDvSL

— Krishna (@Atheist_Krishna) June 8, 2017
More tweets on the next page:
4 run outs for Sri Lanka in this #CT17.

5 run outs for all other teams combined. #INDvSL

— Bharath Seervi (@SeerviBharath) June 8, 2017
Sri Lanka beat India which means in group B the next two games will be "Do or Die"#INDvSL pic.twitter.com/SJnnlI9sLd

— RVCJ Media (@RVCJ_FB) June 8, 2017
Meanwhile in Srilankan Passport:
First Name:
Second Name:
Third Name:
Fourth Name:
Fifth Name:
last Name:#INDvSL #INDvsSL

— . (@famousaunty) June 8, 2017
Intellectual: This loss for India at the hands of Sri Lanka was necessary to maintain stability & peace in the Indian subcontinent.#INDvSL

— Keh Ke Peheno (@coolfunnytshirt) June 8, 2017
https://twitter.com/hankypanty/status/872861249024909312
Mood. #INDvSL pic.twitter.com/r9TOq2OhFr

— Trendulkar (@Trendulkar) June 8, 2017
More tweets on the next page:
4 run outs for Sri Lanka in this #CT17.

5 run outs for all other teams combined. #INDvSL

— Bharath Seervi (@SeerviBharath) June 8, 2017
Sri Lankan introducing himself be like… #INDvSL pic.twitter.com/lGrhZsFXBT

— The (@Chandorkar) June 8, 2017
4 run outs for Sri Lanka in this #CT17.

5 run outs for all other teams combined. #INDvSL

— Bharath Seervi (@SeerviBharath) June 8, 2017
"321 is a winning score"

Umesh and Hardik : #IndvSL pic.twitter.com/bfxUoMw61S

— Pakchikpak Raja Babu (@HaramiParindey) June 8, 2017
We felt we had enough on the board at the halfway stage: Kohli#INDvSL #CT17

— Cricbuzz (@cricbuzz) June 8, 2017
Sri Lanka Beats India By 7 Wickets. Let's Appreciate SL For Their Hard Work. The Better Team Won. That's What Sports Is All About.#INDvSL

— Sir Jadeja (@SirJadeja) June 8, 2017
---