Champions Trophy Fantasy Tips: Fantasy Guide for Bangladesh vs New Zealand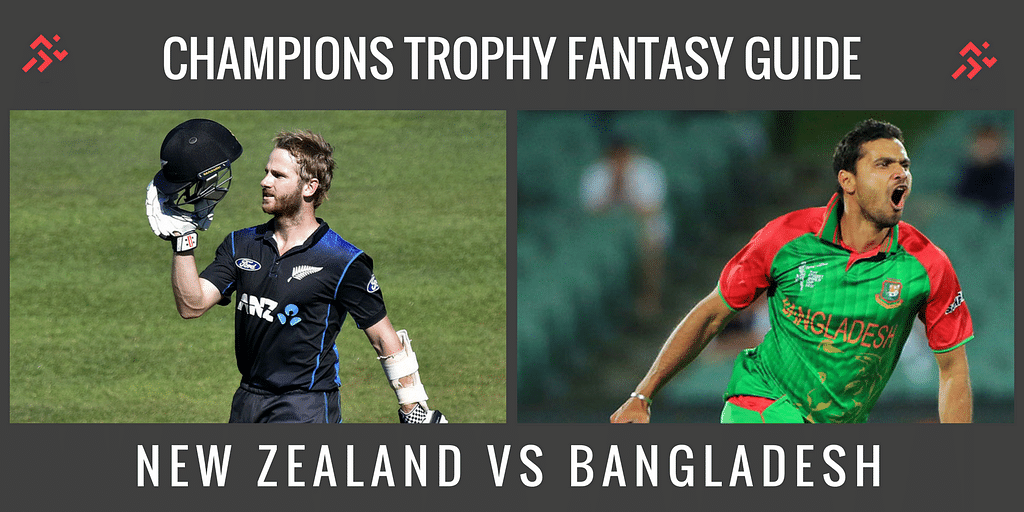 Every time you start expecting things to happen in a certain way in sport, sport gets back to you, reminding you of that feature called unpredictability that has made it so popular all around the globe. While everyone expected Sri Lanka to be blown apart by the superior Indian team, the young lads from Sri Lanka scripted one of the most famous victories for the small island nation.
India and South Africa, two favorites for the tournament now face each other in a virtual quarter final on Sunday. Not many would have expected this at the start of the tournament. But sport isn't played on paper. When team fail to execute plans, fail to deliver on the big day, results don't match predictions.
Also Read: Do's and Don'ts for the Champions Trophy Fantasy League
Sri Lanka would be buoyed by this result and would be looking to dish out something similar against Pakistan on Monday. Their young batting line up would be put to test against the fierce Pakistan pace attack, but taking cues from today, it just feels that they will be up for the challenge, come what may.
India on the other hand will need to go back to the drawing board, coming up with a new combination for the must win game, as the 5 bowler strategy isn't quite working for them. Shami and Ashwin need to be drafted into the team, and it seems like Yadav and Jadhav might be making way for them.
New Zealand take on their bogie team Bangladesh tomorrow in a must win game for both sides. A semi final spot is at stake, provided England beat Australia on Saturday.
New Zealand lost 6 matches to Bangladesh during their two tours to the subcontinent and could muster only win when Bangladesh toured 'Down Under'.
Bangladesh would be looking at their Asian counterparts for some inspiration. Pakistan and Sri Lanka have both accounted for massive scalps in this tournament, and Bangladesh would be looking to do something similar tomorrow to have a chance of making it to the semi finals.
Let's get to business now!
Fandromeda Fantasy League Tips on the next page:
Fandromeda Fantasy League
Transfer out: Kushal Mendis, Ravindra Jadeja, Yuvraj Singh
Transfer in: Kane Williamson, Mushfiqur Rahim, Corey Anderson
Now, I don't have any player in my team for this game.
With 4 matches remaining and 10 transfers in the bag(6+4 free), I would look to invest in games that have the potential to get me a windfall of points. In the last 4 games, 2 are high profile ones and two are between teams that don't really have big superstars in them. So, try and go in with more of superstars for these crunch games.
Kane Williamson walks into my side. He has been New Zealand's lone warrior in the CT and will be looking to replicate the same today as well. Get him in!
Mushfiqur Rahim has looked in good touch this Champion Trophy and in all the games leading up to it as well. He scored four 40+ scores in the six games leading up to the Champions Trophy and was amongst the runs in the first game against England as well. Tamim Iqbal too seems like a good bet, as he has been in great form this tournament, but I would leave him out, one because of the law of averages and because he'll be up against the potent opening bowling partnership of Boult and Southee.
If you want to go for a third transfer for this game, I would suggest you go in with one from Tamim Iqbal and Martin Guptill, depending on whoever bats first(as the Cardiff wicket played slower in the second innings). On the basis of the opposition, Martin Guptill seems the better choice, as he'll be up against a slightly less potent Bangladesh attack, but I would still give Tamim a fair chance and would thus go in with whoever bats first.
If you want to go in with a bowling powerplayer, I would suggest that you get in Corey Anderson for this game, who would bowl at least 8 overs and would then go onto bat a bit as well. You would have to leave out both Tamim and Guptill in that case.
Batting Powerplayer: Kane Williamson
Bowling Powerplayer: Corey Anderson
Champions Trophy Fantasy League Tips on the next page:
Champions Trophy Fantasy League
Transfer out: Ravindra Jadeja
Transfer in: Tamim Iqbal/Martin Guptill
Now, I already have Kane Williamson and Mushfiqur Rahim in my side for this game.
I will be getting in just one player for this game and that will be one from Tamim Iqbal and Martin Guptill depending on whoever bats first, as the Cardiff pitch slows down in the second innings.
Corey Anderson could also be considered as an option, as he picks up 2 wickets regularly and could be amongst the runs down the order too, but get him in only if New Zealand bat first because he either will have too much to do in the second innings or too little.
I won't be making any other transfers for this game.
Captain: Kane Williamson
Happy Team Picking 🙂
---