Champions Trophy Fantasy Tips: Fantasy Guide for England vs Australia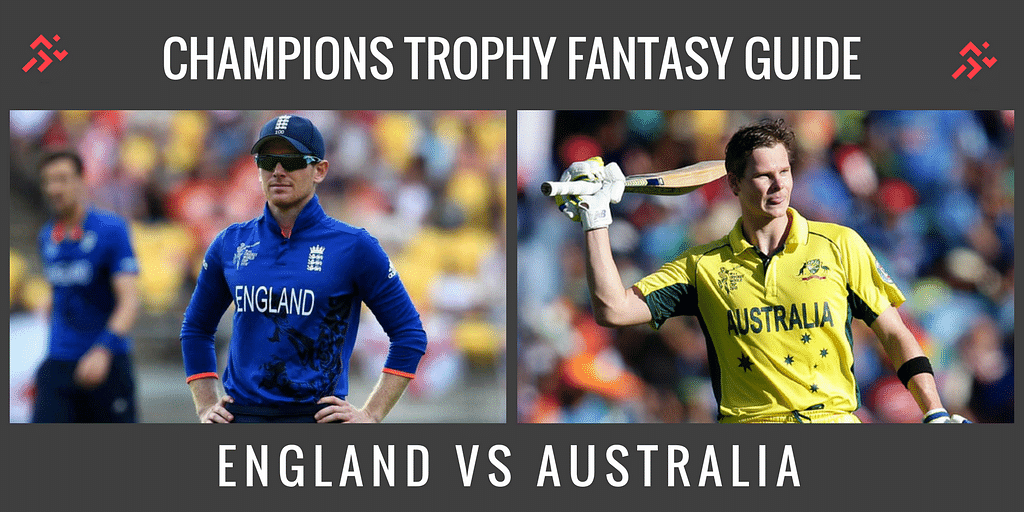 Heroes stand up when you most expect them to. Times when mere mortals fail to fathom the gravity of the situation, these heroes push everyone aside, take centre stage and shine for everyone to see. Shakib Al Hasan donned the cape for Bangladesh one more time last night. At a time when Bangladesh needed its most successful cricketer to deliver, Shakib stepped up and how. Coming in at 12-3, chasing 265, everyone had expected Bangladesh to hand in the towel, but Shakib wanted to go in for that last dash, that last dash which might take his country into the semi finals of an ICC event.
Also Read: Do's and Don'ts for the Champions Trophy Fantasy League
Mahumudullah played an equally superb knock as well, pacing the innings to perfection and playing the perfect hand along with Shakib. The duo scripted one of Bangladesh's most famous wins, a victory that would definitely find itself in the cricketing folklore of the country.
While we haven't really recovered from what transpired last night, the Champions Trophy is ready to dish out another colossal encounter when the most celebrated rivalry in cricket would make an appearance in a virtual knockout game at the Edgbaston.
While England have already qualified for the semi finals only a win would take Australia through, so it is still all to play for, like we need to say that during an England-Australia encounter. England would be itching to stamp their authority over the Aussies before the Ashes and would be looking to go into the semi finals with a perfect record.
Australia need their top order to fire big time because it would be very tough to out bat England otherwise.
Let's get to business now!
Fandromeda Fantasy Tips on the next page:
Fandromeda Fantasy League
Transfer out: Kane Williamson, Corey Anderson, Mitchell Santner
Transfer in: Joe Root, Steve Smith, Ben Stokes/Mitchell Starc
Now, I already have Moeen Ali in my side for this game.
Steve Smith and Joe Root would walk into my eleven. Root has carried England's batting all through this tournament, providing them with the perfect sheet anchor role all through. He has been pacing the innings to perfection and helping the others play around him. Get him in!
Steve Smith is Australia's best batsman at the moment. David Warner hasn't been able to find his touch this Champions Trophy, failing to get off to quick starts both for himself and his team. So, there is a lot of onus on Smith to take Australia forward and knowing how he approaches these big games, he should be able to pull through. Get in the big players in the big games, do not experiment too much at this stage.
I would be going in with one more transfer for this game and that would be one from Mitchell Starc and Ben Stokes. I would get in Starc if Australia bowl first and Stokes if England bowl first. Stokes gives me more balance as he'll be providing me with a dual scoring opportunity so I am a little more tilted towards him but I would still go in with the toss trick, as Starc could run through an opposition on his day.
Batting Star: Joe Root/Steve Smith(whoever bats second)
Bowling Star: Mitchell Starc/Ben Stokes(whoever bowls first)
Champions Trophy Fantasy League Tips on the next page:
Champions Trophy Fantasy League
Transfer out: Kane Williamson, Mitchell Santer, Martin Guptill
Transfer in: Joe Root, Jake Ball, Steve Smith
Now, I already have Moeen Ali and Pat Cummins in my side for this game.
Again, Steve Smith and Joe Root would be the first two players that I would get into my side. In big games you need to put your money on these big stalwarts, you just do. Get both of them in!
With the cost constraint coming in a bit too much in the CT official league, I would have to opt out of both Mitchell Starc and Ben Stokes(especially if I want to get in Smith and Root, which are necessities by the way).
Thus, in order to incorporate these two stalwarts I would have to go in with Jake Ball, who comes in for just 2.5.
These are the only transfers that I'll be going through with it.
Powerplayer: Joe Root
---