Champions Trophy Fantasy Tips: Fantasy Guide for India vs Bangladesh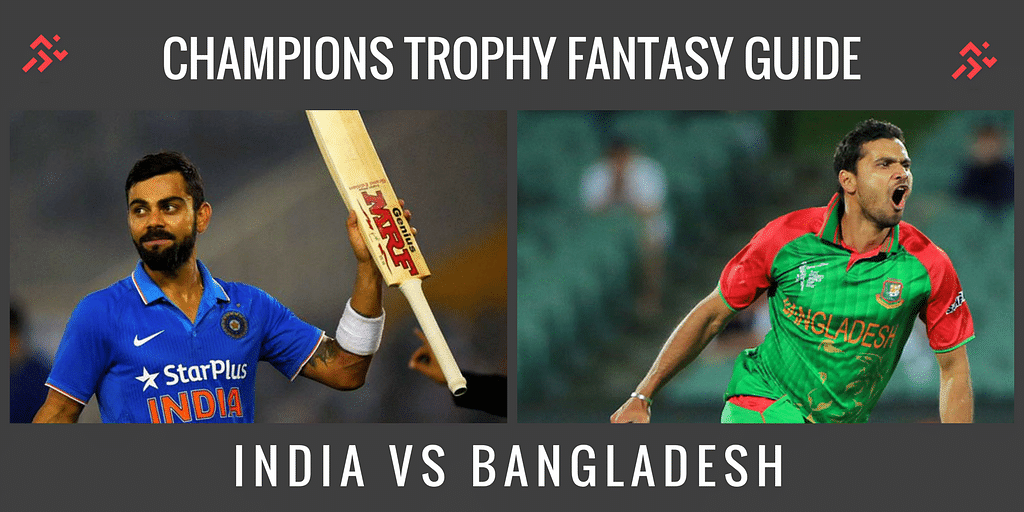 Home team, home conditions and home expectations is a very deadly combination. While it could make a hero out of you, if not dealt with in the right away, it could cause serious havoc. England had all the right to see themselves in the Champions Trophy final. They had been playing some brilliant One Day cricket and were in sync with their home conditions as well. But one thing that they could not embrace well was the 'fire of expectations' that the 'home crowd dragon' was breathing. On a pitch that wasn't a minefield, the English batsmen limped to a meagre 211, with none of them putting their hand up in adversity.
And isn't it the umpteenth time that England have failed to make their mark in a world event? The fear of loss, the burden of expectations, the uneasiness of handling pressure is known to get the better of them on the big day, and that is exactly what transpired in Cardiff last night. You can cut them some slack and say that everyone is entitled to a bad day, but when these excuses start surfacing, you know you are talking about a good team and a not a great one. Probably this English squad isn't ready yet, but when are they going to be?
Also Read: Do's and Don'ts for the Champions Trophy Fantasy League
Pakistan would be ecstatic with their performance, having received a drubbing at the hands of India at the start of the tournament, and then somehow clawing their way back in the event and ultimately knocking the home team out of the tournament. If Pakistan play like Pakistan in the final, we could be in for a topsy-turvy one for sure.
Going by the way the first semi final went, India would be extra cautious about Bangladesh's threat, but maybe that is something they shouldn't do. Once you start concentrating a little too much on your opposition, you lose track of what you yourself are doing. India need to keep it simple today, in order to keep their love affair with Bangladesh the way it is.
Bangladesh have revenge on their mind. They would have fond memories of the 2007 World Cup group game but other than that Bangladesh have had to play second fiddle every time they have taken on India, especially in a world tournament.
They would take heart from the fact that they almost tipped India during the World T20, and it was only a collective brain fade that led to them surrendering the game.
Let's get to business now!
Fandromeda Fantasy Tips on the next page:

Fandromeda Fantasy League
Transfer out: Adil Rashid, Liam Plunkett, Joe Root, Ben Stokes
Transfer in: Virat Kohli, Tamim Iqbal, Shakib Al Hasan, Rohit Sharma/Yuvraj Singh
Now, I already have Shikhar Dhawan, Bhuvi, Ashwin and Mushfiqur Rahim in my side for this game.
Shikhar Dhawan's inclusion was absolutely necessary because of the form he is in this tournament. There is a marked difference in the way he has been indulging in his stroke play, keeping the bat closer to the body and avoiding all kinds of rash shots. When his blazing fire, you can't leave him out, can you?
Bhuvi's early overs swing and quality death bowling makes him a complete bowler, enough to warrant him a place in my side.
Ashwin's guile is sure to trouble the left handers in the Bangladesh side. His experience would come in handy during the middle overs and would help India stem the flow of runs. And when people try and attack Ashwin, that is when he is at his best.
Mushfiqur Rahim is the only wicketkeeper who bats in the top 4 and hence he seemed like the best choice for me, and seeing how the two wicketkeeper fared yesterday, I think it was the right call.
Virat Kohli would be the first player that I would get into my side. You can't leave out the big players for the big games, you just can't. Get him in!
Tamim Iqbal's record against India in world tournaments in immaculate. And going by his form during this event, he could very well come to the party today as well. A few Indians are still recovering from the ghosts of 2007, and would be reminded of those if Tamim starts striking the ball upfront.
Shakib Al Hasan's brilliant 100 against New Zealand is a testament of his superior pressure absorbing skills. He is Bangladesh's best player, and when you have him in the line up, you need to respect that and get him into your side.
Now, for the last pick for this game, I am a little torn between Rohit Sharma and Yuvraj Singh. While logic suggests that I get in Yuvraj, instead of pegging all my money in the top 3, as one of them is bound to fail, but then Rohit has always had a good time against the Bangladeshi pace attack, For this I'll be using the toss trick, and getting in Rohit Sharma if India bat second and Yuvraj Singh, if India bat first.
I won't be getting in any other player for this game.
Batting Star: Virat Kohli
Bowling Star: Bhuvi
Champions Trophy Fantasy Tips on the next page:

Champions Trophy Fantasy League
Now, I already have Bhuvaneshwar Kumar, R Ashwin, Shikhar Dhawan and Mushfiqur Rahim in my side for this game.
You have a maximum of 4 transfers for this game.
Virat Kohli would be my first pick for this game. I don't think this selection needs any justification. Close your eyes and get him in!
Tamim and Shakib would be my two picks from the Bangladeshi side(apart from the already included Rahim). Tamim has been the bogie player for India in world events and if he starts striking today, the Indians would panic big time. Shakib is Bangladesh's best player, something that was brought to the fore in the amazing run chase against New Zealand. His all round skills are enough to warrant him a place in my side.
Now, for the final transfer, I am torn between Rohit Sharma and Yuvraj Singh. I'll be going in with Rohit, if India bats second and Yuvi, if India bats first.
Captain: Virat Kohli
---