Champions Trophy Fantasy Tips: Fantasy Guide for India vs Sri Lanka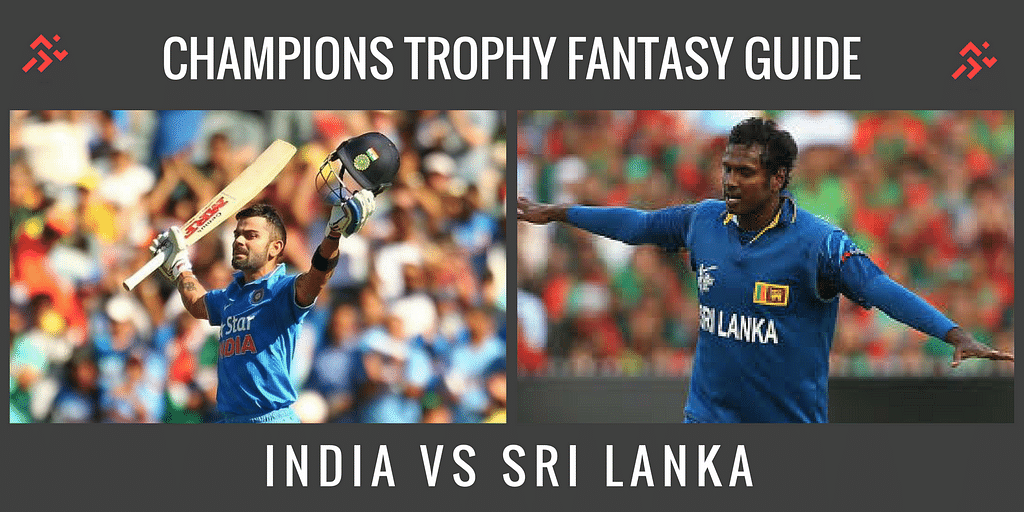 Six years ago these two sides met in one of the most celebrated ICC World Cup finals in the history of the game. Six years since that fateful night when MS Dhoni hit that towering six over long on to help an entire nation realise the dream they had all been nurturing for 28 long years. Six years have passed, players have retired, new blood has come in and gone by, cricket has changed, rules have evolved but the emotion for the game hasn't wavered even a bit.
Two new look sides would take the field today, high on emotion, high on expectation, trying to recreate the magic they had created six years back, this time in land far, far away from home.
Also Read: Do's and Don'ts for the Champions Trophy Fantasy League
The Virat Kohli led Indian side seems to the most balanced one in this tournament, a side that is probably destined to defend the trophy. Sri Lanka on the other hand are still reeling from the retirement of Jayawardene and Sangakkara. The rebuilding phase has extended a bit too long for the Lankans and they would be hoping that an 'Indian scalp' tomorrow could somehow provide their nation with a renewed direction in the sport.
Let's get to business now!
Fandromeda Fantasy Tips on the next page:

Fandromeda Fantasy League
Transfer out: Mohammad Amir, Hashim Amla, ABD
Transfer in: Ravindra Jadeja, Yuvraj Singh, Kushal Mendis
Now, I already have Shikhar Dhawan, Virat Kohli and Bhuvi in my team for this game.
Rohit Sharma and Ravindra Jadeja dished out wonderful performances in the last game against Pakistan and thus both of them make it to my consideration set for this game.
Jadeja seems like a very tempting selection, as he'll easily give you 20-30 fielding points and should be able to pick up a wicket or two as well.
Rohit Sharma struck form in the last game, but having the top 3 would be playing it too safe, and I don't think that would help me move upwards in the Fantasy League table.
Yuvraj Singh's brilliance in the last game makes him a very suitable candidate for this game as well, as he could very well be amongst the runs against this rather meek Sri Lankan bowling attack. Get him in!
Kushal Mendis is the only batsmen from the Sri Lankan side that is dependable and can turn it on. With not many games in left in the group stage, you can't really go in with a safe Chandimal pick, you need to invest in a batsman that can score a quickfire 100 and give you a windfall of points and Kushal Mendis fits that bill perfectly. Get him in!
I won't be making any other transfers for this game.
Batting Powerplayer: Virat Kohli
Bowling Powerplayer: Bhuvi
Champions Trophy Fantasy Tips on the next page:

Champions Trophy Fantasy League
Now, I already have Shikhar Dhawan and Bhuvaneshwar Kumar in my side for this game.
Virat Kohli would be my first pick for the game. When the world's best batsman knocks on your door, you open up and let him in, every day of the week. Don't try the 'differential' theory with Kohli, he'll make you regret it big time.
I'll be making just one more transfer for this game, as there is a huge paucity of transfers in the Champions Trophy Fantasy League game, and hence I'll be going in with the safest out of Jadeja, Yuvraj and Kushal Mendis.
Jadeja, being the all rounder that he is, is probably the safest out of the three, as he'll give me bowling, batting and most importantly fielding points. Yuvraj would be my second choice, followed by Kushal Mendis.
Powerplayer: Virat Kohli
---