Has the clock run out on MS Dhoni the T20 player?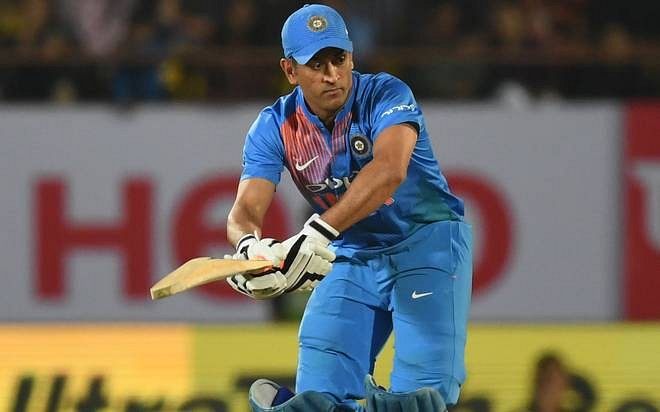 Another defeat and the voices calling for Dhoni's head have grown louder
A massive 40 run T20I defeat to New Zealand in the 2nd T20 at Rajkot has seriously dented India's pursuit of Mission 111 (Apex position in all three formats of the game). And in the cricketing fraternity of India, people started looking for a scapegoat to hold someone accountable for the loss.
And almost unanimously one name was heard- M S Dhoni. Such is the reputation of the man that we expect him to close out games from extremely demanding situations.
Before jumping to conclusions let's analyse how the match panned out. Choosing to bat first, New Zealand openers came out all guns blazing on the road of a pitch.
They expressed themselves specially against the spinners by taking the attack on young Indian leg spinner Yuzvendra Chahal. That 17-run 5th over started putting other bowlers under pressure.
Mohammad Siraj had a forgettable debut conceding 53 runs in his quota of four overs. There was a little respite towards the end for India when the death over specialists B&B bowled exceptionally well to restrict NZ below 200.
Yet, the score was huge thanks to a scintillating century (his second in T20Is in 2017) by Colin Munro.
The target was not impossible but what it needed was contribution from the top order. Indian top 3 contributed 29 runs of 31 balls and were back in dug-out in 9th over.
Hardik Pandya sent up early to keep the pace of the chase with the asking rate had a forgettable outing falling to Ish Sodhi the first delivery he faced from the tall lanky spinner for the second time consecutively.
Enters M S Dhoni. The captain and the former captain joined the forces in the middle when the equation was 130 runs needed from 65 balls at 12rpo. The Indian win was still in sights though at quite a distance but Captain Kohli was playing his free-flowing strokes.
At this moment many people reckon Dhoni could've matched Kohli stroke for stroke and should've kept the pace. But we should remember that he is not Dhoni of 2005 or 2007 or 2010.
This is Dhoni 2.0 who has reworked his batting style after a lean 2016 and now he bides his time before unleashing his monstrous hits.
The end score of 49 of 37 balls with 3 sixes and 2 fours validates the fact. The strike rate of 132.43 is not exactly daunting but it is not bad at all.
In my opinion, we lost the game in first 26 overs of the match where we conceded 196 runs in first 20 and ended the powerplay at paltry 40/2 while batting.
As Kohli rightly said in post-match presentation, the template to win in such big run-chases is that one from top order gets going over the strike rate of 200 and all other chips in with little cameos.
Now that no one did their part while batting by going long at over 200, I could see 3 little cameos by Shreyas Iyer, Virat Kohli and M S Dhoni.
And yet people have started giving statements like it is time for Dhoni to hang up his shoes. Another accusation on Dhoni is that his slow start broke the momentum of Kohli. Well, when you're 4 down before 10 overs, the need of the hour is a stable 40-50 run partnership at decent pace. Dhoni and Kohli did the same scoring 56 runs of 44 balls at 7.6 rpo.
What India couldn't have afforded at that moment was to lose another wicket and run a risk of getting folded out before 20 overs. The pair rather kept India in the chase by slowing down a bit in exchange of survival.
What India could've done different? I believe there are two things which could've been done differently. First, Kohli should've come at number 3. I am a big fan of the theory that your best batsman must play maximum number of deliveries irrespective of the format.
At the moment, Kohli is India's best batsman (arguably he is best in the world). He should've come as soon as Dhawan got out in 2nd over. That might've helped building a good partnership at the top and could've stopped that extra wicket we lost in the powerplay.
Also after a mini collapse at the top, Dhoni should've batted at number 5. By doing that, the collapse would've averted with all the sense of calmness Dhoni brings in with him and Pandya could've been reserved for the end when the ask comes to 14-15 rpo.
The wicket of Pandya in the 10th over put immense pressure on the pair of Dhoni and Kohli as there were no reliable batsman left with India playing 5 bowler strategy.
Batting a bit up gives Dhoni his required time to build the innings and saves Pandya who is a better pinch hitter for the slog overs. Lately, Dhoni has become more of an ideal middle over batsman than what his reputation of finisher states.
So, finally coming to the question, is it time we look past M S Dhoni in T20 cricket, I would say not yet. He is one of the fittest person in the squad (validated by his full split moment in the match) and the best person behind the glove.
Also, his constant guidance to the bowlers in pressure situations (where T20 finishes likely end) could make-or-break the match for India. And lastly, Kohli needs Dhoni-the captain more than Dhoni- the batsman these days making him irreplaceable asset to the team.
Let us not become too opinionated and let selectors do their job. The player of the stature of Dhoni knows best when his time his up and I'm sure he won't play a day past that like he did in test retiring in middle of the series. Though Dhoni is in the twilight of his career, I wish him well for the few challenges left ahead.
---