Report Card of Virat Kohli & Co for T20I series vs New Zealand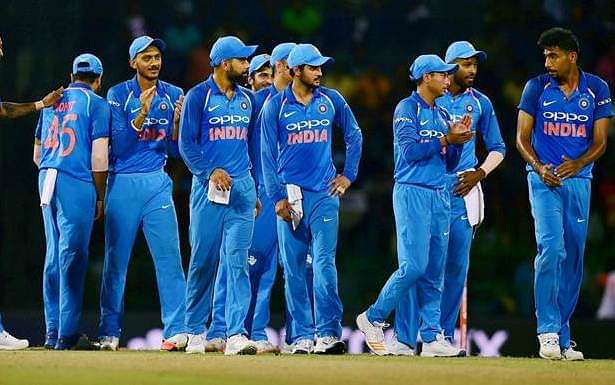 Men in Blue's cricketing tale had its genesis in T20I stories with the Black Caps to a complete transformation. From no T20I wins against New Zealand to a 2-1 series win was like the gentle rustle of silk at the end.
India won their first ever bilateral T20I series win over the Black Caps in what was the best thing that has ever happened to India that had gone winless in the past.
It was a complete team performance and that stands out. Let's take a look at the report card of Virat Kohli & Co for the T20I series against New Zealand.
Team India:
#1. Shikhar Dhawan – 5/10
Apart from the candid 80 in the opening T20I and the man of the match award, he was far from being impressive. He failed to convert the starts in the back to back games.
#2. Rohit Sharma – 6/10
Rohit Sharma too essayed a flamboyant sleek of 80 in the 1st match and then he started to lose his sheen in the next two games getting just a paltry scores. One can't forget the spectacular catch to dismiss Colin Munro back to his dressing room.
#3. Shreyas Iyer – 4/10
Though he did not get a chance to bat in the first match, he announced his arrival in style by scoring some blazing fours to his measured approach in the second game. He just could not hunker in the T20I decider.
#4. Virat Kohli – 9/10
Virat Kohli looked prime in all the three games that he played. For wielding the willow, he certainly deserves a 'certificate of excellence' and for being up to the scratch. Kohli's scores read 11-ball 16, 42-ball 65 and 6-ball 13 respectively.
#5. Manish Pandey – 8/10
Manish Pandey made a brisk statement in the T20I decider as he made most of the runs to good effect. He topped the charts with 11-ball 17 including one four and a six.
#6. Hardik Pandya – 4/10
Hardik Pandya was short of hitting the peak and this is something that he must look into it as other home assignments are in the line. Otherwise, he picked one wicket.
On the turf, his superb run-out to send New Zealand captain Kane Williamson back to the pavilion gave India the momentum to carry out things further.
#7. MS Dhoni – 8/10
MS Dhoni was not much involved with the bat but his crunch tips to Virat Kohli helped India set canny field placements. His scores read 7*, 49 and 0*. He displayed his street-smart skills and was spot on in running out Tom Bruce.
#8. Kuldeep Yadav – 2/10
Kuldeep Yadav who replaced Axar Patel in the T20I decider was left clueless. He was below par with the ball and even on the field as well. He was expensive giving 10 runs in his lone over that he bowled.
#9. Bhuvneshwar Kumar – 6/10
Though picked just 2 wickets in the three matches, he was most probably trying to restrict the flow of runs that was good in India's point of view.
#10. Jasprit Bumrah – 10/10
The No.1 ranked T20I bowler stuck to his line and lengths and kept things tight for the batsmen. He picked 3 wickets and what really stands out is that he was named the man of the match for his 2/9 (2 overs) and was named the man of the series.
#11. Yuzvendra Chahal – 8/10
Chahal too had a good series having picked three wickets to his tally. He is the third leading wicket-taker in T20Is in 2017 for his tally of 15 wickets.
#12. Ashish Nehra – 8/10
He might not have taken any wicket in his farewell game. But his presence was counted and that's the highlight. He also saved a couple of runs for his side by showing off his footy skills. Thank you for the memories!
#13. Mohammed Siraj – 6/10
Siraj was a tad nervous about going on his business. But once he got settled, he got going. Despite being a tad expensive, he got the important wicket of Kane Williamson on his T20I debut.
---