The Ultimate Combined All Time India Pakistan Test XI !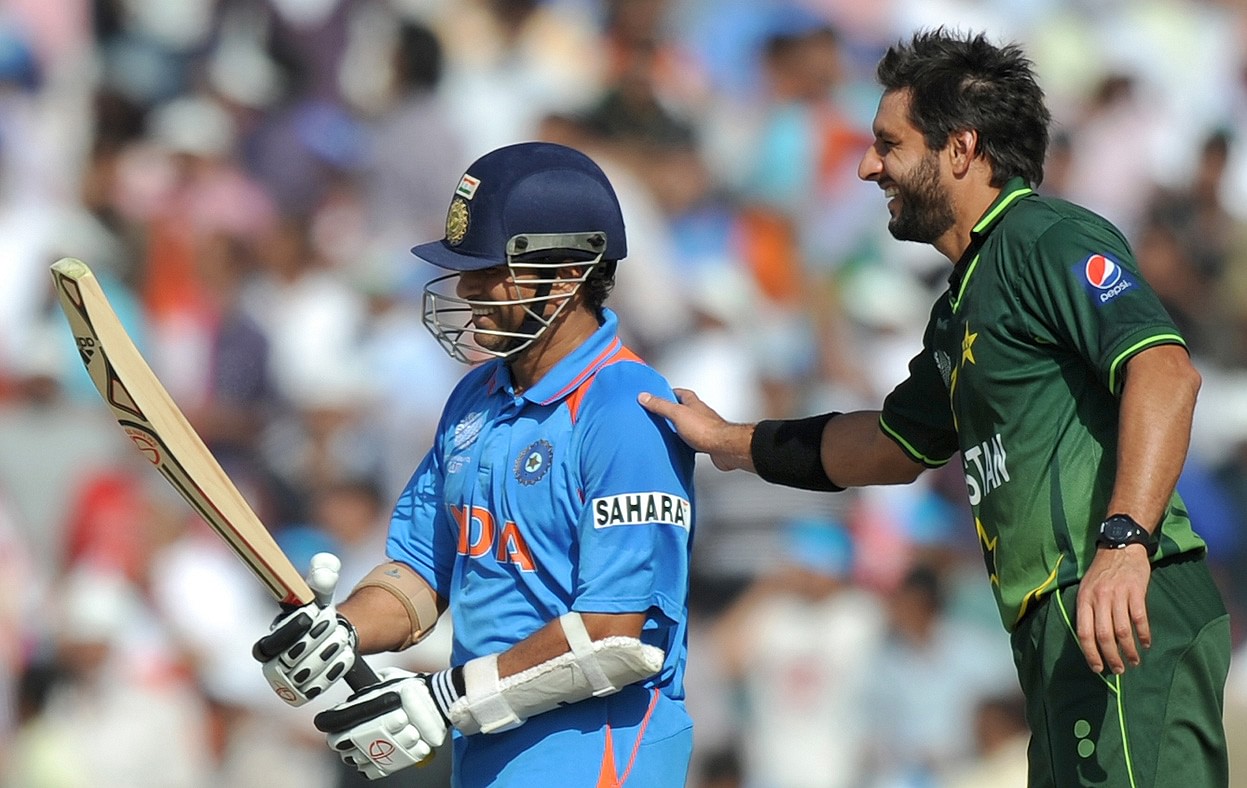 A Combined ALL Time India Pakistan XI is nothing more than a fantasy. Sixty nine years ago, we gained independence. At the same time, the north western part of the country was partitioned into a separate entity. This led (and still does) to several complications and hardships.
India and Pakistan have enjoyed a legendary rivalry in cricket. While Pakistan have the better head to head record, India has won more major honours and, arguably, has produced more world class talent than Pakistan.
What if the Radcliffe line had never been drawn? On our Independence Day, we decided to go down memory lane and try to pick an imaginary team comprising greats from both nations. Here is the ALL time India Pakistan Test match XI.
Openers
Both countries have produced a handful of world class openers. To balance the stability and scoring rate, we have decided to go for a steady accumulator, who would hold down one end along with another opener, who can keep the scoreboard ticking.
Also read: 5  best test knocks of the last decade
In the former category the contenders are Vijay Merchant and Sunil Gavaskar from India and the recently deceased Hanif Mohammad from Pakistan. The sample size for Merchant is too small. In a career interrupted by World War II and affected by illness, he played just 10 test matches.
So effectively it is a knockout between Hanif and Gavaskar. While both are all time greats, Gavaskar's consistency and superb record against all opponents help him edge out the Pakistani legend.
Regarding the second opener (brisk scorer), once again there are two genuine options: Saeed Anwar from Pakistan and Virender Sehwag from India. This one is, literally touch and go. One could go with either batsman.
Ultimately, Sehwag's better scoring rate wins out. Indeed, he scored at a scarcely believable strike rate of 82. While, Anwar might be the better choice on a difficult wicket, Sehwag is more likely to take the game away from the opposition.
Openers: Sunil Gavaskar and Virender Sehwag
Middle order
Coming to the middle order, both teams have produced a string of world class performers over the decades. Indeed, there is an embarrassment of riches.
Also Read: Indian cricketers reimagined as Mahabharata characters
From India we have the likes of Vijay Hazare, Gundappa Viswanath and Dilip Vengsarkar along with the modern stalwarts: Tendulkar, Dravid and Laxman. And that is without considering Polly Umrigar, Azharuddin and Sourav Ganguly.
Pakistan too have their lot in Zaheer Abbass, Javed Miandad, Inzamam, Mohammad Yousuf and the extremely under rated Younis Khan. While it is definitely an unenviable task, it is also true that there can only be three out of so many.
Rahul Dravid gets the one down slot ahead of his countryman, Vengsarkar, and Pakistanis, Zaheer Abbass and Younis. For number four and five, we go for Tendulkar (obviously) and Miandad.
If one considers the entire career of all these greats and conducts a proper statistical and analytical survey, one will find the performances of these three batsmen to have been superior to the rest. Unfortunately, such an analysis is not possible, in this read, due to space constraints
Middle Order: Rahul Dravid, Sachin Tendulkar and Javed Miandad
All-rounder and Wicketkeeper !
In the early years, both teams relied on spin bowling all-rounders. While India had the services of the magnificent Vinoo Mankad, Pakistan were able to call upon Mushtaq Mohammad and Intikhab Alam. There were numerous others who cannot get a mention here, once again due to paucity of space.
The trend changed in the 70s with emergence of two world class fast bowling all-rounders in Imran khan and Kapil Dev. While Imran was definitely the better cricketer, Kapil was the revolutionary. Indeed, Kapil was born 30 years too early, as his swash buckling style would have been perfect for today's age.
Unfortunately, we can select only one in Imran. Kapil will remain in contention as a fast bowler.
Also Read: Why India loves MS Dhoni
As for the wicketkeeper, we have to choose from Wasim Bari, Rashid Latif (both Pakistan) and Syed Kirmani and MS Dhoni (both India). The decision is rather straightforward.
Kirmani and Bari were the better keepers, but the keeper has to bat at 7. Therefore, we go for the better batsman. Here, Dhoni easily trumps Latif. AN easy choice in the Combined All Time India Pakistan Test XI
Selections: Imran Khan and MS Dhoni
Bowlers !
To get a balanced bowling combination, we will include 3 fast bowlers and 2 spinners. Since, we have already picked Imran Khan, which leaves us to select 2 fast bowlers and 2 spinners.
Also Read: What if cricketers were Bollywood actors
Fast bowlers first. One of them picks himself, Wasim Akram. There is really nothing to explain in this selection. Akram is one of the greatest fast bowlers of all time, and would probably walk into an all time World XI. An easy choice in the Combined All Time India Pakistan Test XI.
We had promised to consider Kapil Dev as a fast bowler. But, in all honesty, as good as he was, Kapil the bowler, is overshadowed by the likes of Fazal Mahmood and Waqar Younis. With a heavy heart, we have to leave out the Haryana hurricane. Waqar gets the nod ahead of his countryman.
While one would normally expect India to dominate the spin lineup, the case is not so simple. True, India has traditionally produced top notch spinners by the dozen. However, having many 'good' or 'very good' spinners does not mean you have the best.
Anil Kumble is an automatic choice with his amazing record and longevity. He was always a match winner in home conditions. In the second half of his career, he also tasted success overseas. Indeed, India owes many a victory to this unsung hero.
Unfortunately, the presence of Kumble makes it difficult to include his predecessor, BS Chandrasekhar. While Chandrasekhar was definitely more lethal, Kumble's longevity and ability to ball long spells swings the vote in his favour.
The other spinner should preferably be an off spinner. The major options here are EAS Prasanna and Harbhajan Singh (India) and Saqlain Mushtaq and Saeed Ajmal (Pakistan). R Ashwin has a fantastic record. But, his lack of success overseas, counts against him. A tough choice in the Combined All Time India Pakistan Test XI.
While Prasanna had a fanstastic record, both home and overseas, Harbhajan has generally struggled outside the subcontinent. Saqlain and Ajmal have brilliant records and their ability to run through batting lineups was legendary.
While Prasanna was more of a stock bowler, we already have one such bowler in Kumble. Therefore, it has to be one among the two Pakistanis. It is almost impossible to differentiate between the two. Finally, we settle for Ajmal although it is touch and go.
People might protest the non-selection of Bishen Bedi, but a proper analysis of his numbers reveal interesting insights. That, however, is a story for another time.
Another tough choice in the Combined All Time India Pakistan Test XI.
Among others, Abdul Qadir was a good bowler, whose reputation was enhanced disproportionately by the British media. We have also left out several orthodox legspinners. This includes, among others, India's Subhash Gupte and Pakistan's Mushtaq Ahmed and Danish Kaneria.
Unfortunately we also have to exclude Vinoo Mankad. Alas, but such is the pain of selecting an All Time XI.
Lower Order: Wasim Akram, Anil Kumble, Waqar Younis, Saeed Ajmal
Final XI
The final XI has 6 cricketers from India and 5 from Pakistan, which in our opinion, is a fair balance between the talents produced by the 2 countries.
Now we have to select a captain. The funny thing is everyone in this XI has captained their country at some point of time. Everyone except Saeed Ajmal.
We go for Imran Khan. Imran, a world cup winning captain, would command respect from each and every one. Moreover, he would enforce a strong sense of discipline and would be able to maintain the dressing room harmony.
The final XI reads as follows:
Sunil Gavaskar
Virender Sehwag
Rahul Dravid
Sachin Tendulkar
Javed Miandad
Imran Khan (c)
MS Dhoni (wk)
Wasim Akram
Anil Kumble
Waqar Younis
Saeed Ajmal
The batting runs deep. Wasim Akram bats at eight and we have a test centurion at nine (Kumble). Wasim and Waqar would probably take the new ball, with Imran coming on at first change. There would be no respite for the opposition, as Kumble and Ajmal would follow.
But who would this team play against. In this interest, we have compiled a second Indo-Pak XI, which is as follows.
Hanif Mohammad
Saeed Anwar
Younis Khan
Vijay Hazare
VVS Laxman
Kapil Dev (c)
Rashid Latif (wk)
Saqlain Mushtaq
Fazal Mahmood
Zaheer Khan
BS Chandrasekhar
In the interests of those striving for balance, this XI comprises 6 Pakistanis and 5 from India. Fun making the Combined All Time India Pakistan Test XI.
---
Share this article