15 Years Before Hitting Stuart Broad For 6 Sixes, Yuvraj Singh Had Realised His Batting Potential After Hitting 2 Sixes Against Angad Bedi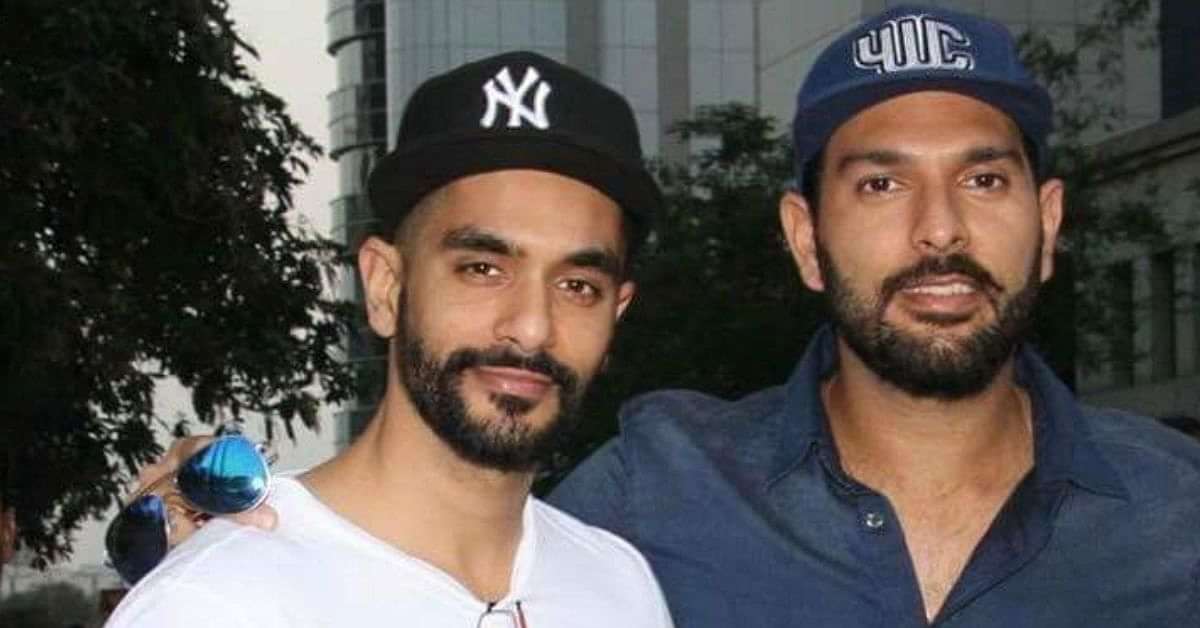 Former India all-rounder Yuvraj Singh is famously known as the 'Sixer King'. It is quite understandable as to why a hard-hitting batter such as him is fondly remembered for the sixes he used to hit during his playing days.
Yuvraj, who has hit a combined total of 251 sixes for India, hasn't even hit half the number of sixes hit by Universe Boss Chris Gayle (553) – most by any cricketer in international cricket. However, what forces fans to remember Yuvraj's effortless maximums time and again is the impact he used to create by executing those shots.
Yuvraj, who had become only the second batter after former South Africa batter Herschelle Gibbs to hit six sixes in an over by attacking former England pacer Stuart Broad back during an ICC World Twenty20 2007 match in Durban, had once hit a couple of sixes off Angad Bedi to wrap his mind around a life-changing potential.
Yuvraj Singh Had Realised His Batting Potential After Hitting 2 Sixes Against Angad Bedi
Angad Bedi, son of legendary Indian spinner Bishan Singh Bedi, is an actor by profession unlike Yuvraj. However, both Yuvraj and Angad used to play cricket together during their childhood.
It is worth of a mention that Yuvraj was passionate about roller skating and even won a national level U-14 championship. Son of former India pacer Yograj Singh, it was him who forced Yuvraj to take up cricket as a career option. For those who don't know, Yuvraj had started as a fast bowler much like Yograj.
In an interview with Sportskeeda in 2020, Yuvraj had revealed how he unearthed his batting potential whilst attending a camp organized by Bishan Bedi.
"I was batting on 90 with not a single six. One left-arm spinner came – I think it was Angad [Bedi]. I hit him for two sixes and the ball landed outside the ropes. At 11-12, you don't have that kind of power. That was the day I realized I could bat too. I thought I could be a seaming all-rounder, but due to my back, I switched to spin."
Since Yuvraj, born in 1981, mentioned his age to be "11-12", it has been estimated that this anecdote had happened 15 years before the inaugural T20 World Cup in 2007.
When Yuvraj Singh Had Uploaded A Cryptic Instagram Post For Angad Bedi
Singh and Bedi used to be close friends but the two distanced with time. In 2018, Bedi got married to actress Neha Dhupia. A surprise for their fans, the wedding had also been an unforeseen occasion for their close friends.
Singh, who was one of them, had posted a cryptic message on friendship day later that year. It didn't require a lot of research for fans to speculate it being directed towards Dhupia and Bedi. Not just with Angad, but Yuvraj was good friends with Neha as well.
"Just realized yesterday was friendship day! Just my take on people who I thought were friends!! After my whole year of experience happy to say I love my dogs more! You live, you learn. Anyways Happy friendship day."
Loading embed instagram https://www.instagram.com/p/BmJeEXfh7zT/?utm_source=ig_embed&utm_campaign=loading
On Dhupia's podcast named 'No Filter with Neha', an honest Bedi had addressed the issue but called taking a personal matter to social media as an immature approach on Singh's part. While one doesn't know about the current status, he was hopeful of things getting better between the two of them.
"My best friend did post an Instagram post very recently on friendship day and I read that post. Something like that, I just thought it was a bit immature. It was my fault and I say this very openly that I should've given him more time but then unfortunately for us, the decision-making was so sudden."

"He has his reasons to be upset and I really love him but if you want me to say what our relationship is right now, yes, it's not the same and I hope in due course it does get better because I miss him. He is a dear friend of mine."
It is noteworthy that even Yuvraj hadn't invited Angad and Neha to his retirement party in 2019.
---