"Cricket is best when kept simple": Rahul Singh reflects on Ravindra Jadeja's advice after productive Vijay Hazare Trophy 2021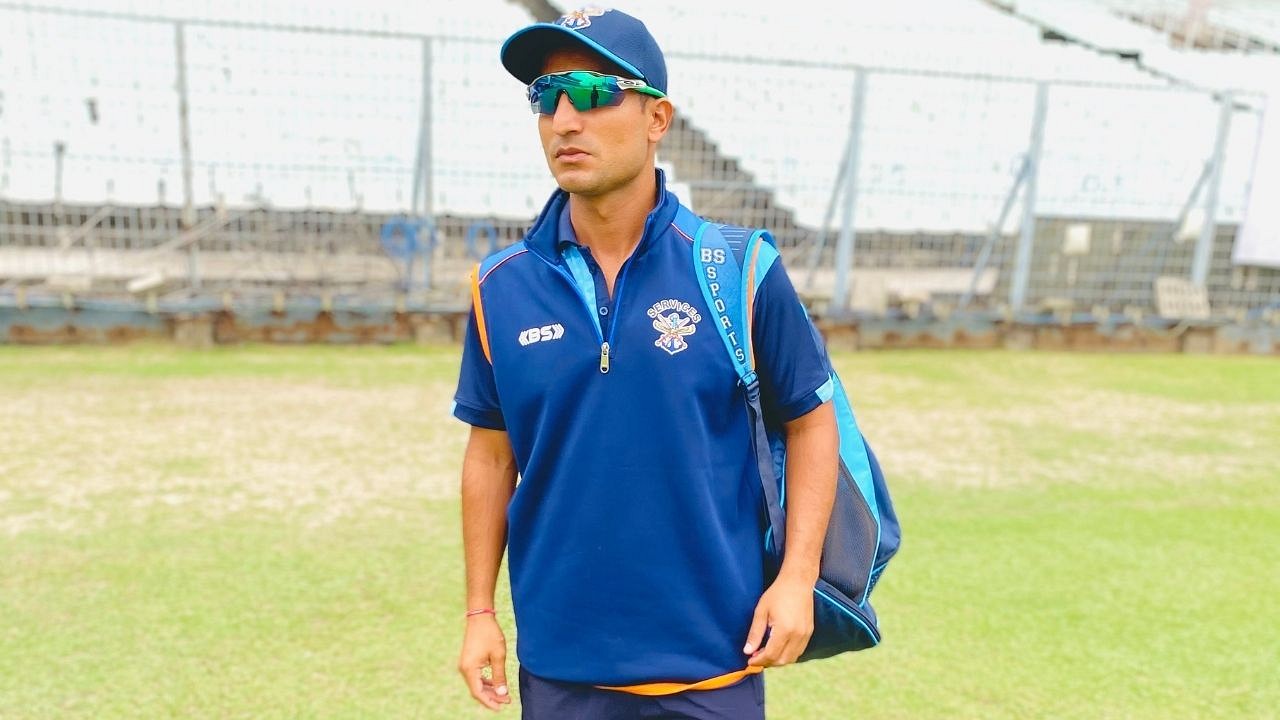 Rahul Singh: The left-arm spinner from Services has done exceedingly well in the recently concluded league stage of Vijay Hazare Trophy.
Services spinner Rahul Singh, who hadn't played competitive cricket for more than 16 months, has registered a productive Vijay Hazare Trophy season after picking nine wickets in four outings at a strike rate of 26.66.
Singh's best performance had come against Saurashtra, defending champions of Ranji Trophy. His bowling figures of 10-0-45-4 played a pivotal role in bundling out the opposition for 233 in 43.1 overs in a 302-run chase.
Placed in Elite Group E, Services won only two out of their five league matches this season. With eight points under their belt, they had no chance of qualifying for the knockouts but that doesn't mean they don't have positives to take forward.
Talking exclusively about Singh, his economy rate of 3.42 is the fourth-best among bowlers who have bowled more than 30 overs in the league stage. An average of 15.22 is the fifth-best after Mumbai's Dhawal Kulkarni (8.69), Uttar Pradesh's Shivam Sharma (11.88), Himachal Pradesh's Rishi Dhawan (13.25) and Gujarat's Arzan Nagwaswalla (13.33).
Speaking to The SportsRush, Singh revealed putting in the hard yards during the COVID-19 lockdown and how uncertainty around resumption of domestic cricket in the country didn't deter him from training regularly.
"I had worked a lot on my bowling during the lockdown. Since we were not allowed to go out of the cantonment area, I took refuge in bowling even if it meant bowling on a basketball court. Although I wasn't sure with respect to resumption of domestic cricket in India, I made it a point to be mentally ready for an opportunity irrespective of whenever it arises," Singh told The SportsRush.
Rahul Singh had stints for Punjab and Himachal Pradesh before joining Services
Originally from Kaithal in Haryana, Singh had moved to Chandigarh at a young age which made him eligible to represent Punjab in age-group cricket. Since then, he has developed such a connection with the city that the two keep crossing paths time after time. For starters, it was only fitting for Singh to make his List A debut at the Sector 16 Stadium in Chandigarh.
Chandigarh, which became the 38th team in the Indian domestic circuit last season, have a lot of players in their squad who used to practice at Guru Nanak Public School in Sector 36 years ago. Co-incidentally, it is also the same place where I first saw Singh honing his skills.
When Services faced Chandigarh at the Videocon Academy Ground in Kolkata on February 25, Singh faced an "awkward" situation of playing against many of his teammates of the past including a "best friend". While Chandigarh captain Manan Vohra had played under Singh in age-group cricket, Chandigarh players such as Gurinder Singh, Shivam Bhambri, Gaurav Puri and Jaskaranvir Singh Sohi have all trained alongside Singh on multiple occasions at the GNPS ground.
"It was important for us to do well against Chandigarh [after losing first two matches]. Because I had represented Punjab in U-15 and U-17 back in the day, I go a long way back when it comes to Chandigarh and its players," Singh said.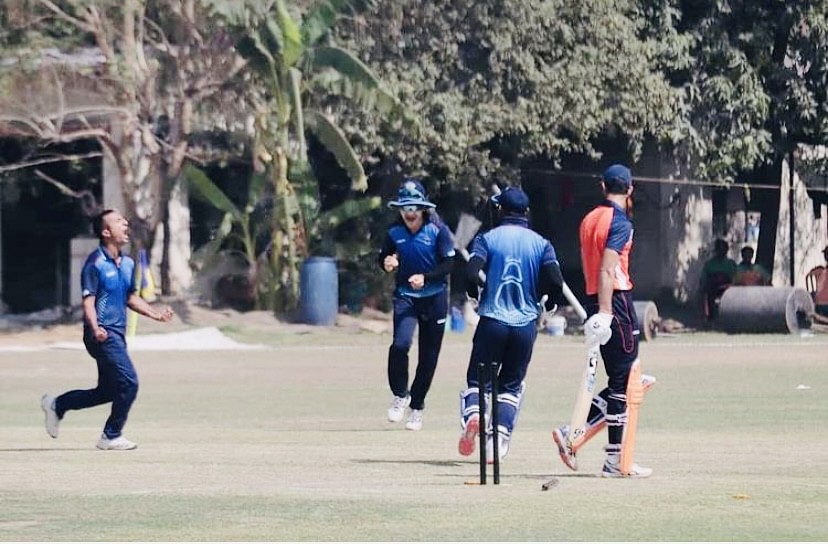 "A lot of players in their current squad were my batch mates. Playing against those guys was doubtlessly a strange feeling. A bit awkward as well. Gaggi [Chandigarh all-rounder Gurinder Singh] is my best friend till date. Having said that, once you step on to the ground, an opponent is an opponent you are desperate to give your best."
It was only last month that Singh completed a decade after first playing competitive cricket for Himachal Pradesh during Vijay Hazare Trophy 2011. Despite making a name for himself in junior cricket for Punjab, Singh opted to move to Himachal Pradesh in search of better opportunities.
"I felt that making it to Punjab's senior team would take some time. I thought if I perform in Himachal Pradesh, playing for the senior state team would be comparatively easy. By the grace of god, I performed well and went on to represent the senior side," Singh added.
While he had made his List A debut under domestic stalwart Paras Dogra, his first-class and T20 debuts had come under former India batsman Aakash Chopra. During his early days with Himachal Pradesh, Singh played alongside the likes of tried and tested names such as Manvinder Bisla, Vineet Indulkar and Sangram Singh.
"It was a huge learning experience. I was the youngest in Himachal Pradesh's team. Probably the youngest to debut for them then. I had picked wickets at the U-19 level and instantly got an opportunity in the senior team," Singh said of playing alongside senior players in his maiden season across formats.
"In the beginning, I used to be a bit apprehensive about rubbing shoulders with those established players. I also used to feel that I might not perform up to the mark. But god has been really kind for all these years."
Rahul Singh on playing for Services
Change, as they say, is the only constant. The famous quote has made its presence felt as far as Singh's cricketing career is concerned. It was in the 2017-18 domestic season that he made his debut for Services in a Ranji Trophy match against Himachal Pradesh (out of all the teams).
Talking about things sort of coming a full circle, Singh played his first T20 match for Services under Rajat Paliwal. It is worth mentioning that Paliwal was the captain of Services when Singh had made his T20 debut for Himachal Pradesh in 2013.
As things stand, Singh's priorities get divided between cricket and being a Havaldar in the Indian Army. Slated for a promotion to become a Subedar after undergoing a pending course, Singh opened his heart out with respect to joining the army and the difference of lifestyles between a professional player from Services and any other team.
"As you know, working in the Indian Army is no mean task. It's a tough life. You can't skip the day-to-day training. You have to be disciplined. Adhering to time tables is the hardest bit. I took it as a new opportunity coming my way and wanted to learn from it instead of just shying away. At times, such drastic lifestyle changes can work wonders for you," Singh further said.
"Honestly speaking, I have learnt a lot since joining the army. And then I was also looking for a job as well. A stable job such as this takes off a lot of pressure from you by providing financial security.
 

View this post on Instagram

 
"It goes without saying that a civilian's life is easy as compared to people in the armed forces. I mean a civilian professional player can attend camps or undergo training sessions as per his wish. But that is not the case with a player from army. You get up at 04:30 AM, attend the PT session followed by reaching the mess at a given time for breakfast. I'm not complaining but there's certainly a difference when it comes to comparing with players of other teams."
Singh was among the 292 players who were shortlisted for the auction of Indian Premier League 2021 held in Chennai last month. Having remained unsold, Singh disclosed being in talks with a couple of franchises in the last three seasons. Yet to receive an affirmative news in the IPL auction, Singh is determined to "work hard" in a bid to earn an IPL spot.
"It was in 2019 when I was part of a preparation camp at Rajasthan Royals. I had done well over there. My Yo-Yo Test score was 17.1. I had received a lot of support during that camp and was hopeful of getting selected but it wasn't to be.
"Before the recently concluded auction, I had taken part in trials organized by Kolkata Knight Riders. I was confident about my chances especially after getting shortlisted. But never mind. I will work even harder to play in the IPL," Singh mentioned.
Rahul Singh reflects on Ravindra Jadeja's advice
For a spinner who has most recently emerged among the top five most economical bowlers in the country's premier One-day competition, hitting consistent lines and lengths has to be a strength.
Having watched Singh for over a decade now, his forte does lie in pitching the ball at the same given spot day in, day out. In the age of mystery spinners, Singh continues to be confident about relying heavily on his tappa [spot where ball pitches] and "keeping things simple".
"Each one to his own but keeping things simple works the best for me. I have this funda of bowling at disciplined lines and lengths and not trying too much. When you practice the same skill for years, it comes to you by default. Woh ab pak gaya hai [It has become permanent now]. When you've bowled so much, you don't feel the pressure even if you are playing after a certain interval," Singh further added.
Before a Vijay Hazare Trophy match between Saurashtra and Himachal Pradesh in Rajkot half-a-decade ago, Singh didn't let the opportunity of discussing his craft with India all-rounder Ravindra Jadeja go waste. Jadeja, who had picked 226 international wickets across formats until December 2015 with a similar skill, laid additional emphasis on not complicating things.
"I agree that there are instances when you feel a sudden urge of trying something new but you eventually do what works for you. I had asked this question [what can left-arm spinners do different to dismiss a batsman] to Ravindra Jadeja once. I remember his exact wording that 'Cricket is best when kept simple'. In addition to this, he had just suggested me to vary my speed so that the batsman commits himself beforehand," Singh revealed.
In spite of playing domestic cricket for over 10 years now, Singh wholeheartedly admits that there still remains a lot to achieve for a player who has only played 56 matches across formats. Being asked about how he would want his next 10 years to be as a professional cricketer, Singh put a lot of weight behind achieving his IPL dream.
"My immediate goal is to work harder than before to earn a place in an IPL team for the same has it in it to open the doors of the Indian team. I also want to play a minimum of 50 domestic matches across formats as it will build a solid base for me. Consistently performing in these many matches in domestic cricket will help me find an IPL team," Singh concluded.
---