Dennis Lillee – The Aussie Legend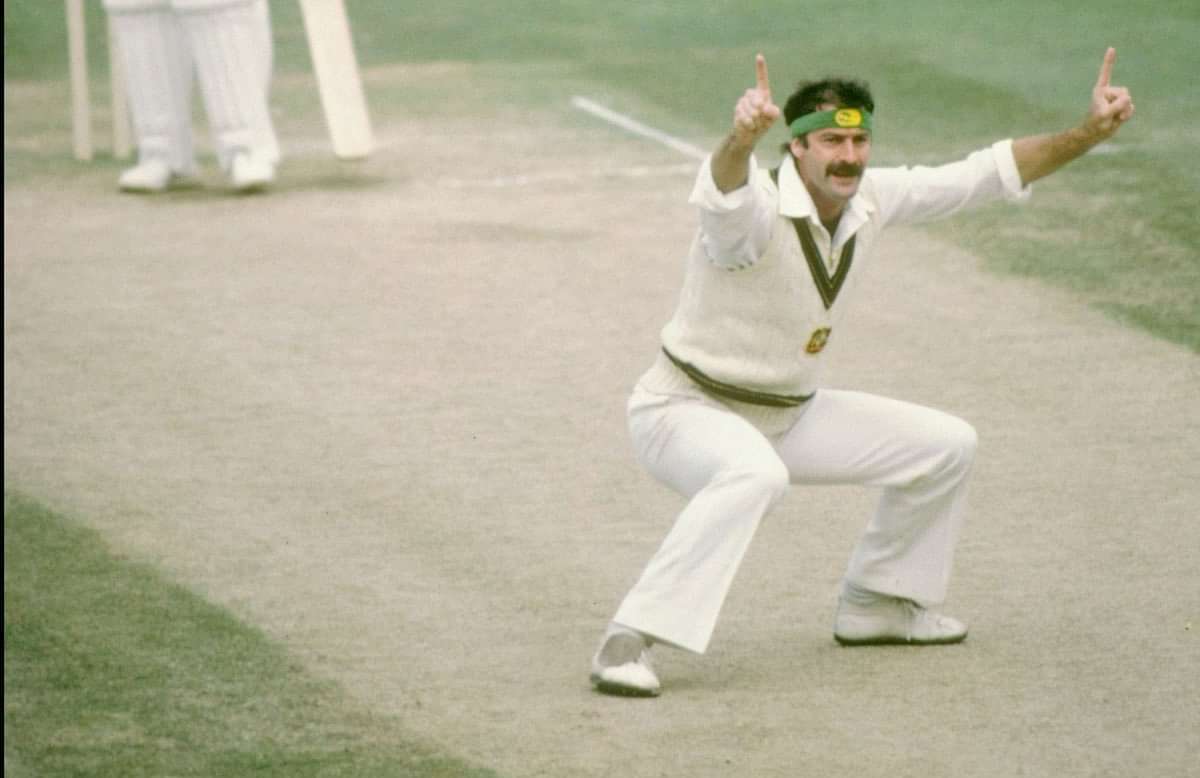 Dennis Lillee, this legend of the game needs no introduction. Born on July 18, 1949 in Perth, Australia, Lillee went on to become one of the greats of the game. Lillee known for his fierce on-field presence, could tame the bat with the speed at which he bowled. Not only did he become the most recognizable Australian across the world, but also one of the masters of the game.In addition to being one of the fastest bowlers in cricket history, he was also quite a showman.
Here comes Lillee
This western Australian made his domestic debut at the age of 20, terrorizing the batsman with his raw pace. Seeing the talent on display, he was given the national cap the next year in the Ashes series where he grabbed 5/84 in the match. But it was the Ashes series in 1972 where he announced himself and world started seeing him as a great.
The Aura
Lillee was huge. He was this 6 feet tall guy, with his wide chest, strong shoulders and his zapata moustache and shoulder length curly hair which bounced in rhythm with his bowling action. He would run up to the bowling crease in white open collared shirt, his arms stretched and unleash the red leather towards the batsman. The sight of him running to the crease made even the great batsman weak in their knees. It was his on field aura that drove the other team to despair and sometimes mental defeat as well.
Lillee & Thommo
If you were a batsman during 1970s, life was not fair to you. 70s was the era of the great batsman and even greater bowlers. You had these West Indian bowlers who could spit death through their bowling, and then there were these two. In addition to being fast, these two namely Dennis Lille and Jeff Thompson were not afraid to let the batsman know what they felt about him. Their's was a deadly combination and a famous one too which initiated the famous chant from Australian fans " Ashes to Ashes, dust to dust, If Lillee doesn't get, Thommo must". This was a partnership which was dismantle batting lineups both mentally and on the ground before they would retire after a decade.
Lillee the showman
Lillee will always be remembered first as a world class bowler, but he also was a quirky character. If the spirits was down, you could count on him to lift the spirits of the team or charge up his team mates. Let us look at some of his famous or "infamous" incidents:
1) Lillee's most famous sledge which he always used on numerous batsman : ""I know why you're batting so badly. You've got some shit on the end of your bat." When the batsmen had a closer look, Lillee promptly said, "Wrong end, mate."
Also Read: 5 Lesser known facts about Yasir Shah
2) Lillee once went out with to bat surprisingly with a aluminium bat. The opposing team was very annoyed with the sound on leather hitting aluminium that they complained. Umpire intervened but Lillee didn't budge. Umpire asked Greg Chappell to intervene. Chappell asked one team mate Rodney Hogg to give a wooden willow to Lillee. Hogg replied "All I could see was me getting hit over the head with an aluminium bat in front of millions of people on television." Chappell walked out with Lillee's (wooden) bat, and saw the aluminium bat flying over his own head; he gave Lillee the willow, and calmly walked out with the aluminium bat.
3) His most infamous incident by far was his squabble with Javed Miandad. The incident is well known with both players giving different accounts where Miandad claimed Lillee kicked Miandad while he was completed the run. Umpire intervened and calmed the things down before things got more heated.
4) If people thought, Lille was hostile to only his opposition, they were wrong. He was never on good terms with his teammate Kim Hughes, Once while bowling in nets to him, he kept bowling nasty bouncers to him while bowling good length deliveries to the rest in the nets. The situation reached an inflection point when Lillee apologized to Hughes when he bounced him on one occasion to which Hughes replied "oh, its okay". Lillee's retort was spontaneous: "Sorry I didn't f**king hit ya."
5) Lillee's antics was not limited to players, he once confronted the famous umpire Dickie Bird. Lillee had a problem with the shape of the bowl. Bird adamant about his decision, didn't budge. Lillee absolutely angry about the decision bowled rest of the over as off spinner. Dickie Bird was in the mood and commented "those are the best offies I've seen".
Dennis Lillee was no doubt the king of the 70s. The legend are not born through their skills, but by their personality and how they shape the era. Dennis Lillee certainly had the persona and his contribution to world cricket can never be forgotten.
The SportsRush wishes the king Dennis Lille, a very happy and prosperous birthday.
---