Why do the Big 4 Tennis Legends make the Best Boyfriends and Husbands ?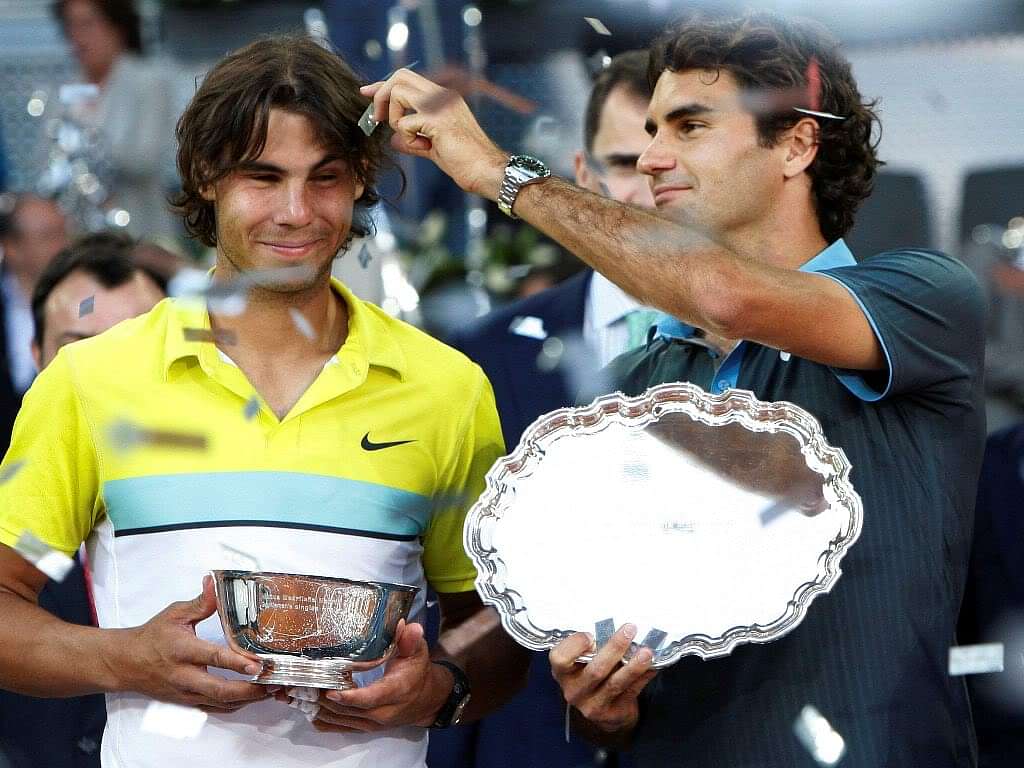 The Big 4′ have had a great grip over the Tennis world for a large part of the last 5 years, but it's not just the sport that they have conquered; they have conquered the 'love' side of live as well with staying with the same partner all through. While the young generation tries to mix it up a little, these old school legends have stuck by their partners for a long long time. But how did this happen, how is at that four gentlemen who have been ruling the sport for quite sometime have had the same sort of love life? Coincidence? We think not. Here we analyse the reasons as to why Tennis legends make the best boyfriends or why do they have such successful relationships
They are at the pinnacle of their sport, they are universally adored, loved and yes craved by women (and men). They are respected, revered, worshipped . They can have anything, literally (Ahem, Ahem!)
But in the age of instant hook ups, breakups, divorces, scandals, somehow the Big 4 (Roger, Rafa, Nole, Murray ) seems to be in a different league with incredibly stable and loving relationships with their better halfs. Not only that, their relationships have roots in their childhood or teenage.
They put their counterparts in other sports like soccer, golf (think tiger woods) to shame ! I dare say only David Beckham comes close in terms of honoring commitment to their partner .
Federer and Nadal !
In an age where the youth is increasingly commitment and marriage phobic, the Big 4 are falling head over heals to marry their "soul mates" .
So the million dollor question is ,why is it so ? Do they and their partners have some ancient secret ? Or is it luck ? Take Roger and Mirka, they met properly in the Sydney Olympics, kissed by the end of it .
Throughout  Roger's career, Mirka has been part coach , part manager and his biggest pillar of support . And who can forget the TWO, really TWO sets of twin babies, even in this department Roger shows his magic !!
Rafa has a very low profile and strong relationship with Xisca parella, and they are regularly seen in their yatch, having fun in Ibiza. Surely the big 4 tennis legends make the best boyfriends and husbands right?
Djokovic and Murray !
Novak Djokovic is also very Federeque in his love life, starting with a teenage love , with Jelena . She seems to be very rabid (in the best way) in her support for Novak and keeps exhorting her man , in the best and worst of times . Novak got married to her recently at 27 (same as roger mind you) and now has a baby boy named , Stefan.
Andy Murray and Kim sears (whom I adore ) have a long history together . Kim I feel has had it tough , since she has had to see her man lose some big matches with very small margins , be it against Rafa , Roger , Novak .
I still remember her, with Murray ,  standing guard , as if to protect him from all the negativity , after he lost against Roger in Wimbledon 2012.  They recently married too. Another reason why the big 4 tennis legends make the best boyfriends and husbands.
The Importance of a Partner !
Tennis is a monastic , gladiator's sport , you don't have teammates , it's extremely punishing and stressful , yes you do have your coach , physio, trainer , nutritionist , but you're not gonna be "tight" wit them, are you ?
Hence the spouse assumes a very crucial role at an emotional level , they go through and share all the trials and tribulations as their own. Another reason why the big 4 tennis legends make the best boyfriends and husbands.
Tennis players don't have a "boy's club" given the intense demands and rivalry of the sport.
And round the year jam packed calendar (literally ) they hardly have time for self let alone for anyone else , hence they are much more dependent on family for some anchor to reality , for some sanity.
Tough to be Friends with your Adversaries !
As an individual sport the rivalries run much deeper , they are nastier with personal undercurrents , hence its very difficult to be friends with fellow tennis players .
Lets face it , the Big 4 are extremely good people who have very decent values instilled in them , and that reflects in their game , in the way they respect their partners too.
And of course they are very lucky that they found such amazing women as their partners and were smart enough to never let them go and honour them as they should.
Tennis is currently the most demanding sport , both mentally and physically , it requires a very regimented life, if you are to excel in it , hence partying , fun and frolic is out of question , rather one is much more dependent on family for happiness , than some outer source .
They Are Quite Simply Good People !
I feel its because the demands that game of tennis uniquely puts on the top players , it's structure along with the fact that they are through gentlemen . Did I forget to add that they have a ripped physique that would make any girl weak in the knees ???
The level of dedication that they show towards their craft gives you an idea of their sincerity and dedication. Djokovic , let alone booze and parties , he has not taken a bite of chocolate since 3 years .
Or how adorable Roger or Novak  look while playing  with their kids??  It's the Raymond moment I dare say! Another reason why the big 4 tennis legends make the best boyfriends and husbands.
Bad news for the ladies though , they are already taken , but then what are fantasies for !!
---