Dushyant's frightening story after bronze medal win at Asian Games 2018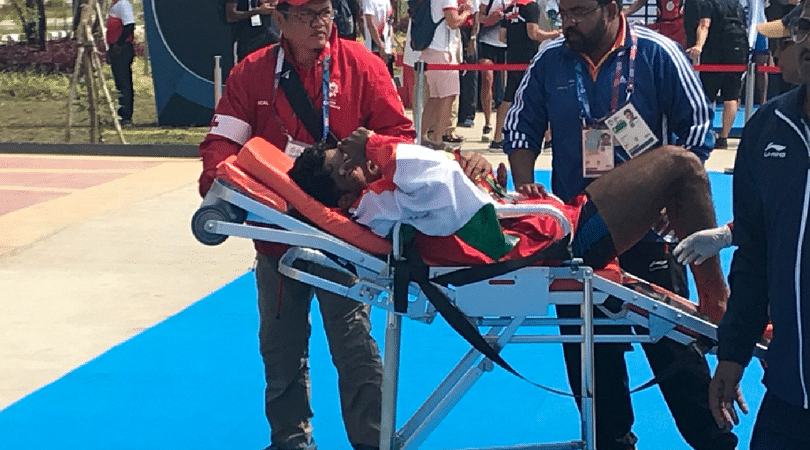 The Indian rower collapsed during medal ceremony after winning bronze in men's lightweight single sculls. Here's Dushyant's frightening story.
Dushyant won the bronze medal at the men's lightweight single sculls in the rowing event. India won 3 medals at the rowing event, which included a gold medal at the quadruple sculls.
Dushyant gave his all in the final of the event, and dashed in the final 500m of the race which caused him to be carried out on a stretcher after the event finished. Sources revealed that Dushyant was suffering from high BP and was dehydrated, and the heat in Indonesia worsened the situation.
The rower admitted that he wasn't at his best in terms of health, going into the final.
"I pushed as if it was the last race of my life. That was the only thing in the mind. May be I pushed a bit too hard but it was worth it. I had a bad cold and a sore throat in the run up to the event, that also affected me a lot during the race. I was gone," Dushyant said after the match.
The Indian rower, 25, also collapsed during the medal ceremony due to lack of energy and was taken to the medical centre again for treatment.
"I just had two bread and an apple. It was very hot also. That is why I was completely dehydrated," said Dushyant.
Sawarn Singh, the most senior member of the team which won the gold medal at men's quadruple sculls event, stated that it was a 'do-or-die' situation for them.'
"Yesterday we had a bad day but soldiers never give up. I told my teammates that we will go for the gold and we will give it all. It was about karo ya maro (do or die). And we did it," Sawarn Singh said.
---
Share this article