Euro 2016 Fantasy Guide: Fantasy tips for Gameday 9, 18th June 2016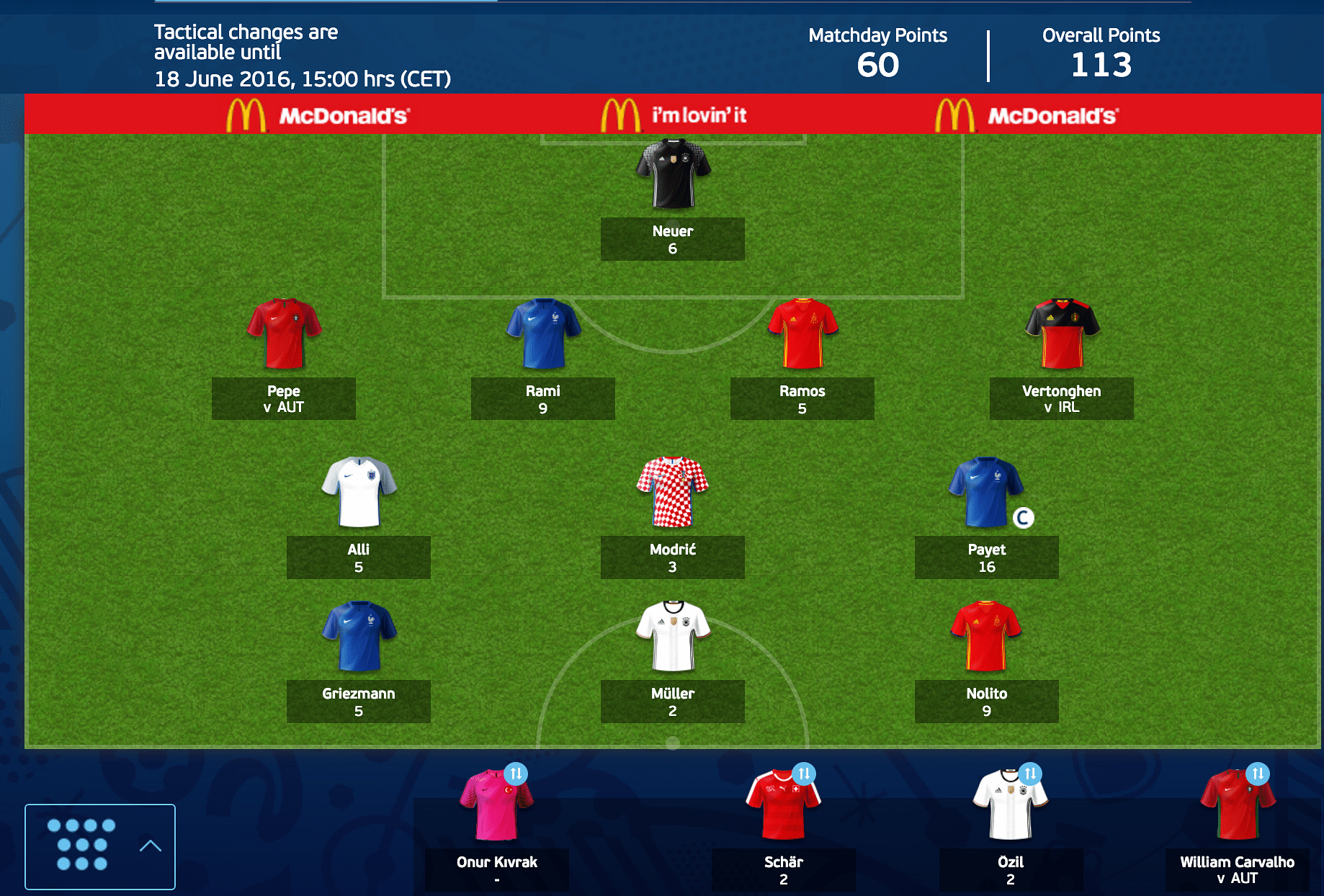 The last two games of the day were high scoring ones, with goals coming thick and fast. Croatia and Czech Republic played out a wonderful game as both sides looked really hungry for the win but none of them could secure the 3 points.
Later at night, Spain cut loose, striking 3 times to secure a spot in the knockout stages.
The first gam, however, was played at a pace that Italy generally enjoys. The tempo was slow, the defence remained solid and the strikers pounced on the one clear-cut opportunity that they got.
On the Fantasy front, it was a great day as Nolito picked up an assist and a goal, completely justifying the transfer,
Let's get to business now!
Gameday 9, 18th June 2016
Fixtures for today:
Belgium vs Republic of Ireland
Iceland vs Hungary
Portugal vs Austria
Now, I don't have any players from today's fixtures in my starting XI and hence I'll be making two substitutions.
The least number of points that a player from my side has scored is 2 and thus if I substitute a player in, I need to make sure that he is someone who plays at least 60 minutes, so as to give me at least 2 points.
I bring in Pepe for Schar(who has given 2 points). Against Austria I don't quite expect a clean sheet from him but then despite the talent that they possess, Austria couldn't score even a score a solitary goal against Hungary. Thus, there is a possibility of him getting 6 points tonight.
The second substitution that I make is getting Vertonghen in.
Vertonghen will be replacing either Muller or Ozil(both of whom have given 2 points). And as Vertonghen is sure to play the entire 90 mins, he 'll be getting 2 points for sure and in all probability should get a clean sheet as well. Thus, it's worth the risk
I won't be getting William Carvalho into my side as I am not sure if he would play 60 minutes for Portugal, as he didn't make an appearance in the last game.
Captain: Dmitri Payet
Though Vertonghen looks all set to get a clean sheet today, I won't be taking a chance with him as Payet has given me decent number of points.
Happy Fantasy team picking!
---