2009 world champion Jenson Button blames his Benetton boss for creating his 'playboy' image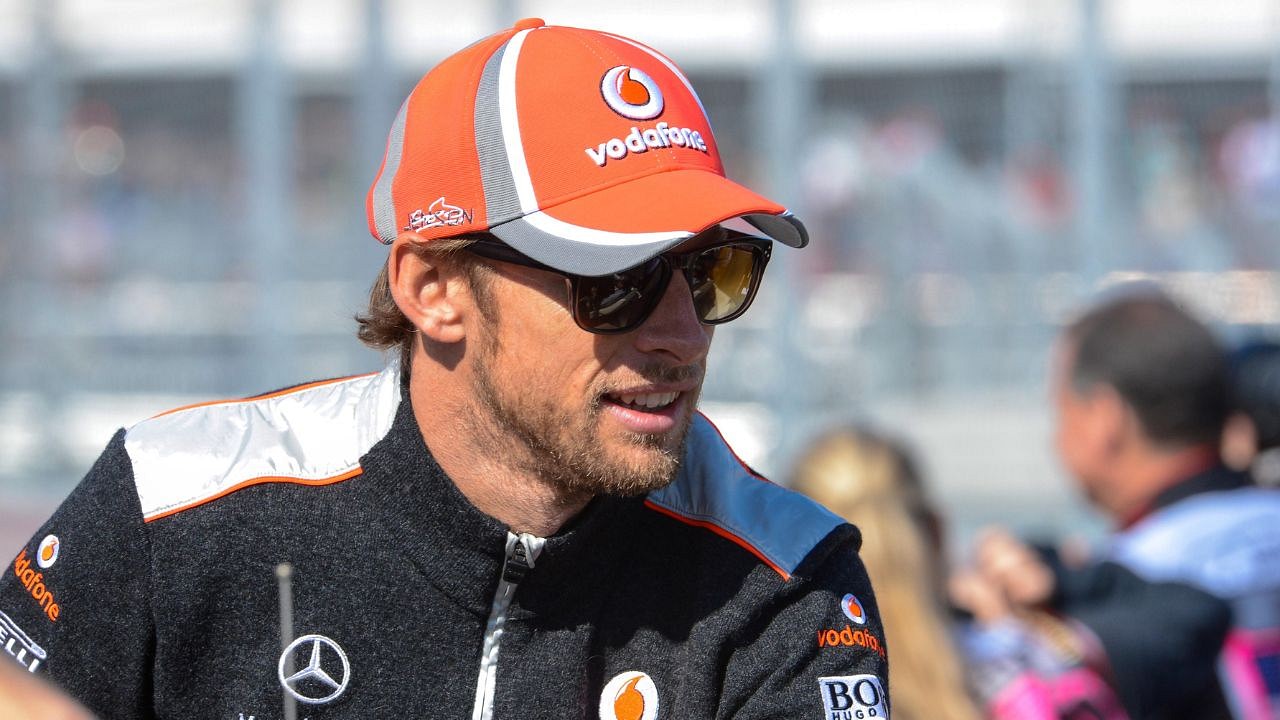 At the beginning of his F1 career, Jenson Button had been dubbed to be a 'playboy' due to his extravagant lifestyle combined with a lack of success.
Button had made the move to the Benetton F1 team(which later became Renault) in 2001 after spending his rookie year at Williams. He took a seat alongside the experienced driver – Giancarlo Fisichella and was outperformed by him on multiple occasions.
For the season, the Briton had quite an uncompetitive car with a lack of power steering and horsepower in comparison to other cars on the grid. Due to this, at the Monaco GP Button finished P7 and was heavily criticised for his result by his team boss Flavio Briatore.
Those criticisms also led the publishing houses in anointing the Briton as a playboy.
Also Read: 17-year-old George Russell hoped to follow career of 2-time World Champion
Jenson Button explains the 'playboy' image
Speaking at the High-Performance podcast, Button revealed that after driving the car in Monaco with no power steering he had blisters all over his hands.
He had finished the race on P7 and at the time P7 did not yield any points so his team boss, Briatore, was disappointed.
Despite him having blisters all over his hand, Briatore did not talk to Button before speaking to the media and said, "I think he was looking for a new apartment or a new yacht to buy, that's why he finished 7th."
Button was hurt listening to Briatore's comments and spoke on the podcast, "Your own boss, the guy that is supposed to be nurturing you, saying that to the press."
He further explained that the press picked up on that and ran the headline forever.
2001 MONACO

Jenson Button, despite failing to score points, took his best finish of the season with p7. Benetton team-mate Giancarlo Fisichella retired after his gearbox failed and crashed at St. Devote #f1 pic.twitter.com/9ByYCctyb8

— Motorsports in the 2000s 🇭🇰🇬🇧 (@CrystalRacing) May 26, 2020
"You can't have a talk with Briatore", says Briatore
During the podcast, Button was asked if he ever talked to Briatore about the controversial comments he made during the interview.
The Briton replied that Briatore was not the sort of guy you could sit down with and have an honest conversation.
Furthermore, he explained that Benetton was a team that had earned a lot of success in the 1990s with Michael Schumacher therefore they thought that they were the best.
So, when Button showed up, who they thought was a playboy, struggled with the car Benetton thought that he was not doing a good enough job.
Button admitted that he was not doing a good enough job but that was because he was not being nurtured in the right way.
Also Read: Fernando Alonso cites Carlos Sainz Sr. as inspiration for all Spanish racers
---
Share this article