Hannah Schmitz F1: All you need to know about the Senior Strategy Engineer at Red Bull Racing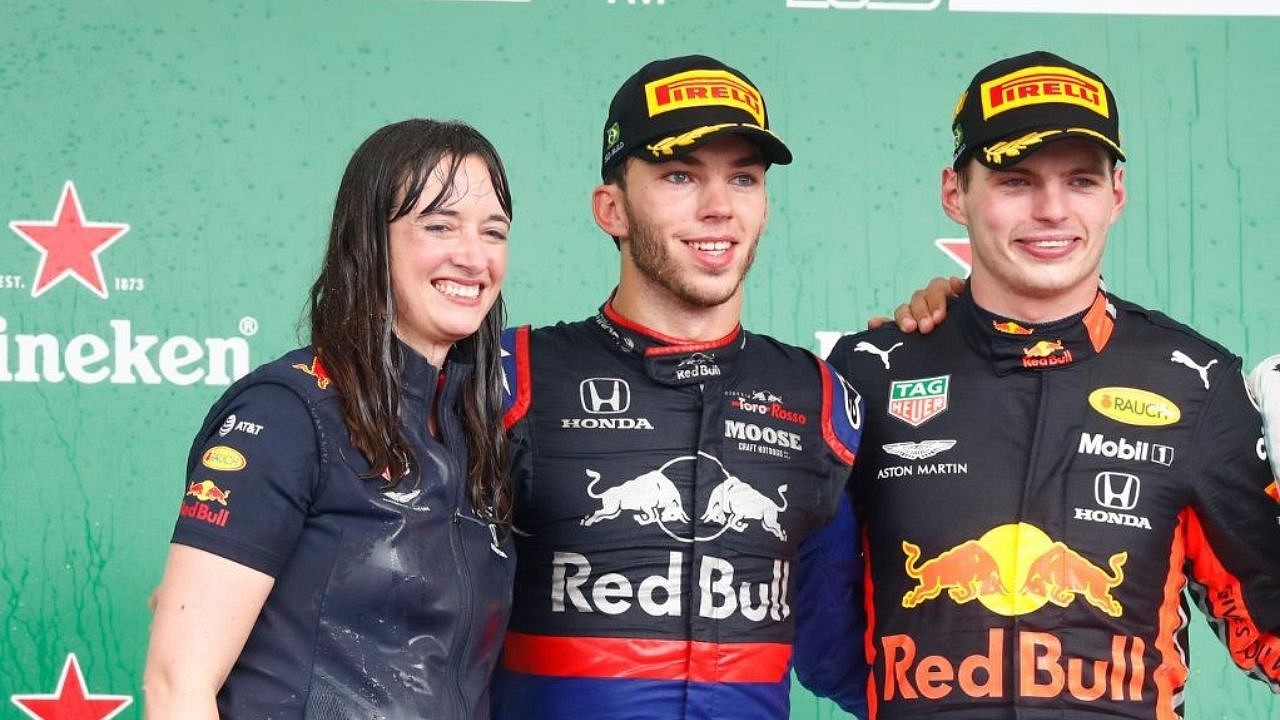 Hannah Schmitz F1: All you need to know about the Senior Strategy Engineer at Red Bull Racing, who led Max Verstappen to victory in Brazil, 2019.
Hannah Schmitz is someone who is extremely passionate about data and loves interpreting things from the data at her disposal She excels in a high pressure job-role, as clearly evident from her senior role in the fast-paced world of F1.
As a Senior Strategy Engineer for the Red Bull Racing Formula 1 team, competitor analysis is of paramount important to her as her findings help Red Bull learn how to tackle different rival strategies during a race weekend.
This requires her to make quick decisions and communicate them to the team and drivers. This was evident in the 2019 Brazilian GP where she asked Max Verstappen to make a third pit stop, which worked wonders and let to Max winning the race. She was rewarded by Team Christian Horner by asking her to collect the Constructors trophy on the podium.
This woman right here is Hannah Schmitz, senior strategy engineer at Red Bull Racing and responsible for the winning call to remove Max from a leading position and to have a third pit stop made. This brave decision turned out to be the right one. 👏🏻👏🏻 #PraiseWomenInMotorsport pic.twitter.com/bI2xOU5S9X

— jaco (@jacobinevdb) November 18, 2019
Hannah describes herself as being comfortable working autonomously as well with a team. She is proactive in nature and always on the lookout for new ideas and innovation. She has a Master's degree from the University of Cambridge, and is proficient in Data Analytical skillls like Statistical Modeling and Regression Analysis). Apart from htis, she also has considerable experience of working on VBA and C++/C#.
Horner speaks about Hannah after the 2019 Brazilian GP
Christian Horner had high praise for her after her crucial, quick decision-making at the race in Brazil. He confirmed she had taken a maternity leave and is now working on a full-time role. He also spoke highly of her commitment, and drive to achieve success with the Red Bull Racing team.
Also Read: Who is Lewis Hamilton's Personal Trainer Angela Cullen?
"Hannah has been with us in the strategy team for several years. She took maternity leave last year and then returned to work after her maternity leave on a full-time basis. She has a significant commute to work, she drives for hours every day. But she has a commitment and that passion for her job and I think it's great."
"She made the strategy call today and I felt it was right to reward her with going to get the trophy. And I think it's a great fillip for working mums. She's an important member of our team."
---