Stephanie Travers F1: First black woman stands on F1 podium; Hamilton shares backstory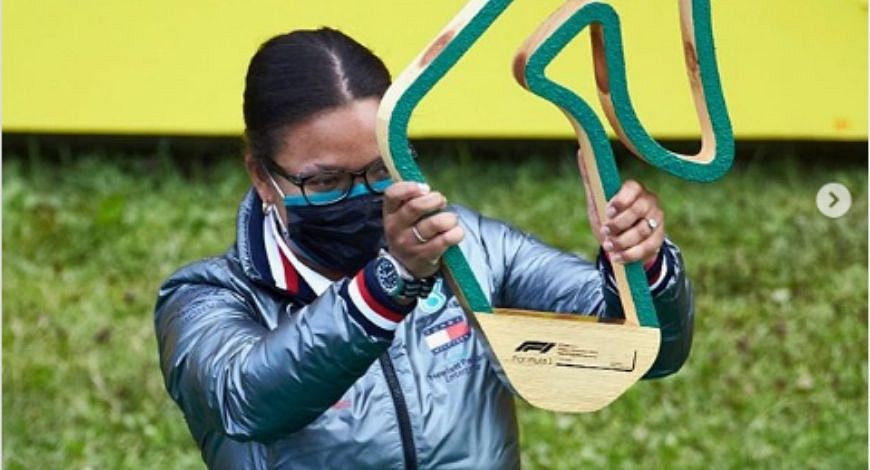 Stephanie Travers F1: History is made in Formula 1 as the first black woman stands of the podium; Hamilton shares her story.
The first-ever Styrian Grand Prix was full of history, as the Spielberg was the first track to hold consecutive Grand Prix in a season during F1 Championship era.
But apart from this, another crucial feat was achieved with much more significance, as the first black woman stood on the Formula 1 podium.
Stephanie from Mercedes, who is a trackside fluid engineer was sent by the team to lift the trophy for Mercedes after Lewis Hamilton and Valtteri Bottas came first and second respectively.
This was a huge step amidst the dialogue open against racial discrimination and unequal representation. Meanwhile, Hamilton shared her story and it sounds inspiring.
Lewis Hamilton introducing her to the world
Hamilton on his Instagram gave an explained introduction of Stephanie, "I wanted to post this because it's such an important moment. This is Stephanie who is one of my teammates. She is one of our trackside fluid engineers."
"On Sunday, she became the first black woman to stand on the podium in Formula 1 history. This is an amazing achievement and I just wanted to acknowledge her for her hard work, positivity, and passion for her job."
"Like most of the jobs in our sport they are in high demand, and Stephanie was selected out of over 7000 applicants for her role. Steph said she wants to inspire young black children, and children of color to believe that they can do it too, and I couldn't agree more."
"Put your mind to it, and you can be anything you want to be. So whilst I really appreciate all of the congratulations, I wanted to take the opportunity to lift her up, and share them with her. #manifest #hardwork #bethechange" wrote Hamilton on his social media.
Unequal representation in Formula 1
Formula 1 being a white-dominated sport is not a hidden fact and many have pointed out the unequal representation and people of privilege usually making to the top.
As of now, Hamilton is the only black racer of the grid and Nicholas Latifi is the only person who has origins from Southern-west Asia, but even his background has socio-economical advantages.
Apart from that, Formula 1 has a massive disparity in gender. Giovanna Amati was the last racer in 1992 who attempted to qualify for F1. However, things are improving as few names are rising up for potential Formula 1 seats but it is not enough.
---