Lewis Hamilton would outrank Michael Schumacher if Ferrari legend had modern points scoring system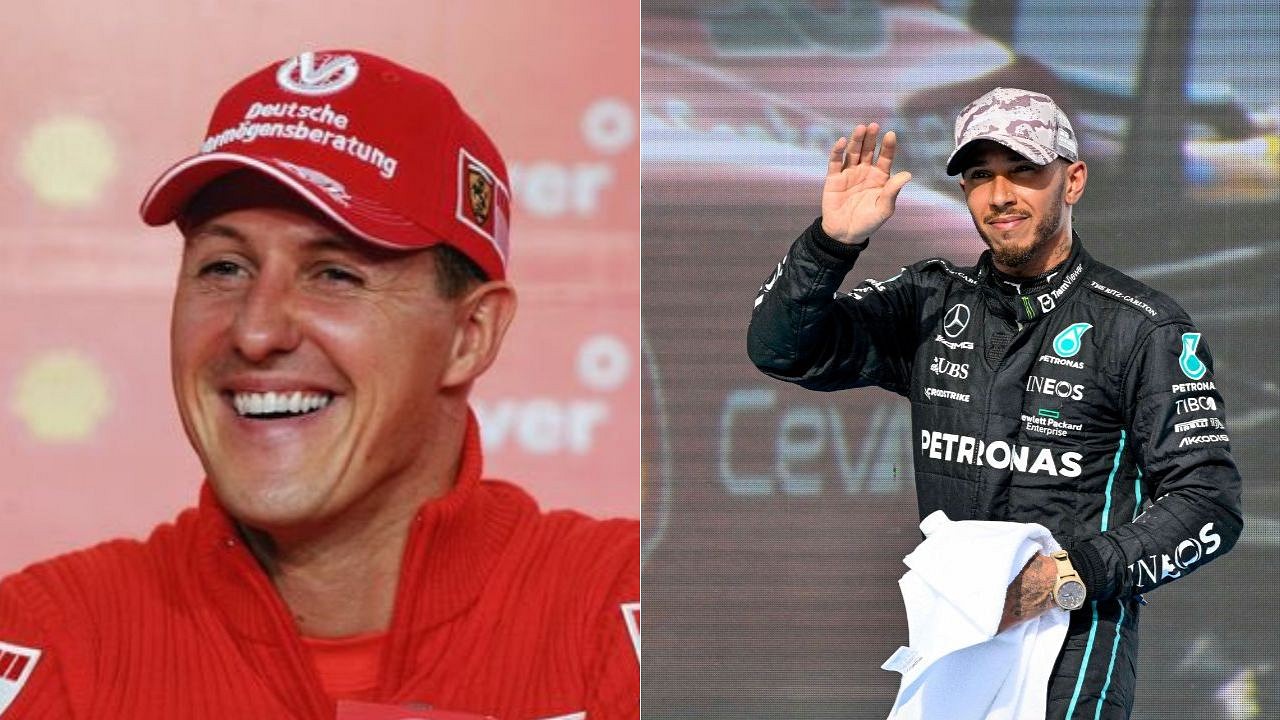 Lewis Hamilton and  Michael Schumacher are two of the greatest and most successful F1 drivers of all time. The debate as to who is the better among to two still rages with both fanbases putting forward strong claims to support their favorite driver.
Hamilton and Schumacher's peaks were in two different eras respectively, and they never raced against one another in equal machinery. A lot of people have always claimed that if Schumacher got the same number of points Hamilton did, based on today's scoring system, the German would outrank him. However, that isn't the case since Hamilton would still finish ahead of Schumacher if the same scoring system was used back in the day.
Hamilton would be first with 4785.5 points to his name, with Schumacher behind him at 3961 points. This should not be very surprising, considering the fact that Hamilton has more race wins than the Ferrari legend, and he is still not done with F1. Schumacher broke all records in F1 during his iconic Ferrari stint, but today, Hamilton has the most number of race wins, pole positions, and fastest laps.
The only number Schumacher and Hamilton are still tied on is the number of Titles won. Both F1 greats are at seven Titles each, but the latter is looking to change that by adding another Championship to his name before retiring from the sport.
Also read: FIA overreacted to Lewis Hamilton & George Russell's woes; claims F1 CTO 
Who ranks behind Lewis Hamilton and Michael Schumacher?
Statistically, there's no one close to Hamilton and Schumacher. However, F1 has seen some exemplary drivers take to the tracks over the years. In the list, Sebastian Vettel is ranked as the third most successful of all time, with 3320 points to his name. Vettel's former rival Fernando Alonso follows him with 2923 points.
2022 Champion Max Verstappen is also high up on this list, despite his relative young age. The 25-year-old is seventh with 1987.5 points.
RECORD EQUALLED!@LewisHamilton joins Michael Schumacher on 91 #F1 wins with victory at the Nurburgring pic.twitter.com/otypPxw6b8

— Formula 1 (@F1) October 11, 2020
There are several drivers in the list who haven't won a World Championship. Regardless, the number of races they've won, podiums they've scored and points they've accumulated have put them right up there with the legends in this list.
The likes of Valtteri Bottas, Felipe Massa, Mark Webber and Daniel Ricciardo are all ranking higher than some previous World Champions in F1.
Also read: Lewis Hamilton wants these midfield teams to join the 2023 Championship battle
---
Share this article