"Maybe We Can Pay Them Back": Toto Wolff Suggests Compensation Plan by F1 to 'Unfortunate Fans' at Las Vegas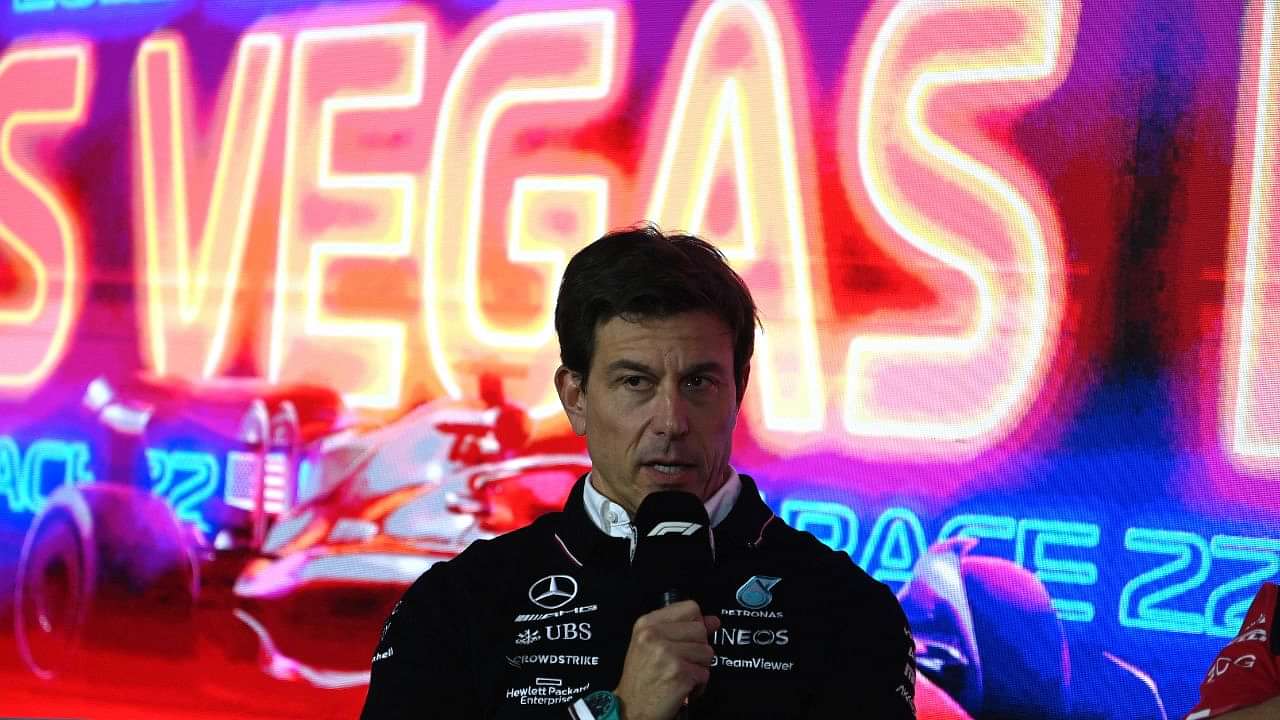 The Las Vegas Grand Prix may have produced one of the most thrilling races of the 2023 season with plenty of overtaking and other enthralling moments. However, it was the way the weekend started that was particularly disappointing. Although fans paid to watch the practice sessions, they could only watch eight minutes of action. Consequently, Mercedes team principal Toto Wolff believes that F1 should have a compensation plan to pay back such fans.
As quoted by racefans.net, Wolff said, "Often communication can do a lot to make the situation better. I hope for the people that ended up upset for the right reasons, we can find a good package for next year. So they can enjoy the race and in a way maybe we can pay them back for the unfortunate situation".
The fans could not see the action of FP2 as the start time of the second practice session was delayed significantly after Carlos Sainz's Ferrari drove over a water cover. Following the incident, F1 abandoned the opening practice session after just eight minutes.
They then delayed FP2 by a couple of hours and started it at 2:30 AM instead of 12:30 AM. Fans could not attend the second practice session as the security staff that F1 hired couldn't work until that late. Since fans could not watch FP2 despite paying for it, there was unsurprisingly outrage.
Moreover, F1 also came under severe fire for the way they had organized the Las Vegas GP. However, it was not until race day that the criticisms reduced when fans got to see some thrilling wheel-to-wheel action.
Toto Wolff explains how Las Vegas GP "ticked all the boxes"
Following the conclusion of the Las Vegas Grand Prix, Toto Wolff explained how he had an "awesome weekend". The Austrian stated, "Spectacular race, great audiences, mega event. Some good racing at the front. That's what I will remember [of the] inaugural Las Vegas race. Ticked all the boxes".
The Las Vegas GP was indeed an enthralling race as there was an outstanding battle for the win. Max Verstappen battled pole-sitter Charles Leclerc and Red Bull teammate Sergio Perez to clinch another victory in the 2023 season.
Further behind, Carlos Sainz managed to fend off the Mercedes of Lewis Hamilton to clinch some important points for Ferrari in their battle for P2 in the Constructors Championship. It was interesting that Wolff praised the Las Vegas GP even though his side did not have the best of weekends.
Mercedes saw their 20-point advantage over Ferrari reduce to just four points after Hamilton and George Russell managed to only finish seventh and eighth respectively. With such a slender lead, the Silver Arrows will now hope to produce a good performance at the upcoming season finale in Abu Dhabi.
---