Mercedes writing an era of unprecedented domination in Formula 1, is there any end to their seamless triumphs?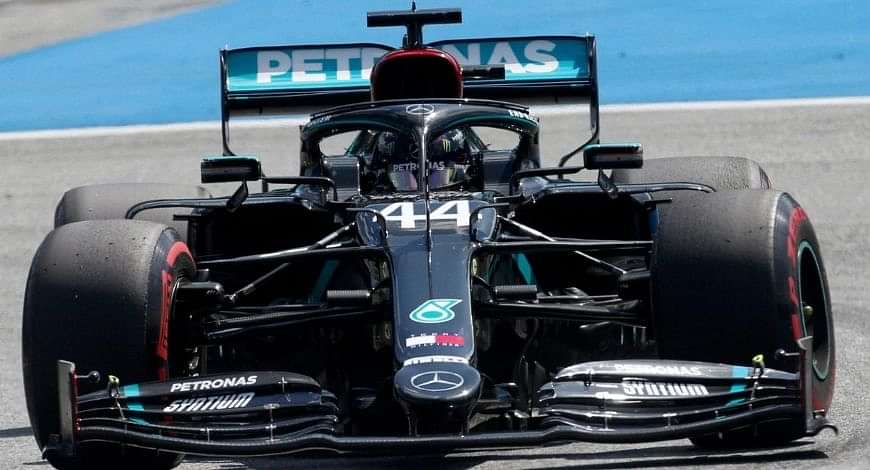 Mercedes in Formula 1 has been a force to reckon with, as they march towards another year of dominance, is there any end to this?
Mercedes, in its various forms, is one of the most successful teams in the 70-year-old history of Formula 1. The team, better known as "Silver Arrows" first competed in the sport in the 1954 French Grand Prix. Since then, the German outfit has won 6 Constructors' Championships and 8 Drivers Championships.
Mercedes as an engine provider
Mercedes has also been a very successful engineer provider in Formula 1, they still enjoy a major share in this. It has provided engines to teams like Ilmor, Sauber, Lotus and Manor, among others.
At present, Mercedes supply engine and power units to the Racing Point and Williams Racing teams, apart from their own works team Mercedes-AMG Petronas F1 Team.
But their most successful collaboration, undoubtedly, has to be the iconic McLaren-Mercedes team, which lasted for two decades. Mercedes-powered McLaren cars won 78 Grands Prix, 3 Drivers' Championship, and a Constructor's title in 1998. The partnership is making a comeback again, for the 2020 F1 season. McLaren CEO Zak Brown had this to say on going back to Mercedes.
"I'm very confident that Mercedes supplies – you can look at all the telemetry and you can see it's clear that – what's in Mercedes' Grand Prix car is the same that's in the Williams and the Racing Point car so if we do a very good job with our team, execute and the drivers do a good job, I think we can return to the top as a customer – but you're going to have to be on your A-game."
Mercedes Team Principal, Toto Wolff, also welcomes the move and is relishing the prospect of McLaren giving strong competition to Mercedes.
"There is one risk in this: that is if McLaren does a good job they will push us hard and maybe benchmark us in a way to say 'OK we are on the same power, you guys are not doing a good enough job' but where we are now after seven years in the hybrid era we feel we are ready for that step."
One-horse races in 21st century Formula 1
The Constructors' Championship was first awarded in 1958, as the International Cup for F1 Manufacturers. Since then, in over six decades, 15 teams have won the Constructors' Championship.
But remarkably, in the 21st century, only five teams have managed to lift that trophy – Ferrari, Renault, Brawn GP, Red Bull and current holders Mercedes.
Out of these, Brawn GP was present in Formula 1 for just a single season and later morphed into the Mercedes we see dominating the race track today.
FERRARI: 102 Grands Prix (Australia 1999 – Brazil 2004)
6 Constructors' titles (100%)
5 Drivers' titles (83.33%)
63 victories (61.76%)
54 pole positions (52.94%)
48 fastest laps (47.06%)
135 podiums (66.18%)
27 one-twos (26.47%)
This suggests a trend of dominance by teams in the last two decades in the sport. It all started with Formula 1's greatest team – Ferrari. The Italian automobile giant is the most successful team in Formula 1 history.
Ferrari won 9 Constructors' Championships in the last decade. But that was not enough for them, as they started this century with 5 consecutive titles from 1999 to 2004. All of the five Drivers' Championship went to one man – Michael Schumacher.
After seeing Renault's Fernando Alonso win the title for the French outfit in 2005 and 2006, Ferrari came back strongly, winning it again in 2007 and 2008. This was the last time Ferrari won the Championship in Formula 1, a wait of 12 years already.
RED BULL: 77 Grands Prix (Bahrain 2010 – Abu Dhabi 2013)
4 Constructors' titles (100%)
4 Drivers' titles (100%)
41 victories (53.25%)
52 pole positions (67.53%)
35 fastest laps (45.45%)
95 podiums (61.69%)
11 one-twos (14.29%)
In the year 2009, we had the new entrant Brawn GP winning both the Drivers' Championship (Jenson Button) and the Constructors' Championship. And yes, they won the titles with a Mercedes-powered engine, further highlighting the decline of Ferrari.
But it's not Mercedes, but another team which ended up dominating the post-Ferrari-decline era in Formula One. Red Bull Racing, powered by Renault engine, took the sport by storm from 2010 to 2013.
These years gave us the second-greatest German Formula 1 driver in Sebastian Vettel. He won the Drivers' Championship four seasons consecutively, with Red Bull Racing a cut above the rest of the pack.
Mercedes – the era of unprecedented domination in Formula 1
After 2013, Formula 1 witnessed the most dominant streak in its history, one which is still going on as you read this. It all started in 2010, when Daimler, Mercedes' parents, bought a  45 % stake in the Brawn GP team.
Aabar Investments, a UAE based equity investment giant, purchased 30% from the remaining stakes, held by the team management. The man synonymous with Brawn GP, Ross Brawn, continued in his role as the Team principal.
The consortium then got into a sponsorship deal with Malaysian oil major Petronas, and the team came to be known as Mercedes GP Petronas Formula One Team.
The team also went big with their driver's line up on their F1 comeback, partnering German legends Michael Schumacher and Nico Rosberg. After struggling in the first season in 2010, where Mercedes finished 4th behind Red Bull, Ferrari and McLaren (powered by Mercedes engines), Diamler and Aabar bought out the stakes held by the team management. This was significant for both parties, as now they could control the entire decision-making, without interference from the team management.
But, as highlighted above, Red Bull was extremely dominant from the period of 2010 to 2013 – the first four years of Mercedes' return. Mercedes continued to struggle in the 2011 and 2012 seasons, managing only fourth and fifth consecutively in the Constructors' Championship. Then on 28 September 2012, an announcement marked a symbolic turnaround for the Mercedes F1 team.
Introduction of Lewis Hamilton & Toto Wolff
Lewis Hamilton was announced as a Mercedes driver from the 2013 season onward, replacing the retiring legend Michael Schumacher. It was a three-year deal, but which has continued to exist via contract extensions, with Hamilton still racing for the dominant German outfit. There were changes behind the scenes too, the positive impact of which is felt even today.
Loading embed tweet https://twitter.com/MercedesAMGF1/status/1293216278832971776?ref_src=twsrc%5Etfw
Toto Wolff, an Austrian business magnate and a former racing driver was appointed as the Executive Director of the Mercedes AMG Petronas Formula One Team.
Apart from taking control of Mercedes-Benz's motorsport activities, Wolff also acquired a 30% stake in the team, which he still holds. Toto Wolff is currently the CEO and Team Principal of the Mercedes F1 team.
Apart from winning six consecutive Constructors and Drivers Championships (Hamilton 5; Rosberg 1), the 2018 season was the most successful year in Mercedes-Benz's motorsports history.
The company won the F1 title with Hamilton, the F2 title with George Russell, and the European F3 title with Mick Schumacher, the son of the driver Hamilton replaced at Mercedes and is now looking to emulate.
Apart from this, Mercedes-Benz also won all three titles the DTM competition, both the F1 eSports titles and numerous other championships in customer racing.
Mercedes dominance in the 21st century: 117 Grands Prix (Australia 2014 – Japan 2019)
6 Constructors' titles (100%)
6 Drivers' titles (100%)
86 victories (73.50%)
92 pole positions (78.63%)
60 fastest laps (51.28%)
174 podiums (74.35%)
47 one-twos (40.17%)
McLaren dominance in the 20th century: 64 Grands Prix (Brazil 1988 – Australia 1991)
4 Constructors' titles (100%)
4 Drivers' titles (100%)
39 victories (60.94%)
51 pole positions (79.69%)
27 fastest laps (42.19%)
79 podiums (61.72%)
17 one-twos (26.56%)
Mercedes have won all the six F1 Championships since the introduction of the turbo-hybrid regulations in 2014. The six consecutive titles are unprecedented in the history of Formula 1. And going by how the current 2020 season is faring, with Mercedes winning 4 of the 5 races, it wouldn't be a surprise if they make it seven consecutive F1 titles.
This is considerably ahead of the dominance considered to be greatest in the last century – Senna-Prost at McLaren. The iconic driver duo won four consecutive Constructors' title for McLaren, but their race victories and one-twos percentage is considerably lower than the Mercedes of 2014 to 2019.
The influence of the maverick Niki Lauda
Niki Lauda, a three-time world champion, is considered to be one of the greatest Formula 1 drivers ever. The Austrian is is the only racer in F1 history to win the driver's title with both Ferrari and Mclaren, currently F1's two-most successful constructors. Such was his genius, he even founded and ran three airlines – Lauda Air, Niki, and Lauda.
Niki Lauda was appointed as the non-Executive Chairman of Mercedes in September 2012, same month Hamilton was announced as their driver. Lauda had considerable F1 management experience, working as a consultant for Ferrari from 1993, and later as the Team Principal of the Jaguar Formula One team.
Lauda is credited for his role bringing Hamilton to Mercedes from McLaren – arguably Mercedes' greatest-ever signing in Formula 1. And the rest, as they say, is Formula One history.
Will Mercedes continue in Formula One?
This is the million-dollar question going around in the world of Formula 1 currently. Mercedes have achieved just about everything they could since the last decade, and are on the verge of winning yet another title this season, except a miracle comeback by Red Bull Racing.
Is Concorde Agreement the sticking point?
There are numerous clues to suggest 2020 or 2021 could be the last year for Mercedes as a works team. Most significant of them is the refusal to sign the Concorde Agreement – the heritage agreement which governs Formula One.
The current agreement is set to expire this season, and all the teams are ready to sign the new agreement, except Mercedes. The German outfit has a concern with clauses which still give Ferrari veto rights and the biggest chunk of F1's revenue pie.
But while talking to Formula 1's Lawrence Barreto last year, Toto Wolff asserted that Mercedes wants to continue as a works team. A lot has changed since then, and the renewed Concorde Agreement could be the final nail in the Mercedes coffin. This is what Wolff had to say on Mercedes' intentions of continuing beyond 2021.
"We have a strong set-up as an engine supplier, which goes back a very long time, and we have a works team that has been doing well and both have merit jointly and independently. This is not a point where we could spread our bets and say 'we may stay as an engine supplier and not as a works team', this is not what I am saying.
"We enjoy being a works team."
One-year contract extension to Valtteri Bottas
Then there is the length of the contract extension handed out to Finnish driver Valtteri Bottas. Bottas has been offered one-year extensions since he joined in 2017, but the 2021 extension could be telling.
Bottas is now an accomplished Mercedes driver and also mentioned a few days back that he had asked for a two-year contract extension, but Mercedes politely rejected it. If Mercedes are not to continue beyond 2021, then we could see Hamilton also getting just a single-year extension. If that indeed happens, then we might see Mercedes only operating an engine supplier in the future.
Toto Wolff: Switch from Mercedes to Aston Martin?
It is no secret that Toto Wolff has an investment in his friend Lawrence Stroll's Aston Martin automobile brand. Wolff has since denied any involvement in the Racing Point F1 team, which will morph into Aston Martin next season. But this could well change if Mercedes exit as a works team after this, or the 2021 season.
With Sebastian Vettel expected to join Aston Martin from next season, having Wolff as the Team Principal could be the stuff of dreams for Aston Martin in F1. This possibility is further strengthened considering Mercedes Engine chief Andy Cowell resigned prior to the start of this season. 
If Mercedes do exit as a Constructor in 2021, expect the German giants to dominate the engine suppliers department. With Aston Martin and McLaren using Mercedes-powered cars from next season, it heralds an era in F1 where Mercedes continue being the most successful engine provider in the grid, ahead of the likes of Renault, Honda, and the declining Ferrari.
---