What Is Incorrect Starting Location?: Why Fernando Alonso Got A Penalty During His Incredible Race Start in Saudi Arabia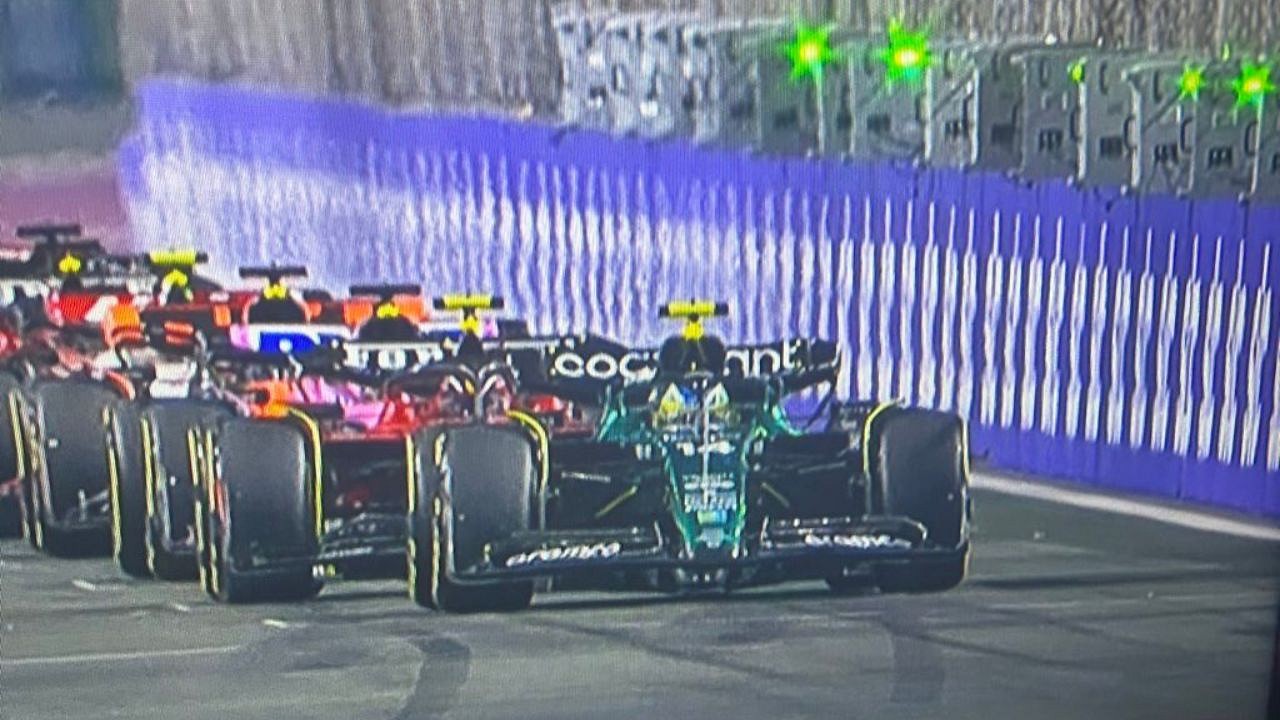 Fernando Alonso had a promising start to the Saudi Arabian Grand Prix race. And as soon the lights went out, he led the grid. But there was a problem, the FIA soon investigated him, and he was spotted starting from an 'incorrect position'.
Further, it was ruled by the governing body that the Spaniard would have to serve a five-second penalty which could affect his result. And things couldn't have gone worse for the 41-year-old when, in no time, he was overtaken by Sergio Perez, chasing in Red Bull.
So, what could have been an impressive result day for Aston martin now has been marred by the nitpicking of errors by the stewards. But from here, Alonso can surely recover his race.
What Is Incorrect Starting Location?: What led to a penalty for Fernando Alonso?
Well, before a race starts, every driver has to station their car on the blocks designated to them from where the race begins. Breaching that area which is usually drawn with white paint, could penalize a driver.
Very clear pic.twitter.com/PR7xiDgtUW

— GR63 at Mercedes (@Russell63Merc) March 19, 2023
This situation also applies when drivers start their race from a different position than what they were originally allocated. Now, all done, Alonso would regret such a minor mistake.
It could also affect his result against Mercedes and Ferrari, who were hunting him down during the publishing of this article. Would he manage to keep them at bay with a five-second deficit? That remains to be seen.
Lance Stroll gives a blessing in disguise
While Alonso was endangered of losing one or two positions with his penalty, his teammate Lance Stroll came out as help. Though, this time, it was a mere co-incident.
After almost one-third of the race was complete, Stroll had to retire with a technical failure. Instead of taking his car to his garage, he had to stop it somewhere on the track, which flared the yellow flags.
With this, Alonso had the opportunity to serve his penalty as stop and go. Moreover, he also got a cheap pitstop as he lost no position under the yellow flag. Now, the Spaniard can only keep his focus on safeguarding his podium in the race.
The debate over the validation of the penalty completion
While Alonso served his penalty during the yellow flag, a huge confusion over the validation of the service occurred. F1 commentators revealed that the stewards were seeing whether one is supposed to deal with the penalty during such a situation.
Aston martin conveys this message to Alonso but also relaxes him by saying they think they are fine. On the other hand, George Russell also got aware of the situation and started to push more.
Alonso told: "Currently Russell is 4.3 behind. It would be nice to have five seconds just in case but we think we're OK" #F1 #SaudiArabianGP https://t.co/kwwFSW2X6T

— Chris Medland (@ChrisMedlandF1) March 19, 2023
Now, the fans are hoping for confirmation from the governing body whether Alonso is the legitimate winner of the P3 podium. If Alonso still gets his penalty stand, then in hindsight, Russell will prove himself right for denying orders from Mercedes, who were commanding him to let the 'faster' Lewis Hamilton go ahead.
An unfortunate end to a landmark day for Alonso
Initially, the podium was given to Alonso, and it was his 100th career podium, a landmark achievement for any driver. His team members were overwhelmingly happy to share his milestone.
However, the FIA made a brutal decision in the end. They decided to invalidate the way Alonso served his penalty and give him an additional five-second punishment for 'incorrectly serving' the penalty.
BREAKING: Fernando Alonso is given a 10s penalty for an incorrectly-served penalty, and loses his podium in Jeddah

He drops to fourth, with George Russell moving up to third#SaudiArabianGP #F1 pic.twitter.com/PWA3dM3wI4

— Formula 1 (@F1) March 19, 2023
With this, Russell took the podium away. Though, he didn't get to celebrate it on the grandstand. Nevertheless, it's the first positive for his team Mercedes in the season, where they already seem to lose all hope for the championship.
---
Share this article