Five things we learnt as Arsenal beat Leicester City in a seven goal thriller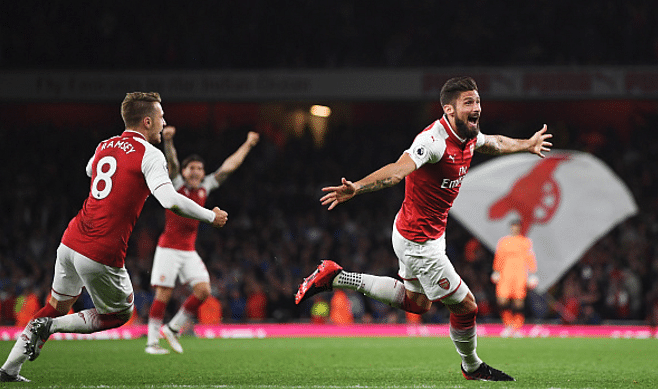 WHAT. A. GAME. The Premier League was back with a bang, with the first game turning out to be seven-goal thriller as Arsenal beat Leicester City at the Emirates.
Arsenal, off the back of a Community Shield win over Chelsea, came into the game having won only one of their last seven opening day games in the Premier League.
Leicester, on the other hand, came into the game with no title tag to live up to and hence no shackles holding them back from the free-flowing football we saw them play in their title winning season under Ranieri.
Let's take a look at 5 things we learnt from the game:
Arsenal need their first choice centre backs imminently
With Per Mertesacker, Shkodran Mustafi, Gabriel out injured and Laurent Koscielny out with a suspension, Wenger was forced to choose two left backs and a youngster in his back three.
The move backfired, with Holding especially looking nervy and disorganised in the absence of a leader like Mertesacker or Koscielny.
The Arsenal defence was shambolic in dealing with the incisive crosses from Leicester, with all three goals coming from crosses.
For the 3-4-3 formation to work out effectively, Arsenal need their first choice centre backs in the team as soon as possible, with their absence making the Arsenal defence look rather bleak.
Newcomers prove their worth
Wenger brought in two players in the summer transfer window with Alexander Lacazette arriving as the record transfer signing and Sead Kolasinac joining the Gunners on a free transfer from Schalke.
In the build up to the game, Wenger challenged Lacazette to score a goal a game and the Frenchman wasted to no time to prove his worth, scoring on his Premier League debut with only 94 seconds on the clock.
On the other end of the pitch, Sead Kolasinac looked like a formidable physical presence in a weak Arsenal defence, constantly pushing up and trying to dispossess opponents quickly, and was also keen to storm forward whenever Arsenal had possession, with him teeing up Welbeck's goal at the end of the first half.
For Leicester, Harry Maguire also made an impressive start, with the 24 year old centre half playing a number of fine passes into midfield and also cleverly set up Okazaki's goal to level things up at the start.
With a solid start to his career, he already looks like a wonderful acquisition.
Arsenal must hold on to Giroud
With Lacazette arriving after a record breaking transfer fee at the Emirates, Olivier Giroud's time at Arsenal seemed to be up, with Everton and Marseille readying their bids.
But Giroud continues to prove his worth, proving to be a crucial goal scorer for the Gunners on more than occasion. Today was no different, as Giroud immediately impacted the game after Wenger threw him and Aaron Ramsey on to shake things up.
While Ramsey equalised for Arsenal with a brilliant first touch and finish, Giroud's thunderous header off the underside of the bar was the one that sparked wild celebrations at the Emirates.
If Arsenal are to mount a serious challenge for the Premier League title, they must hold on to Giroud, whose ability to score late goals have been crucial for them time and again.
Leicester's old school style is still effective
Arsenal got off to an electric start to the game, with Lacazette scoring within the first two minutes, but it was cancelled out almost immediately by Shinji Okazaki's header.
Arsenal then went on to enjoy a lot of possession, playing intricate passes between them.
But as Leicester have shown in the last two years, they don't really need possession to impact the game.
They pressed high and took the lead after a lightning counter started down the left by Marc Albrighton which ended with an emphatic finish by Jamie Vardy.
While Shakespeare's side may not pull off the same shock Premier League victory Ranieri's side did two seasons ago, there's no denying they'd be a menace to all teams in the Premier League and would most certainly aim at finishing in the top half of the league.
Iheanacho has his work cut out
Kelechi Iheanacho is an excellent signing for Leicester, but he may have to be patient in the next few weeks.
Okazaki and Vardy were both brilliant at the Emirates Stadium and once again demonstrated how the tireless work rate of Okazaki is a perfect complement to Vardy's menacing pace, which proved to be too much for the Arsenal defence to handle.
Iheanacho played second fiddle to Sergio Aguero and Gabriel Jesus at the Etihad, and might as well have to do the same at Leicester, with the complementary style of play between the players proving menacing.
Iheanacho would have to prove his worth if he wishes to get the nod in front of Okazaki and Vardy, and for that he must score in every opportunity he gets.
---
Share this article