Harsh Goenka once again takes a dig at MS Dhoni!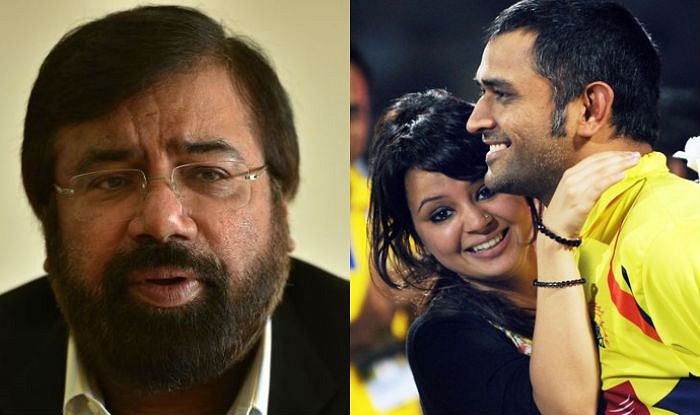 Harsh Goenka is back in the news with yet another tweet indirectly taking a jibe at former Rising Pune Supergiant skipper, Mahendra Singh Dhoni. In his tweet, Goenka appreciated some of the RPS players who have played well and proven to be match-winners in the last few matches but failed to mention Dhoni in his list. Twitterati were quick to hit back at Goenka for trivializing the contribution of the former India captain.
https://twitter.com/hvgoenka/status/859830830360928261
In February this year, Sanjeev Goenka, owner of RPS, made a shocking announcement stating that MS Dhoni has been sacked as the captain of the franchise which would be led by Australian captain Steven Smith. The news sent Indians into a tizzy as their favourite captain had been insulted by a business tycoon who depends on superstition to win matches in IPL. After their first match of IPL 10 which they won due to Smith's heroics, Sanjeev's brother, Harsh Goenka decided to add salt to injury when he put up a tweet stating, ''Steve Smith proves who is the real king of the jungle. Overshadows Dhoni totally. Captain's innings. Great move to appoint him as captain."
Also Read: Twitter lambasts Goenka over Dhoni tweet
Harsh soon became the butt of all trolls as the social media did not mince words against the businessman who directly insulted one of India's legends with his insensitivity. After couple of matches, Goenka put up the best statistics of the best batsmen for RPS in the season in which Dhoni was not there. This was also taken to be another indirect attack on MS Dhoni's lack of form and the decision to replace him.
A few weeks down the line, the Rising Pune Supergiant were in a spot of bother as they had already lost 3 out of their first 5 matches and were reeling towards the bottom of the table. While facing Sunrisers Hyderabad at the MCA Stadium in Pune, MS Dhoni came into his own while chasing a stiff total of 176 against the best bowling attack in this year's IPL. The big names in the RPS lineup like Rahane, Smith and Stokes had all failed when the old war-horse decided to show the Goenkas and the world that he is still a force to reckon with. He scored 61 off just 34 balls and hit a last ball 4 to take RPS home.
Harsh Goenka was mercilessly trolled by the fans of MS Dhoni post this knock to which Goenka, almost forcibly, had to tweet a congratulatory message for MS Dhoni which read, ''Masterful innings by Dhoni. Great to see him back in form. Nobody can be a greater finisher. Takes @RPSupergiants to a nail-biting win.'' This tweet failed to console the Twitterati who further trolled him for initially underestimating Dhoni.
RPS made a superb comeback winning 6 of their last 7 matches and are now on the 3rd position on the points table sniffing down the neck of KKR. Harsh Goenka was delighted by this turnaround and decided to post another tweet wherein he congratulated the players who have been heroes in the last few matches. However, yet again, Goenka again showed his true colours and also, his immense hatred for one of the most loved cricketers in India who won us all the major championships during his stint as captain. Goenka tweeted, "Great thing about #RPS – a new hero every game – Tripathi, Stokes, Smith, Tahir. Peaking at the right time."
While there is no denying that the above mentioned players have been instrumental in getting RPS the wins, it is also true that Dhoni was an absolute hero when he pulled off the chase against SRH almost single-handedly. A mention of MS would not have done any harm but Mr. Goenka decided to put down Dhoni yet again. He has been self-inviting all the hatred which he has been receiving from all the people around the world. He may be a business tycoon but clearly, he is more immature than a 10-year-old boy who has no understanding of the game of cricket or of the records a certain Mahendra Singh Dhoni holds. If Harsh Goenka does not mend his ways, he may soon become the most hated man in the Indian cricketing circle.
---
Share this article