RPS owner Sanjeev Goenka takes a huge dig at MS Dhoni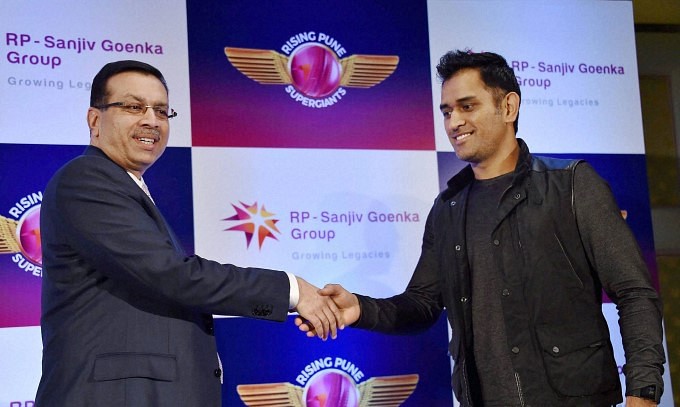 Before the IPL started, the RPS team management replaced MSD with Steve Smith as the captain of the side. Sanjeev Goenka went onto say that MS Dhoni hadn't stepped down as captain, but was actually removed from the helm of affairs at the Pune franchise. He also went onto say that Dhoni was extremely cooperative with the move.
Harsh Goenka, Sanjeev's brother has been taking constant digs at MSD's 'no show' in the IPL(i.e. whenever he has failed) and this time it was Sanjeev's turn to take slight jibe at MSD.
In his interview, Mr Goenka said, " MS is one of the greatest minds I have interacted with. And he is the best wicket-keeper in the world. (But !)The one mind ahead of Dhoni's is Smith's. My brief to Smith was – 'win the championship'. It's difficult to believe the way he has planned some dismissals; the tact and firmness with which he has dealt with tricky situations and the win-or-nothing attitude he has been able to infuse into the team and get them to gel as a unit,"
Also Read: Harsh Goenka takes another dig at MS Dhoni
"You need to win eight nine games to make the playoffs and Smith told me that between him, Tahir and Stokes, we would win seven. And players of the calibre of MS will always give you something. We had more match winners this time, players who would need five six balls to settle down instead of 20. And we had not factored in Rahul Tripathi, Washington Sundar and Jaydev Unadkat. Tripathi and Sundar are going to be serious players on the Indian cricket scene,"
A wicketkeeper plays the role of a captain behind the stumps, and MSD has been extremely helpful to Steve Smith, giving him tips and suggestions all through. It is hurtful for MS Dhoni fans that at the fag end of his career, he is being subject to such scrutiny at the hands of the RPS team management.
Dhoni will be featuring in his 7th IPL final on Sunday.
---