Hat-trick of titles in sight for Aditi Ashok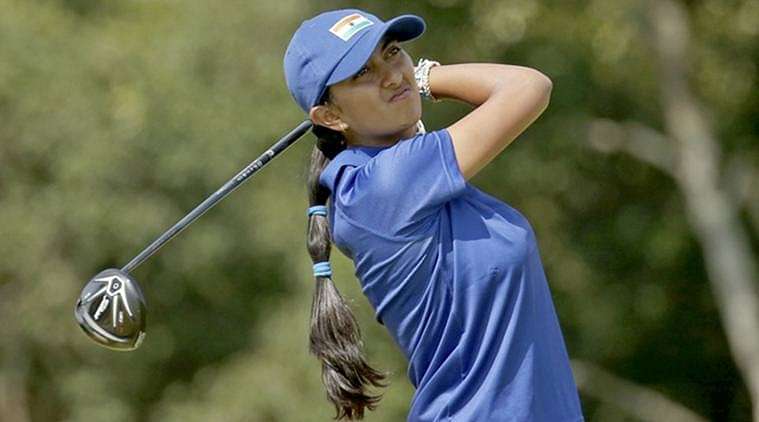 Aditi Ashok's dream run continues
Indian golfing sensation Aditi Ashok continued her dream run in the international circuit. After pocketing the Indian and the Qatar Ladies, she looks well poised to win the Omega Dubai Ladies Masters too.
Aditi carried on in her merry way by notching up a second successive round of two-under 70s. This propelled her to the third position in the tournament. Interestingly, she is tied in that position with the Rookie of the Year in 2015, Emily Pedersen. This calls for a intriguing finale with Aditi being the prime contender for the title this year.
Match review and Aditi speaks
The 18 year old rising star would begin on a high by shooting 70 in the first round. However, fortunes changed when she began the second round(10th hole) and bogeyed it. She would quickly turn it around with 3 birdies between the 15th and 18th to find herself 2 under.
Coming to the front nine, she registered a score of 2 under par. This comprised of a brilliant birdie on the first and a bogey on the sixth. "I think I played pretty well, especially in the middle since the started at the back nine. Later on, I did really well from like 15 to like the middle nine holes, it was really good,"Aditi said after the match.
I made four or five birdies, so that was good, but obviously I did not play as well on the par 5s as I thought I would. I made only one birdie and I bogeyed the 10th, as well. It's not great, but it was still 2-under, so it's not bad. I'm happy," she added
Current leaderboard
The tournament went through on a perfect day where all players adorned pink. This was for raising awareness of breast cancer to support the Al Jalila Foundation. Moreover, the course also comprised of pink pin flags, pink cups and pink tees.
England's Felicity Jones fired on all cylinders and now leads at seven under par. Also, overnight leader Florentyna Parker is now in second position with a score of fiver under par. The Sportsrush wishes Aditi Ashok all the best on her quest for another title!
---