IPL 2017 Fantasy Guide: Fantasy Tips for Gujarat Lions vs Rising Pune Supergiant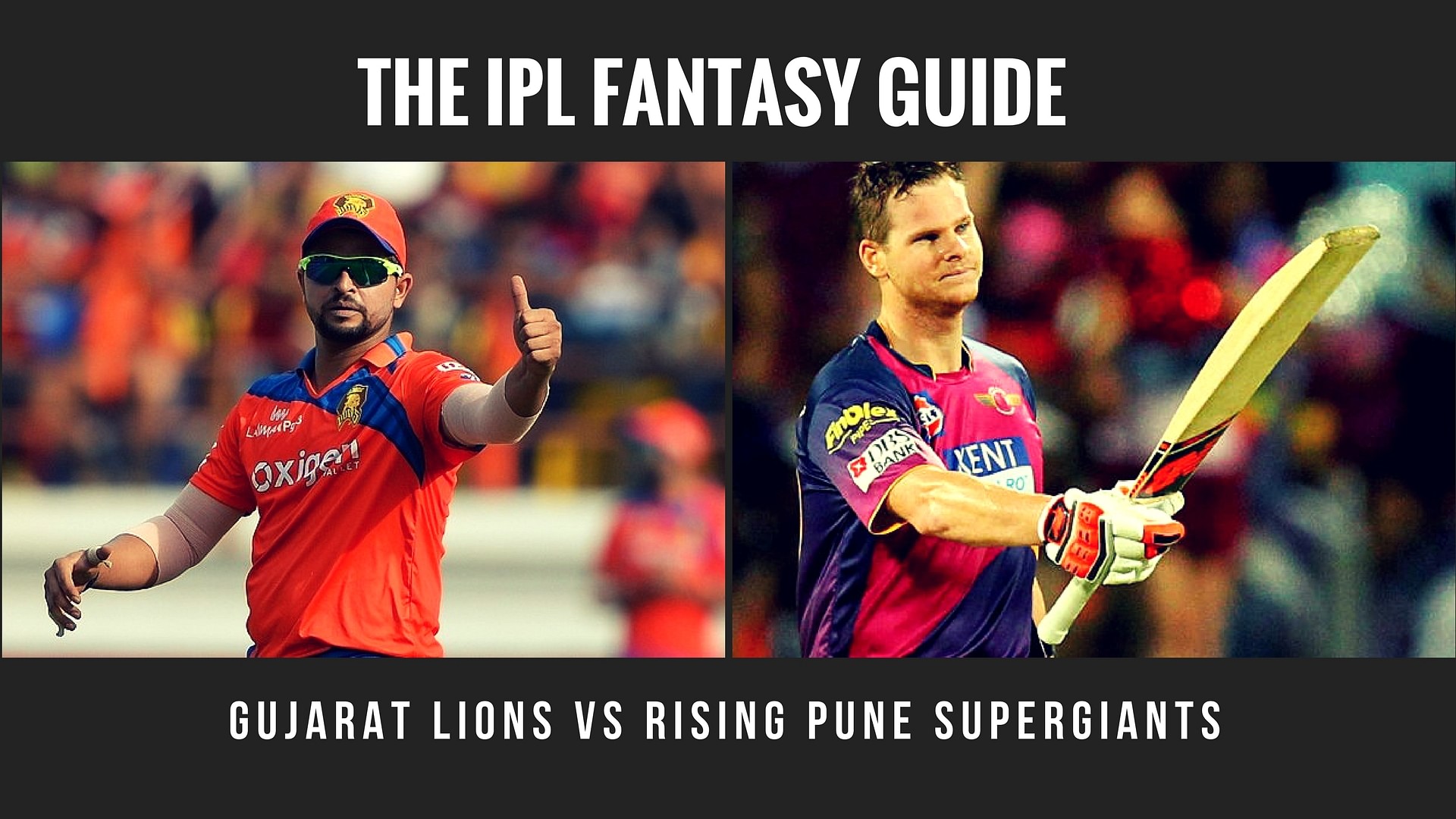 Beginner's luck hasn't really favoured the two teams new to the competition. RPS had  a horrendous first year, marred with injuries and substandard performances. GL on the other hand started off has high flying bots, making all the right moves, but they ended up falling hard on their face during the business end of the tournament. Both haven't quite learnt their lessons from last year round and have been very slow to get off the blocks. This game would make one plunge even deeper while the other would get its campaign back on track.
Rising Pune Supergiant need to get their top order to fire. If they play both Faf and Smith, one of them has to bat at least 10 overs for them to have any chance of winning the game, as their bowling lineup is comparable to RCB(something that is not really great). MS Dhoni hasn't been in great touch and Stokes just has had one good inning until now.
The Gujarat Lions would welcome Jaddu into their side, and would be hoping that the experienced Indian international brings about some much needed zest into the unit. His 4 overs would be key and his major challenge would be to shift from the Test zone to the T20 blitzkrieg. If he keeps bowling that predictable line, he could be taken for plenty. They would have also have to rethink their overseas player combination, as a top heavy team is just not working for them.
Let's get to business now!
IPL Fantasy League
Transfer out: Jos Buttler, ABD, Krunal Pandya
Transfer in: Imran Tahir, Ben Stokes, Mayank Agarwal
Now, I don't have any player from both these teams in my side, so I guess I'll have to go shopping today!
The first player that I get into my side is the spin wizard from South Africa, Imran Tahir. He has taken 6 wickets in the tournament so far, at an average of 13.5 and an economy rate of a meagre economy rate of 6.75. We all witnessed how Rashid Khan ran through the GL top order and I see that happening once again against Tahir, as none of the GL overseas batsmen play leg spin well. Get him in!
The Gujarat Lions will do a lot of tinkering with their side and thus even though they play twice in 4 games, I wouldn't consider bringing in any of their 4 overseas batsmen into my side. If you really want to get one of them in, Roy is the best possible option, because if he plays, he will open the batting. I expect BMac to sit this one out as he has been abysmal this season, and for a large part of last season as well.
Ben Stokes batting at number 4 and bowling two overs at the death is too good an option to not consider. Though he has gotten just one wicket in his 3 games, the simple fact that he operates in the death overs cannot be overlooked, as on his day he can easily get a 3 for and end up getting a quick fire half century. Get him in!
The third best player for this game is of course Steve Smith. He has been in scintillating form in India, but hasn't really kicked on in T20s in his entire career. He scored 28 of 28 in the first game against Mumbai when he was dropped and then managed 24 of 27 in the second game. He hasn't really set the ball rolling as of now. And as I can bring in only two from Stokes, Smith and Tahir, I'll make Smith sit this one out.
The last substitution that you could maybe consider for this game is Ajinkya Rahane. Against a weak Gujarat bowling line up, you can expect him to help himself to a half century. But do it only if you have more than 55 transfers in the kitty.
Now, for the uncapped player, I have to with a batsman, because of my team combination, and hence I go in with Mayank Agarwal, who bats at the top of the order for RPS.
Captain: Ben Stokes(if RPSG bat first)/Imran Tahir(if RPS bowl first)
Fandromeda tips on the next page:

Fandromeda
Transfer out: ABD, Jos Buttler, Rohit Sharma, Virat Kohli
Transfer in: Imran Tahir, Ben Stokes, Rishab Pant, Ajinkya Rahane
I don't have any player from this fixture in my side.
I'll ring in Ben Stokes and Imran Tahir here as well, the reasons for which have been mentioned in the IPL Fantasy League section.
Now, I have to transfer out ABD and Jos Buttler for that, which renders my team without a wicketkeeper. And hence I will need to get in a wicketkeeper. Dinesh Karthik bats way to low down the order to be of much use and hence I'll be going in Rishab Pant(who has a night game tomorrow). No other wicketkeeper bats too high up the order to be of much use.
I'll also be getting in Ajinkya Rahane for sure in Fandromeda because of the extra transfers that it offers.
Batting Star: Ajinkya Rahane
Bowling Star: Imran Tahir
Happy Team Picking 🙂
---
Share this article