IPL 2017 Fantasy Guide: Fantasy Tips for Gujarat Lions vs Royal Challengers Bangalore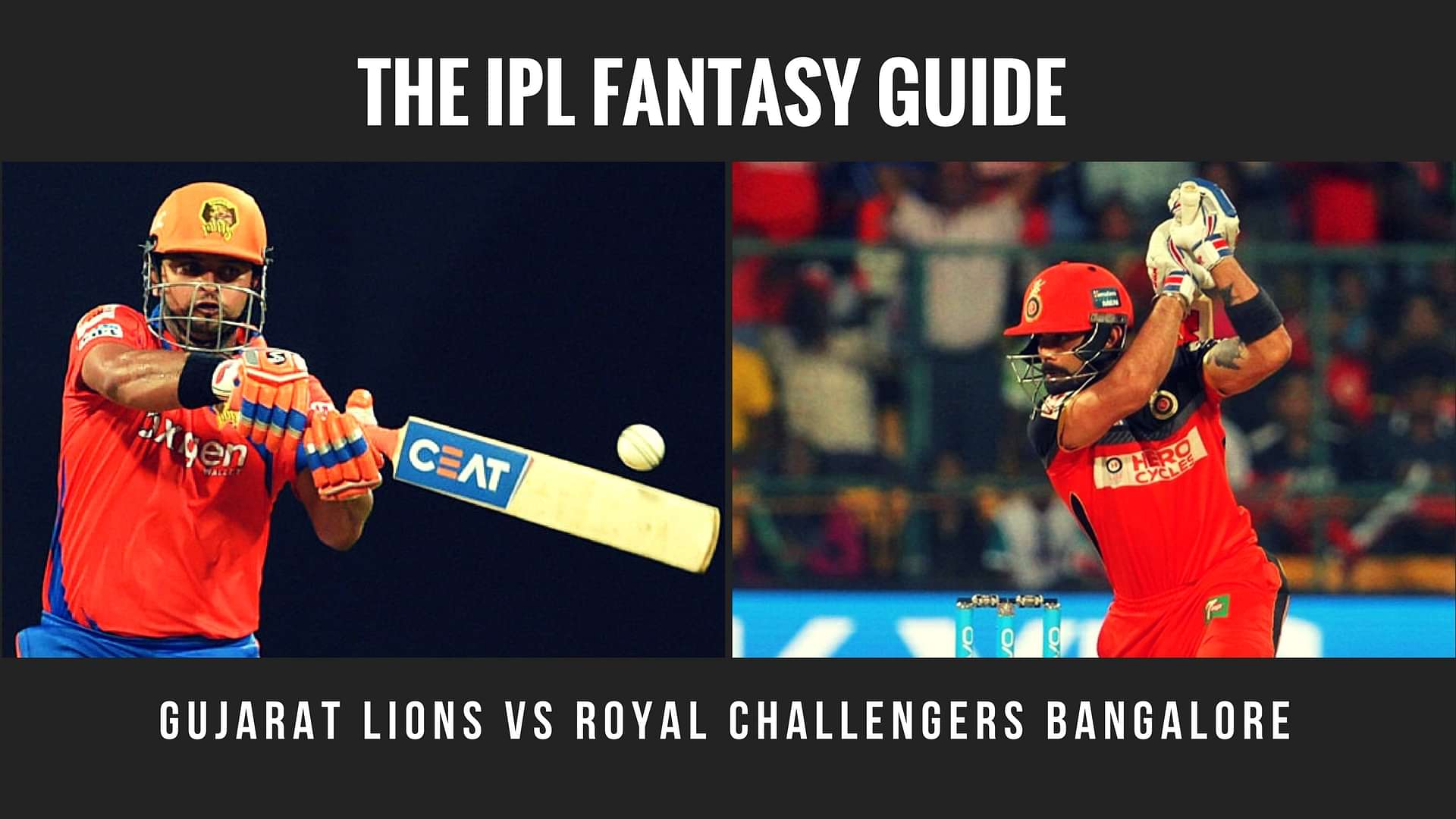 With so many international stars vying for top honours, it is heartening to see young Indian stars taking up the mantle of guiding their team to the victory shore. Manish Pandey and Manan Vohra racked innings of substance last night and while the former was able to scrape his team past the finish line, the latter's valiant effort just came out short.
Pandey paced his innings to perfection and constructed a match winning partnership with Yusuf Pathan. Vohra on the other hand was the lone horse, with no other batsman putting his hand up to grind it out and finish off the game. A coming off age story that didn't quite get the fairy tale ending it deserved.
Kings XI suddenly find themselves in a slump, having lost their last 3 games, and desperately need their foreign stars to come to the party, or they could be out of contention for a playoff spot pretty soon.
Also Read: Preview and Match Predictions for Gujarat Lions vs Royal Challengers Bangalore
Sunrisers have somewhat revived their campaign after 2 back to back losses but would still want to sort their middle order out, as it just hasn't fired after their first game. Yuvraj's form(or the lack of it) could be the major reason for SRHs batting woes, as they still seem heavily dependent on Warner firing up top.
Gautam Gambhir would be loving this response from his side after Chris Lynn was forced out due to injury. Every game someone new steps up and delivers for the team, a hallmark of a champion side in the making.
Let's get to business now!
IPL Fantasy League
Transfer out: KC Cariappa, Manish Pandey(if you have enough transfers)
Transfer in: Iqbal Abdullah/Basil Thampi, Suresh Raina
Now, I already have ABD and Virat Kohli in my side for this game!
The major point of discussion for this game would be that who out of Dwayne Smith, Brendon McCullum and Aaron Finch would fire?
Taking cues from the Lions' performance against Rashid Khan, you would want to stay away from all the three foreign batsmen of the Lions side. Badree could bamboozle them left, right and centre and even if they survive that test, they'll have the guile of Yuzi Chahal to deal with. Iqbal Abdullah could also be drafted into the side to counter the dynamic opening duo of BMac and Smith. With so many hawks waiting to gulp down Smith and McCullum, I decide to leave both of them out.
Also, the fact that all 4 of my overseas player, play either this game or the game tomorrow, and hence I can't bring in any more foreign recruits into my side.
Raina could be a decent enough option but he hasn't quite scored quickly enough to warrant him a place in my side, and with Milne itching to treat him with some chin music, leaving him out won't cause much damage. But with GL playing twice in 4 games, you could take a gamble by getting him in, as even if he gives you a run ball 30 in both games, he'll easily give a return of 120 points in two games(adding his fielding points)
Dinesh Karthik is turning out to be a brilliant late order player, but the dynamic batting order of the Lions, where sometimes Karthik bats at 4, sometimes at 5, creates enough doubt to leave him out. I can't bank on players who might not even get 10 balls to play in an innings.
I won't be transferring in any more players into my side for this game.
For the uncapped player, my first choice would be Iqbal Abdullah, i.e if he plays, else I go in with Basil Thampi.
Captain: Virat Kohli(if RCB bat second)/ABD(if RCB bat first)
Fandromeda tips on the next page:

Fandromeda
Transfer out: Manish Pandey, Kuldeep Yadav
Transfer in: Suresh Raina, Aravind/Mandeep
Now, I already have ABD, Virat Kohli and Samuel Badree in my side for this game.
I can't bring in any overseas player for this game, as all the overseas players in my team either feature today or tomorrow. Also, I have given my reasons for not opting for Smith, BMac and Finch in the IPL Fantasy League section.
The first player that I bring into my team for this game is Sureah Raina. While he hasn't been in the best of forms this IPL, he is certainly going to provide you with at least 100 points before you would have to transfer him out(plays twice in 4 games). And while his batting might look pained, he can get you 60 odd runs over these two games and get you at least 40 points through his fielding. Also, I don't see any point in carrying Pandey until the game on Friday.
Now, when I get in Raina, I will need to make another transfer as my balance is now -5k.  I transfer out Kuldeep to get in one from Mandeep Singh and Aravind. If RCB bowl first, get in Aravind, if RCB bat first get in Mandeep.
Batting Star: Virat Kohli(if RCB bat second)/ABD(if RCB bat first)
Bowling Star: Samuel Badree
---