IPL 2017 Fantasy Guide: Fantasy Tips for Kings XI Punjab vs Sunrisers Hyderabad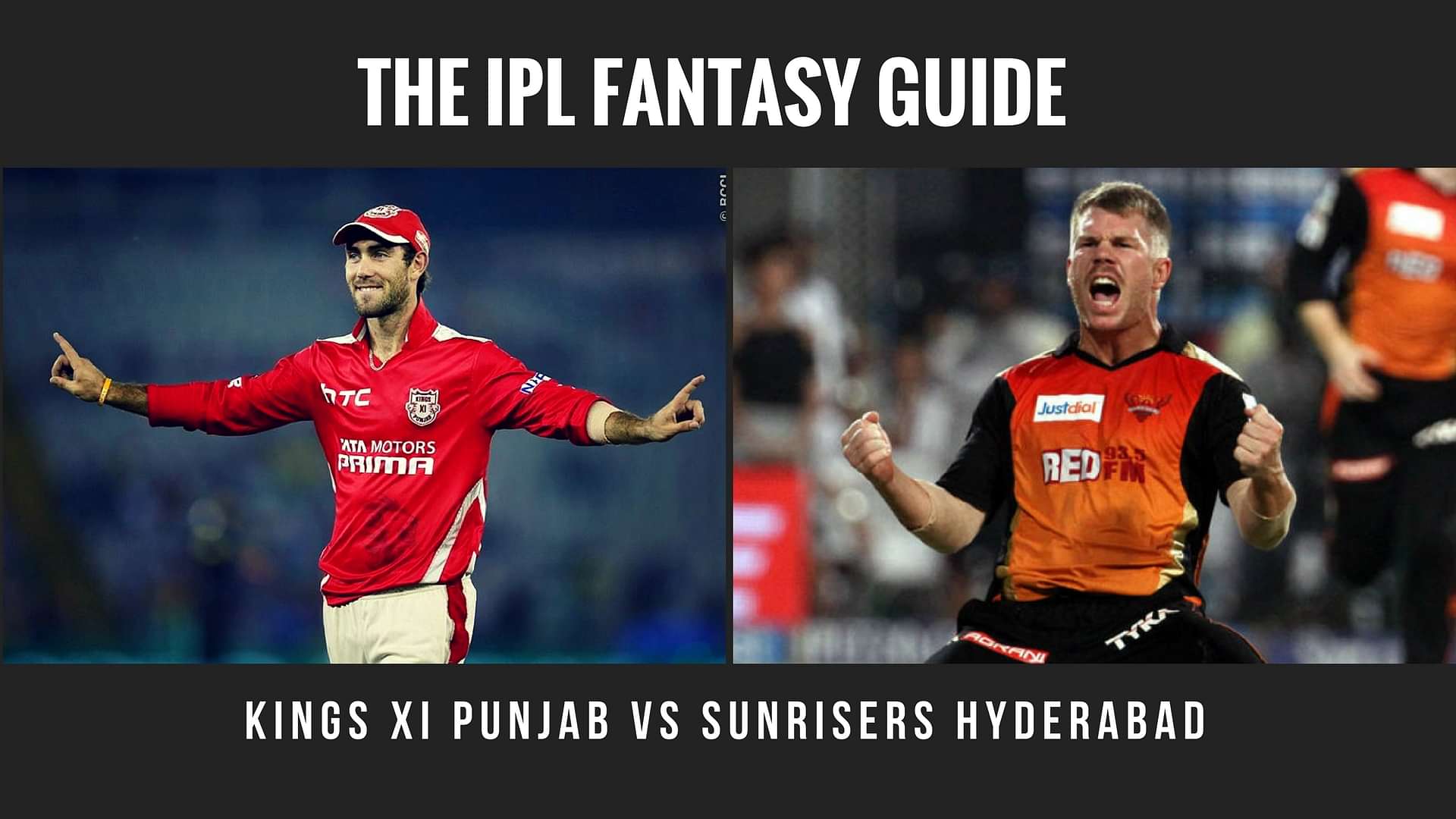 The last time these two sides faced each other, a new set of heroes were excavated, a little more so for the Kings XI though. Manan Vohra almost pulled off an incredible run chase without any support from their overseas stars, only to be stopped by arguably India's best death bowler, Bhuvaneshwar Kumar. Bhuvi took a 5 for in the game and snatched it out of Vohra's reach right at the end.
Since then things have started to look up for the Kings XI, and though Vohra hasn't been contributing a lot, they would be happy that the team has found some much needed direction after that close loss. Hashim Amla and Glenn Maxwell have taken on the mantle of the batting unit, playing solid knocks all along. And Axar Patel is leading the bowling unit with some panache.
SRH on the other hand have made a master stroke by drafting in Kane Williamson into their side, as it helps do away with that extra pressure on Warner, and he can express himself more freely. Rashid Khan has been living the dream. He came in as a young associate nation player looking to make his mark on the biggest T20 league in the world, and now he is making people dance to his trickery.
Let's get to business now!
IPL Fantasy League Fantasy Tips on the next page

IPL Fantasy League
Transfer out: Chris Morris, Sunil Narine, Ankit Bawne
Transfer in: Glenn Maxwell, David Warner, Dummy Uncapped player
Now, I already have Bhuvi and Rashid Khan in my team for this game.
The first player that I get into my side is David Warner. The only real threat in the KXIP bowling unit is Axar Patel and he'll be spinning the ball into David, making it easy for him to manoeuvre him around, and thus I believe Warner would help himself to a fifty very easily tonight. Sandeep Sharma has often troubled him early on, but Sandeep hasn't been swinging the ball too much this season, thereby making it easy for Warner to negate his threat up top.
Now, for the second transfer it is going to be a straight toss up between Maxwell and Amla. Amla has been really solid up top but Maxwell has time and agains showed that all he needs is 20 balls to blow away the opposition. Maxwell though will have to deal with Rashid Khan's threat in the middle overs, and I am sure Warner would save him for Maxi. Thus, I am a little tilted towards Amla, the major reason being Rashid's trickery. If you can, I would suggest getting both of them in, as KXIP play again after a gap of just 2 matches.
My team combination does not allow me to get in Amla, as I already have enough batsmen in my side, and hence I'll have to go with Maxwell and hope that Bhuvi can sort Amla out up front and then Maxi can destroy SRH lower down the order. It's a 'fantasy' world we live in , don't we?
For the uncapped player, I am left with just 600,000 and thus I will have to go for a dummy substitution here.
Captain: Bhuvaneshwar Kumar
Fandromeda Tips on the next page:
Fandromeda
Transfer out: Sunil Narine, Manish Pandey, Chris Morris
Transfer in: Glenn Maxwell, David Warner, Bhuvi
Now, I don't have any players from this game in my team!
David Warner and Bhuvi walk into my side. They have had a good record against Kings XI all through and should be able to replicate that today as well. Bhuvi picked up the man of the match he last time faced Punjab and is guaranteed to get you 2 wickets every game, as he is the first choice death bowler for SRH.
The Kings XI bowling doesn't pose much of a threat to Warner and I see him helping himself to a fifty very easily. (Other reasons explained in the IPL Fantasy League section)
Again the Maxi vs Amla conundrum arises and again I have to opt for Maxi because of my team combination. I can't get both of them in as Steve Smith and ABD feature in tomorrow's game and thus I will have to go in with just Maxi.
At this stage, I wouldn't advise any more transfers for this game.
Batting Star: David Warner
Bowling Star: Bhuvi
---