Khabib Nurmagomedov News: PETA send a complaint to UFC after a video of the Lighweight Champion wrestling a bear emerges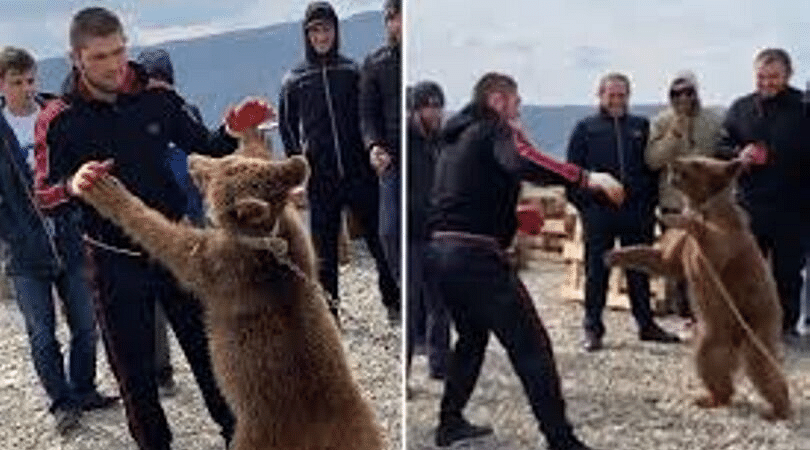 Khabib Nurmagomedov News: PETA send a complaint to UFC after a video of the Lighweight Champion wrestling a bear surfaces on the internet.
Khabib Nurmagomedov made the news last year after his post-match brawl with Connor McGregor. The consequence of which was a $500,000 fine and a 9-month suspension. He has since made his return to the UFC and reclaimed his Lightweight Championship.
He took on Dustin Poirier on 7th September 2019 in the main event of UFC 242 and beat the interim champion to once again become the UFC lightweight champion. With that, he has extended his winning streak to 28, the longest undefeated streak in the history of MMA.
His victorious return has helped him receive a lot of plaudit from fans and experts. However, a video of him playfully wrestling a chained bear has landed him in hot water with the People for Ethical Treatment of Animals, who have sent a complaint to the UFC over his conduct.
Stick to wrestling with willing humans
Elisa Allen, the UK director for PETA, told Business Insider:
"PETA encourages the UFC to evaluate its relationship with Mr. Nurmagomedov until he shows a clear change in attitude and a commitment to showing animals the respect that they deserve," 
 "Wrestling with a chained bear is loathsome behavior that shows an utter lack of respect for and consideration of who these animals are.
"In the wild, bears roam across vast territories, foraging, swimming, digging in the dirt, climbing trees, searching for a mate and expressing other essential, natural types of behaviour.
"Those used in Russia for 'boxing,' 'dancing' or other archaic forms of entertainment are typically torn from their mothers as cubs, chained, caged, muzzled, beaten and deprived of everything that's meaningful to them.
"PETA urges Mr Nurmagomedov to stick to wrestling with willing human opponents."
You can watch the video here:
This is not the first time that Khabib has wrestled a bear. In fact, much of his notoriety stems from the fact that he would wrestle a bear in his backyard at the age of 9.
https://twitter.com/TheBeardedRauI/status/1170441321481461760
Khabib's father Abdulmanap Nurmagomedov had said of the moment:
"A child always wants his father to see what his son is capable of."
 "It is a pity that there was nothing more interesting when he was younger.
"In the end, this was a test of character more than exercise."
Khabib is very likely going to face Tony Ferguson next by virtue of him being the no.1 contender after riding on a 12-win streak. A rematch with Connor McGregor is also a likely option in the future. However, Khabib maintains that he would like to fight Georges St-Pierre before he calls time on his career.
Click here for more sports news
---
Share this article