Kyle Mayers: Twitter reactions on Mayers and Nkrumah Bonner sealing historic 395-run chase vs Bangladesh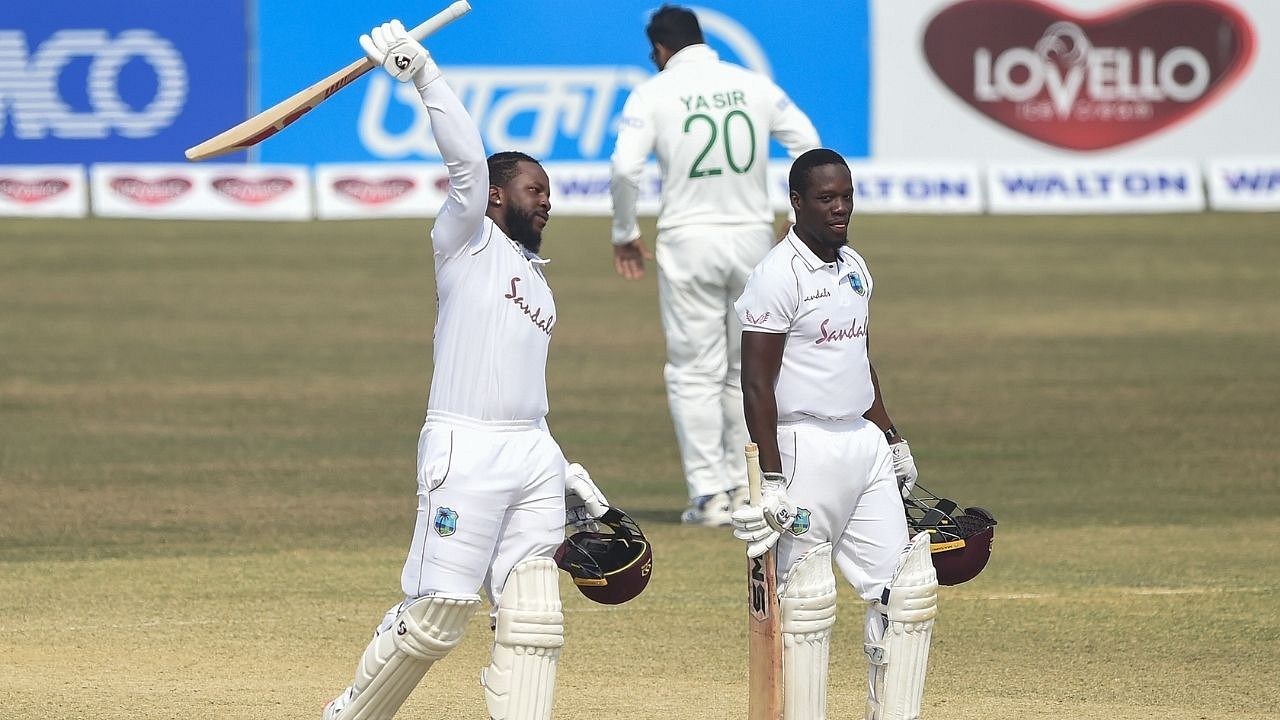 Kyle Mayers and Nkrumah Bonner: The West Indian debutant-pair shared a match-winning partnership in the fourth innings.
During the fifth day of the first Test of the ongoing West Indies' tour of Bangladesh in Chattogram, West Indies beat Bangladesh by 4 wickets to register their arguably best Test victory in this century.
Chasing a 395-run target at the Zahur Ahmed Chowdhury Stadium, the odds were heavily against the visitors for chasing such a target by a non-Asian team in Asia is as rare as hen's teeth.
Been reduced to 59/3 in the 25th over, West Indies had further given away the advantage to Bangladesh in the fourth innings. It was at this point in time that the debutant-pair of Nkrumah Bonner and Kyle Mayers put together a game-changing 216-run partnership for the fourth wicket.
It was Bangladesh spinner Taijul Islam who dismissed Bonner (86) to hint that the home team wouldn't go down without a fight. However, what followed was Mayers going on to score a maiden double century to become a source of amazement for one and all.
In addition to the number of runs he scored, the manner in which Mayers shifted gears in the last session was highly admirable. The 28-year old player ended up scoring 210* (310) with the help of 20 fours and seven sixes to seal a historic chase for West Indies.
Twitter reactions on Kyle Mayers and Nkrumah Bonner:
Kyle Mayers … Remember the name !!! 4th innings 210no on debut to win the game … 🙌🙌🙌 #BANvWI

— Michael Vaughan (@MichaelVaughan) February 7, 2021
Long live Test cricket ❤️

— Mazher Arshad (@MazherArshad) February 7, 2021
"New heroes have emerged in a team decimated by absentees" – Ian Bishop after Kyle Mayers hit the winning runs. #BANvWI

— Sreshth Shah (@sreshthx) February 7, 2021
With a host of first-choice players out, including their captain, three Test debutants, a 171-run first innings deficit and chasing 395 to win, one of the West Indies's greatest Test victories ever.

Kyle Mayers with 210 not out in the chase on debut

— Tim Wigmore (@timwig) February 7, 2021
Kyle Mayers 210*:
The second highest score in a successful 4th innings chase (behind Gordon Greenidge's 214* at Lord's in 1984, the only other doube-hundred in a winning chase)
Sixth 4th-innings 200 in Test history
Highest 2nd innings score on Test debut
Sixth 200 on debut

— Andy Zaltzman (@ZaltzCricket) February 7, 2021
Wow. What a victory for West Indies. Talk about 'Rally'. #BANvWI

— Melinda Farrell (@melindafarrell) February 7, 2021
My word Kyle Mayers! #testcricket

— Isa Guha (@isaguha) February 7, 2021
Meanwhile, Kyle Mayers is playing well…what must be one of best innings of the 21st century

— John Etheridge (@JohnSunCricket) February 7, 2021
Wow!!! Awesome stuff by West Indies. 👏🏿👏🏿👏🏿What a chase!!!#BANvWI #brilliantstuff #awayvictory #4thinningschase

— Mpumelelo Mbangwa (@mmbangwa) February 7, 2021
Windies win with a record chase – "rally around the West Indies" @markbutcher72

— PRAKASH WAKANKAR (@pakwakankar) February 7, 2021
On a day where Mohammad Rizwan and Rishabh Pant will likely take the headlines, KYLE MAYERS just scored a DOUBLE CENTURY ON DEBUT to help the West Indies chase 395 in the fourth innings against Bangladesh. Amazing performance. Keep an eye on this phenomenal talent 👏👏👏 pic.twitter.com/x6c3u3WR2t

— Aatif Nawaz (@AatifNawaz) February 7, 2021
2021 clearly the year for amazing away wins. That performance by West Indies, and that knock from Kyle Mayers, were just amazing. Buzzing for them.

— Peter Miller (@TheCricketGeek) February 7, 2021
West Indies and Mayers creating history #BANvWI

— zainab abbas (@ZAbbasOfficial) February 7, 2021
Kyle Mayers @windiescricket 👏🏻👏🏻👏🏻👏🏻 #BANvWI. A double hundred on debut in the 2nd innings 💯💯 what a chase and victory for West Indies. @Coachsim13 congrats to one and all 👏🏻👏🏻

— Anjum Chopra (@chopraanjum) February 7, 2021
What a win for West Indies in 1st Test against Bangladesh. Kyle Mayers scores double century to help WI chase 395, the highest ever successful chase in Asia.

— Faizan Lakhani (@faizanlakhani) February 7, 2021
Take a bow KYLE MAYERS! 🗣👏🏽

— Shai Hope (@shaidhope) February 7, 2021
Consider the inexperience. Consider that it's tough condition on the final day of a test in Asia. This has to be one of the most significant achievements in The history of Wet Indies cricket. Well played Kyle Mayers, Nkrumah Bonner @Coachsim13 Kraigg and the team.

— Ian bishop (@irbishi) February 7, 2021
What an amazing feat…to get a double 💯 & ensure that your team get across the line #BanvsWI https://t.co/aB7kLMfZ8b

— Lisa Sthalekar (@sthalekar93) February 7, 2021
For more cricket-related news, click here.
---