MS Dhoni gives Virat Kohli a special gift after his first series win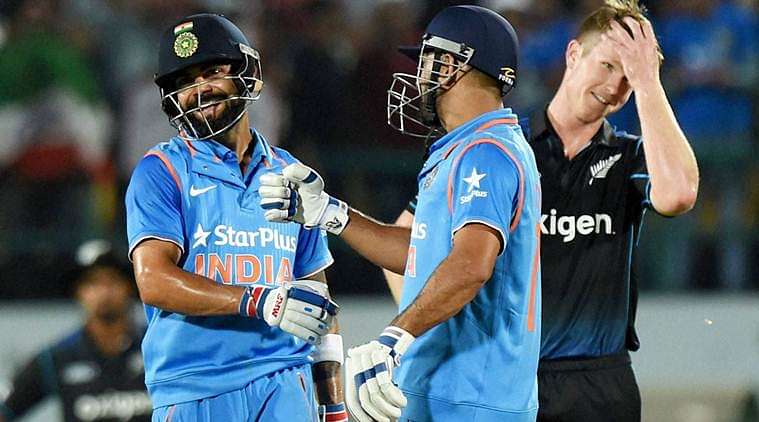 Virat Kohli receives a special gift
Virat Kohli has revealed that he received a 'special gift' from MS Dhoni after the series victory against England. This gift was a signed match ball from MSD, thereby maintaining the trend of the captain taking a souvenir home after a series win. This is indeed a great gesture from the former ODI skipper to the current captain.
In an interview with BCCI.tv, Virat Kohli said "MS gave me the match ball in the second game. The stumps are too expensive nowadays and they don't allow us to take it home. He gave me the ball and told me that it was my first series win as captain and it is memorable. It was a special moment for me and I got the ball signed by him as well."
The end of an era; the birth of a new one
Dhoni surprised the nation with his decision to relinquish captaincy 3 weeks back. He, thereby handed over the responsibility to Virat Kohli, who is now the captain in all the three formats. Starting off his run in grand style, the Virat-led Indian side won the recently concluded series 2-1.
This historic series also saw teams make a mockery of the 300 run barrier, once considered unscalable in cricket. There were 6 scores of 300 plus in each of the 6 innings of the series. In a nail biting last encounter, India fell short by just 5 runs. Incidentally, this was also Virat's first ODI loss as skipper at home.
More about the interview
Virat Kohli also lauded the herculean efforts of Kedar Jadhav and Hardik Pandya in the last ODI. The duo joined hands with India at a precarious position (173-5) before stitching together a 104 run partnership. However, Pandya's wicket at a crucial juncture meant that India would just fall short of the required target.
This nice gesture from MS Dhoni is the reason why he is admired by millions around the globe. The Sportsrush hopes for many such souvenirs for Virat Kohli after many such series victories in future!
---