MS Dhoni reminds me a tad bit of my father, says Sachin Tendulkar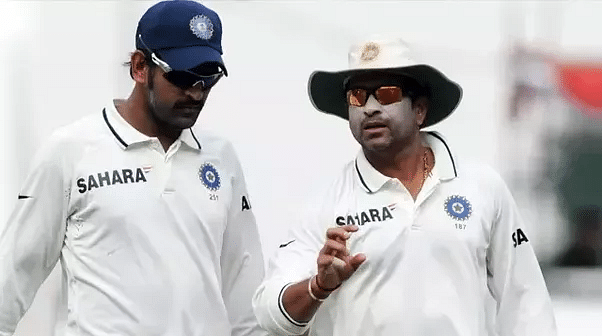 It is cognisance of the fact that Sachin Tendulkar and MS Dhoni share a great deal of camaraderie both on and off the field during Sachin's stint with the Indian team.
According to Democracy XI book that was published by Rajdeep Desai, the legendary Sachin Tendulkar said that MS Dhoni's calm and composed character is a mirror image of his own father.
MS Dhoni is a down-to-earth person and there is nothing new in it. Ever since both the icons of No.10 and No.7 met, there has been a mutual respect between each other.
Sachin Tendulkar told that MS Dhoni gave him the utmost respect the time when both had the first ever customary handshake.
What really presses the case is the fact that MS Dhoni's calmness that reminds Sachin of his very own father irrespective of highs or lows.
Sachin Tendulkar emphasized the fact that during his childhood days, his father always wanted everyone to be calm and silent.
"From the very first time we met, Mahi has given me complete respect. Maybe he reminds me a bit of my father; be it in success or failure, Mahi is always calm like my father always wanted all of us to be," Sachin said.
All importantly, MS Dhoni helped India clinch the World Cup in 2011 which in turn fulfilled Sachin Tendulkar's dream.
---