MSK Prasad advocates Ravi Shastri demoting Virat Kohli in the batting order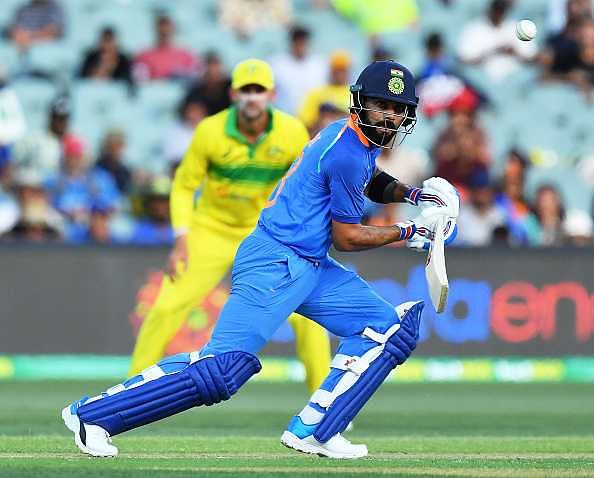 Prasad advocates Ravi Shastri demoting Virat Kohli: The chief selector of the Indian team expressed happiness at the coach's idea of demoting the captain.
After winning the ODI series 4-1 against New Zealand, India coach Ravi Shastri was vocal about a potential change in the Indian batting line-up during the ICC Cricket World Cup 2019.
The highlight of the interview was that Shastri had hinted to change the batting position of India captain Virat Kohli. Keeping the testing conditions in mind, Shastri highlighted flexibility behind doing the same.
There is no hiding to the fact that the suggestion strengthens India's middle-order. However, it also means that the team management will have to tinker with the best Indian batsman's batting position.
TEASER ALERT: Who do you think is the greatest ODI player of all time – Sachin Tendulkar or Virat Kohli? @DanishSait takes this question up on #StrangerXI. Full episode out tomorrow. But before that, here's the teaser: #SachinTendulkar #ViratKohli #IndiaCricket pic.twitter.com/B5wi4x7Tjh

— Cricbuzz (@cricbuzz) February 18, 2019
I'm shocked after hearing about the attack in Pulwama, heartfelt condolences to the martyred soldiers & prayers for the speedy recovery of the injured jawaans.

— Virat Kohli (@imVkohli) February 15, 2019
Prasad backs Shastri's idea
In a recent interview with Times Now, chief selector MSK Prasad backed Shastri's idea. Prasad also claimed the idea to be a wonderful thought.
"I think it is a wonderful thought that Virat Kohli can bat at No.4 and that is what Ravi Shastri has expressed. This has been happening for quite some time, but we will have to see. Because Virat has done extremely well at No.3. He is the No.1 batsman in the world," Prasad was quoted as saying.
While Prasad meant it to be a decision to be taken as the world event comes close, he insisted that the same will be followed by the captain if it is for the requirement of the team.
Rashid with Virat Kohli During #IPL 2019 shoots! 😍
~ Can't wait for it to start😩❤@rashidkhan_19 @imVkohli pic.twitter.com/IsORPnZKS3

— Rashid Khan World🌎 (@RashidK_world) February 17, 2019
Pulwama Terror Attack: Virat Kohli Postpones Indian Sports Honours Event As A Mark Of Respect For Martyred Jawanshttps://t.co/4gJ4OWHYYD

— Swarajya (@SwarajyaMag) February 18, 2019
"But if it is for the requirement of the team and Virat has to come at No.4 he will definitely do it. But again, we will have to see what the team requires and what the dynamics of the team is. That will decide his batting position," Prasad concluded.
Out of his 214 ODI innings, Kohli has played 162 and 37 at No. 3 and 4 respectively. At three, he has scored 8,440 runs at an average of 62.98 and a strike rate of 93.72. At four, he has scored 1,744 runs at an average of 58.40 and a strike rate of 90.40.
---
Share this article