MSK Prasad on MS Dhoni: Chief selector talks about Dhoni's World Cup participation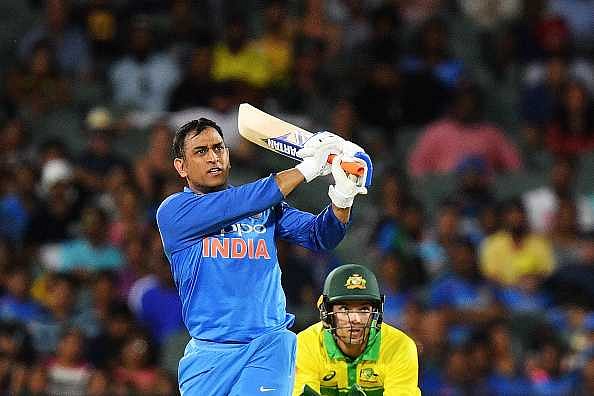 MSK Prasad on MS Dhoni: The Indian chief selector talked about the wicket-keeper batsman's chances for the upcoming world event.
Coming on the back of a worst year (in terms of number of runs scored) in ODIs, plentiful question marks were raised on former India captain and current wicket-keeper batsman Mahendra Singh Dhoni. With the ICC Cricket World Cup 2019 on the horizon, the veteran cricketer's form has undoubtedly become a concern for the Indian team management and fans.
The advent of a new year saw a change in fortunes for Dhoni, who scored three consecutive half-centuries to earn the Man of the Series award in the three-match series against Australia. In the six ODIs which Dhoni has played this year, he has scored 242 runs at an average of 121 and a strike rate of 79.86.
There is no hiding to the fact that there have been multiple opinions on Dhoni's participation in the World Cup in the recent past. While most of the former cricketers have advocated for him because of his experience, a large section of fans want him to be dropped from the squad.
Great respect show by dhoni.. pic.twitter.com/P7k5mAMYJu

— Shobhraj (@shobhraj129) February 11, 2019
Playing Countries may change, but the Craze of #Dhoni remains same 🔥🙌🏻!!
.
Be it Australia or New Zealand 🙏
Pure Thala Dhoni Mass 😎🔥 pic.twitter.com/ueLkfvrNLk

— Akash (@akashssmf) February 8, 2019
Chief selector MSK Prasad, the man who matters the most when it comes to selection decisions, was asked about Dhoni's current status with respect to the world event in a recent interview with ESPNcricinfo. "The way Mahi [Dhoni] has played in the last couple of series, in Australia and New Zealand, the message is very, very clear: now he has decided to play his natural way," Prasad spoke in the affirmative about Dhoni, referring to his recent performances.
Hoping for Dhoni to replicate those 'fearless knocks', Prasad talked about how lack of match time could have affected Dhoni's form. With the 12th season of the Indian Premier League scheduled to be played before the World Cup, the chief selector was confident of Dhoni extending his form in the cash-rich league.
"This is the Dhoni that we know. We will be very happy if he can replicate those fearless knocks, using that brutal force he has within him. At some point, perhaps because of shortage of match time, he might have been short of runs. But now that he is playing continuously, you can see his touch once again.
"Also, importantly, before India head to the World Cup, he will be playing the IPL. So he will be playing in 14-16 matches – all high-intensity games. That will only help him extend that form he has caught on the Australia and New Zealand tours. I am very happy with his batting," Prasad said.
Unbelievable hands from MS Dhoni. Makes stumpings out of nothing! #NZvIND

— Raunak Kapoor (@RaunakRK) February 10, 2019
Might be lucky with the decision but was another classic Dhoni stumping. #StillHasIt

— Harsha Bhogle (@bhogleharsha) February 10, 2019
Dissecting Dhoni's importance in the squad in two ways, the 43-year old admitted that the selection committee was worried about his form at once but remained confident with someone of his stature. Quoting India captain Virat Kohli, Prasad opened up on 'high expectations' regarding Dhoni.
"There are two aspects about Dhoni: one is his wicketkeeping and the other is his batting. We have never had any doubts about his wicketkeeping. With regards to his batting, we were a bit worried about his form. But we also knew that if he played more, he would regain his form, and that is part of the any player's career – there are dips in form and performances
"As Virat said, and I agree, the expectations on Mahi are so high. We always associate Mahi with that brutal batsman of his younger days. And the moment he does not do that, some people feel his reflexes have declined. But the way he has prepared and the way he has played in the recent series, I am very happy. Players of that legendary stature don't need to be told. They know what is expected of them. They will obviously feel bad in case they do not deliver what is expected of them," he added.
Before concluding his opinion on Dhoni, Prasad hailed him as the 'most important player' for India. "He is going to be the most important guy for India in the World Cup: be it in his advisory role to Virat, be it with his wicketkeeping, be it with is on-field mentoring of young players," Prasad concluded.
---
Share this article