Charlotte Hornets star LaMelo Ball announces his hilarious wish ahead of his birthday to the NBA community
LaMelo Ball already has almost all the hallmarks of a superstar, whether fans like it or not.
The Ball brother is already incredibly well known, not only within the NBA community but in all of sports as well. He has the swagger and the personality that makes fans absolutely adore him. And his style of basketball is already really fun to watch.
Perhaps the only reason he isn't quite there yet is his ability. Yes, he was already playing at a near All-Star level during his rookie year, but that isn't quite good enough. Still, if his impressive year-to-year improvement just prior to his NBA career is any indication, Melo is already well on his way.
Hornets new squad:

LaMelo Ball
Terry Rozier
Gordon Hayward
Miles Bridges
Mason Plumlee

And James Bouknight off the bench. pic.twitter.com/ZYrXr4Qoce

— StatMuse (@statmuse) July 30, 2021
For obvious reasons, that will come as very good news to any player in the NBA. However, a recent post by the Hornets star reveals a lot about how much that goal really means to him.
And so, without further ado, let's get into it.
Also Read: Larry Bird enunciates his true feelings about the Lakers legend as a player and comrade
LaMelo Ball hilariously puts his NBA goal as a birthday wish for everyone to see
For those wondering, Ball's birthday is on August 22, so it's still quite a ways away. Still, that didn't seem to stop Melo from making an early birthday wish. Here is what he posted on his Instagram story.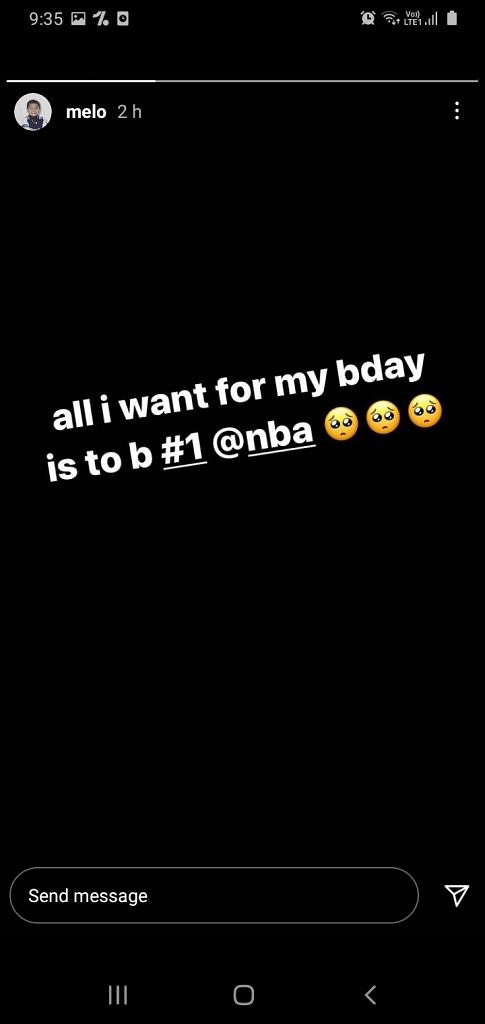 It's a funny story, we won't lie. But, we also suspect it's quite a realistic ambition for him.
The Hornets star certainly has the talent. And according to scouts and League executives he has a work ethic that could possibly be higher than Lonzo Ball as well.
It adds up so far. Can he really do it though? Or will this stay as nothing more than a birthday wish?
Only time will tell.
Also Read: Philadelphia 76ers put out a hilarious tweet referencing beef between Joel Embiid and Andre Drummond while announcing new acquisition