"Andre Drummond and Joel Embiid will redefine real estate lines": Foes turned 76ers teammates have an interesting past between them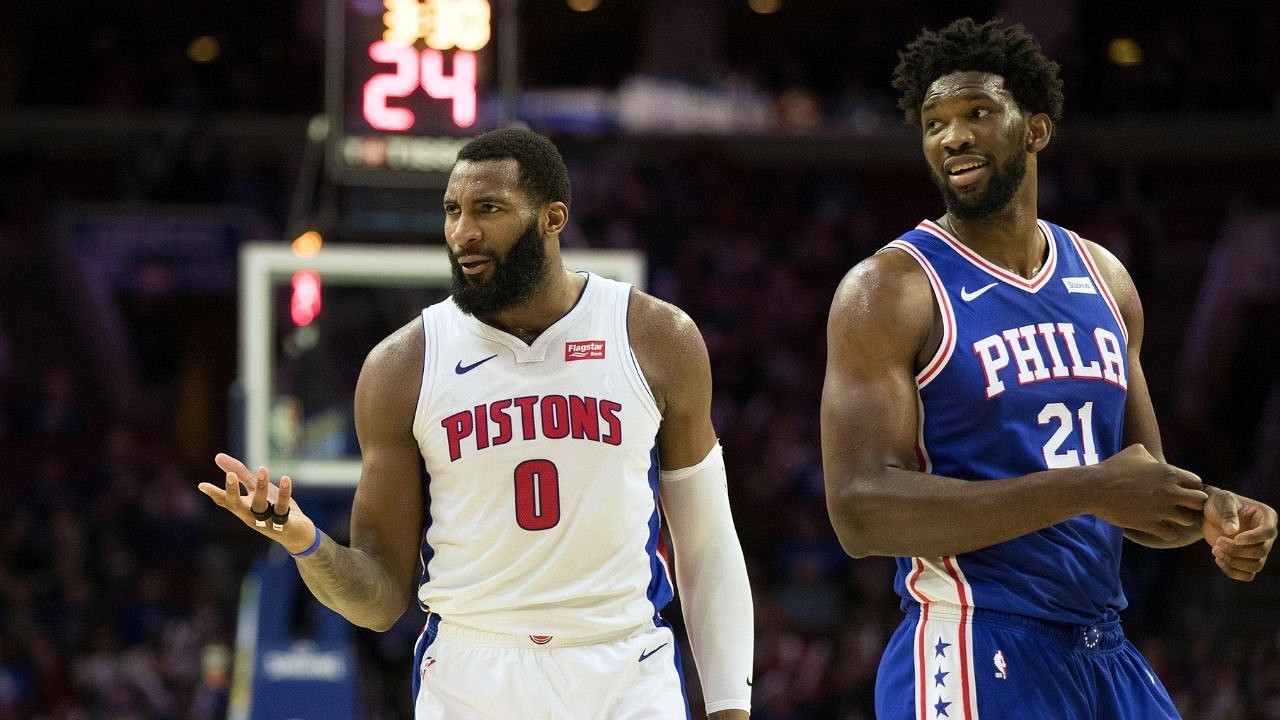 The Philadelphia 76ers' latest signing, Andre Drummond, shares a rather rough history with 76ers center Joel Embiid.
The Philadelphia 76ers announced on Wednesday they had signed Andre Drummond. As per reports, it was a one-year veteran's minimum contract.
hope you ready for the next episode. pic.twitter.com/jjMy0RcEur

— Philadelphia 76ers (@sixers) August 4, 2021
The former Pistons center is a 2x NBA All-Star and 4x rebounds leader. Drummond is a career 14.5 PPG, 13.7 RPG, and 1.5 BPG. Though his short stint in Lakers didn't go as planned, there is no denying that the big man can be a dominant force in the paint.
The two big men were recently spotted greeting each other at the 76ers' training facility.
💙 Brotherly love now between Joel Embiid and Andre Drummond!

— Jeff Skversky (@JeffSkversky) August 4, 2021
Also read: "Just wanted attention to push my NFT": Andre Drummond admits to hilariously trolling Lakers fans on wanting more playing time alongside LeBron James and Anthony Davis
However, things might not seem as they look. Embiid and Drummond have been at loggerheads for almost 5-years. The two have often been seen throwing shots at each other's game on social media.
A look at a brief history of feuds between Joel Embiid and Andre Drummond
It all began as early as in 2017 when Embiid took a shot at Drummond's defense. The 76ers center was quoted saying, "Defensively, he doesn't play any defense. When we started the game, he was being aggressive and he was talking, too. So what I was like [in my mind] 'You want to do that? I'm going to kick your [a**] then. So that's what I did."
Drummond, who played for the Pistons was quick to respond and tweeted.
Joel Embiid on Andre Drummond: "He doesn't play any defense" https://t.co/R8lGlZD0xx pic.twitter.com/h333au0P1z

— Bleacher Report (@BleacherReport) October 24, 2017
In 2018 during a match between the 76ers and Pistons, Embiid couldn't resist picking up a quarrel with Drummond and would be seen trash-talking, "He can't guard me" on the court.
lmao embiid keeps screaming "HE CANT GUARD ME" at Drummond 💀💀💀 pic.twitter.com/tt1dF4XDB2

— drew (@Dcorrigan50) October 24, 2018
The above match would even have Drummond ejected in the finals seconds of the last quarter in an instance that involved Embiid flopping, which resulted in the Pistons big man getting his 2nd technical.
Andre Drummond fouls out on this play …

Joel Embiid pops up: "GET HIM OUTTA HERE!" pic.twitter.com/DpDYdbVSEp

— SportsCenter (@SportsCenter) October 24, 2018
However, the highlight of their feuds remains the 2018 tweet of Joel Embiid. The 4x All-Star called out Drummond for his poor shooting.
I own a lot of real estate in @andredrummondd head and I'm on my way to build more 🏘🏘🏘 #Bum #TheProcess pic.twitter.com/Mrf2NcNL4r

— Joel "Troel" Embiid (@JoelEmbiid) November 3, 2018
Also read: "I'd dominate like Deandre Ayton or Brook Lopez": Lakers center Andre Drummond blames lack of proper game time for his lowered impact this season unlike his Suns and Bucks peers
It is interesting how dynamics change in the NBA, as no one would have thought that the two centers would end up playing for the same team.
---