"Assumed Shaquille O'Neal Didn't Want My Help!": Kareem Abdul-Jabbar Once Revealed Why Big Diesel Never Heard From Him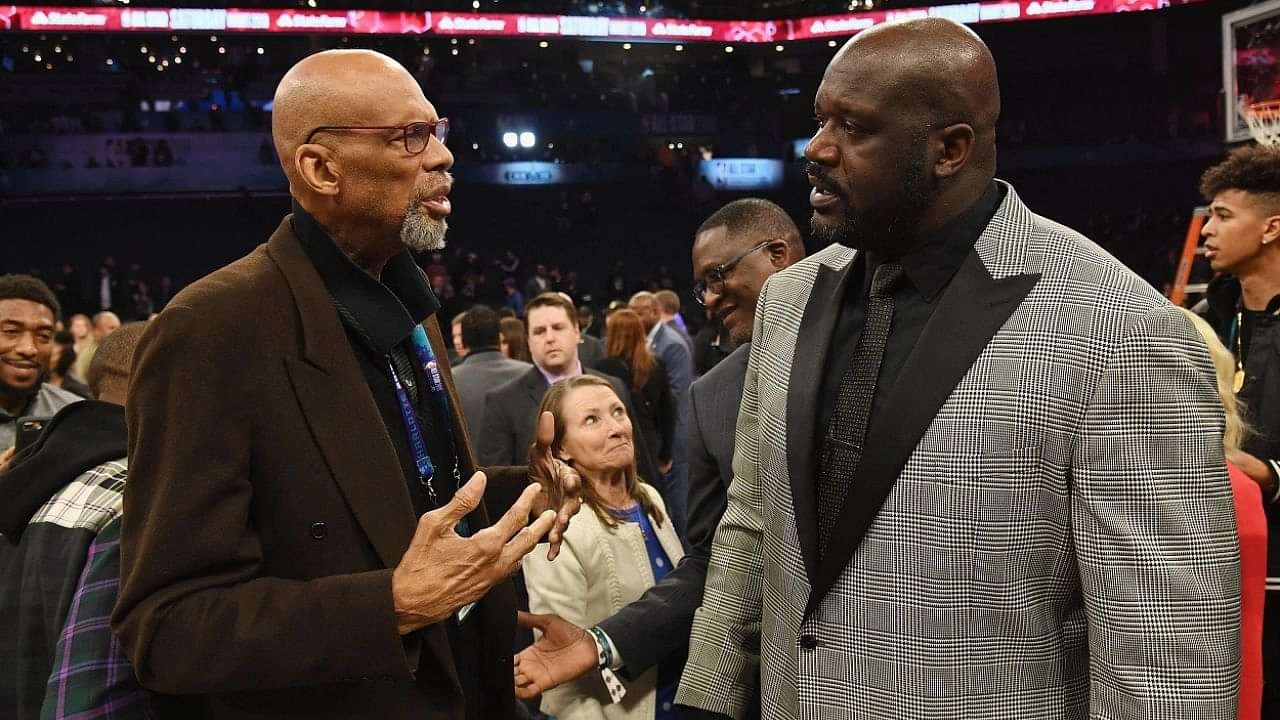 Over the course of the years, the Los Angeles Lakers have had a lot of great players. They are one of the most successful franchises in the NBA, with 17 championships to their name. A lot of greats have contributed to their success. Magic Johnson, Kareem Abdul-Jabbar, Shaquille O'Neal, and Kobe Bryant are just a few of the names responsible for making the Lakers great.
Shaquille O'Neal joined the Lakers in 1996. Signing with the storied franchise, Shaq expected to be included in the Lakers brotherhood. He thought greats such as Magic, Kareem, and more would help and guide him.
However, he received no words of advice from any of them. Instead, O'Neal was critiqued by the legends, and he had to figure out his own way to win. Shaq eventually did so, leading the Lakers to a three-peat from 2000 to 2002.
Also Read: Michael Jordan's Teammate, Scottie Pippen Sells Out NFT in 77 Seconds as Floor Price Nearly Doubles to $430
Kareem Abdul-Jabbar shares why he never helped Shaquille O'Neal
When Shaq joined the Lakers, he assumed that he would get help. At the same time, other Lakers legends didn't want to overstep their bounds and offer advice without being asked for. The same was the case with Kareem Abdul-Jabbar. In an interview with Mark Medina, he once clarified why Shaq received no help from him.
"As a pro I never approached Shaq because I thought he was pretty successful dunking everything and I assumed he didn't want my help. Additionally, I was never on the coaching staff of any of his teams. I was never unfriendly to him and I would talk to him, but Shaq was enjoying his success, doing it his way. He never asked me of what I thought he should be doing and he never tried to reach out to me for any instruction and I respected that decision.
If I had any idea that Shaq wanted to learn from me, I would have been happy to have worked with him, but all indications that I had received was that he felt he was doing fine and he didn't need or want my help."
This is quite saddening to hear. Neither Shaq nor Kareem took the first step and that prevented a beautiful relationship from forming.
Also Read: "Larry Bird was showing me it was all business now": Michael Jordan revealed how Larry Legend showed him his place in his rookie season
What did Shaq say about Kareem?
Over the course of the years, O'Neal has talked about how he didn't receive any help from legends on the Lakers. Well, Kareem explained why it happened. However, right before Kareem's interview, Shaq's autobiography came out, where he had written,
"Instead, O'Neal said he tried to earn the respect of several elite centers by filming a Reebok commercial with Abdul-Jabbar, Wilt Chamberlain, Bill Russell and Bill Walton and ensuring that they received "a nice paycheck." But O'Neal avoided pressing the issue with Abdul-Jabbar, who he contended was barely interested in making small talk during their encounters."
Ensuring them a nice paycheck? Shaq was a rookie back then, and the names he'd mentioned were the All-Time Greats of the game. Sure, he earned a lot during his career, but writing it like this seemed a little arrogant.
Also Read: "Farewell to one of my best friends, teammate, wingman": Dennis Rodman's Heartfelt Tribute to Best Friend Reminds us he isn't Heartless
---