"Blake Griffin is still dunking, but the KIA is driving an IT bank worker in Tulsa": The Decade Long Journey Of The Kia Griffin Dunked Over Revealed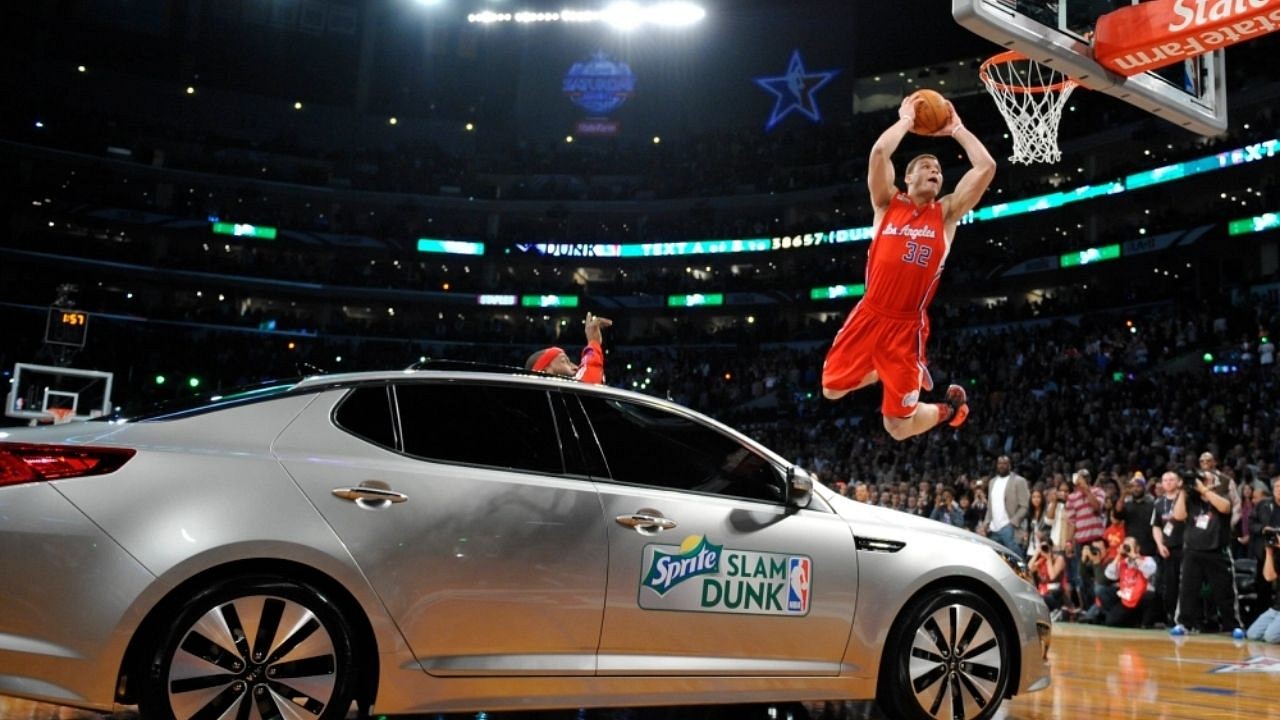 Blake Griffin once threw down an absolute monster of a slam when he jumped over a Kia as he won the 2011 Slam Dunk Contest.
While Griffin continued to throw down thunderous dunks throughout his career, the story of the infamous car is a little less well known.
For reference, here is the highlight of the crazy dunk that Griffin threw down to seal the fate of the 2011 Dunk Contest.
10 years ago today, Blake Griffin jumped over a Kia to win the Slam Dunk Contest as a rookie 🔥

(via @NBA) pic.twitter.com/Wlgavsy4FD

— Bleacher Report (@BleacherReport) February 19, 2021
Griffin had initially wanted to dunk over a convertible, but since the Kia Optima was the sponsored car of the NBA, he had to alter his dunk a little. The car would be offered to Griffin as a prize, but he chose to put it up for auction, with the winnings going to Stand Up to Cancer, a program that aids in cancer research.
The story of the car after that is one that you must read about.
Also Read: "Kevin Durant Ate A Vegan Burger For The 1st Time &urger Decided He Could F*ck With This": How Kyrie Irving & KD Formed A Nets Superteam Over A Burger And Kale Salad
How The Blake Griffin Kia Wound Up Driving Michael Longa To Work
Michael Longa could have never foreseen himself driving around the famous Kia that Blake Griffin dunked on, but that's exactly what happened.
When the Kia Optima went up for auction, Henry Primeaux, a Kia Dealership owner in Tulsa, just knew he had to get his hands on it. Primeaux would end up $35,220 for the car, and he would use it to host giveaways, fundrasiers, and various events in his dealership to drive up marketing. However, the car was invaluable to him as he explained:
"This is no BS, I would say it was invaluable. I couldn't measure it, but I got [the $35,220] 10 times from it."
As Primeaux got up there in age, he realized that he needed to to ensure his business was in the right hands. So, he wanted his two grandsons, Brian and Michael Longa to inherit a part of the dealership immediately, in a way that they could use it immediately. He chose to give away a car to each of his sons.
Brian was obsessed over a convertible, but Michael had always wanted the Kia Optima. Longa had some hesitations with driving the car around at first:
"It was terrifying because I never thought I'd drive anything that nice. Anytime I drove it out any place I was, I was really scared. … I was just trying to be as careful as possible."
The look on the faces of people when Longa tells them that "yes", this is the Blake Griffin car is still priceless. His family still holds a very treasured memory over that car, Primeaux explains:
"Every time the All-Star Game comes up, we think about it. The thing you gotta remember is we were watching it live, and this guy jumps over the car and dunks. I said, 'Man.' He didn't even finish the dunk yet and I'm thinking of a way to buy it, never thinking in a million years that we could buy it. In the end, it was the right place at the right time."
It's crazy to think about it now, but the car had its own story that lasted well after the dunk contest. Griffin has been around in the league ever since, and his name always pops up in headlines, but the car (for obvious reasons) doesn't. However, for the Longa family, it's definitely a special memory and part of their family that they'll forever cherish.
Also Read: "Stephen Curry nominated for Best NBA Player ESPY": Warrior's Star is among the 4 finalists that include Nikola Jokic, Luka Doncic, and Chris Paul
---