"Couldn't nobody guard Shaquille O'Neal": Ty Lue Doesn't Think Even Wilt Chamberlain & Hakeem Olajuwon Would Stop a Prime Diesel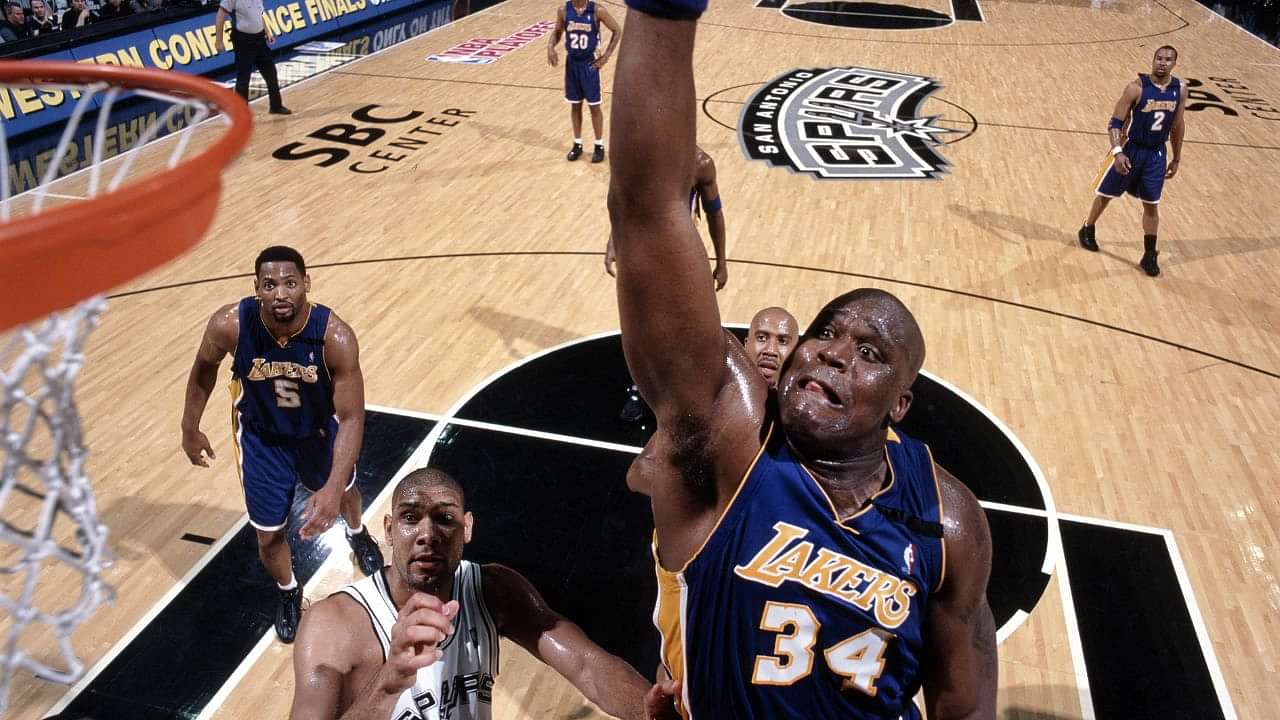 In 1992, basketball was introduced to one of the greatest players in NBA history. The Orlando Magic selected Shaquille O'Neal as the first overall pick.
Shaq was a dominant force, the likes of which the league had never seen. In his 19-year career, he won four NBA championships while averaging 24 points, 11 rebounds, and two blocks per game.
So unstoppable a force was the Big Aristotle that there have been debates pitting him against other centers. Well, Shaq's former teammate Ty Lue believes that even Hakeem Olajuwon and Wilt Chamberlain wouldn't stand a chance against the Lakers version of the Hall of Famer.
Also Read: Shaquille O'Neal, After Vowing to Never Hurt Dwight Howard Again, Now Questions His Hall of Fame Eligibility
Tyrone Lue believes Wilt and Hakeem would have struggled against Lakers Shaquille O'Neal
Over the years there have been many great centers in the NBA. The likes of Kareem Abdul-Jabbar, Bill Russell, Patrick Ewing, and David Robinson all come to mind. But, perhaps the three most dominant players were Shaquille O'Neal, Hakeem Olajuwon, and Wilt Chamberlain.
The three have been compared to each other on several occasions. With many debating on who was more dominant. Well, Tyrone Lue believes it isn't even a conversation, boldly claiming that Hakeem and Wilt wouldn't stand a chance against the Lakers version of O'Neal.
"Yeah, nobody could. I mean he's the most dominant guy. Like, we didn't see Wilt, cause we were too young. But, I mean, just far as dominance like you're going to be in the bonus in five minutes. Four fouls, four wrap ups. And like, couldn't nobody guard him. Like just the things he did man. Pushing the basketball, could handle, could pass. You know agile, athletic. But like just so powerful and explosive. Couldn't nobody guard him."
A fair assessment from Ty Lue. Shaq was a beast on the Lakers but it's hard to forget that he did lose to Hakeem Olajuwon as a youngster.
Hakeem Olajuwon defeated Shaq when he played for the Orlando Magic
There can be no denying that the Lakers' version of Shaq was a different animal. But, to say he would beat Hakeem is debatable. After all, Olajuwon beat O'Neal before when he played for the Magic.
Loading embed tweet https://twitter.com/Ballislife/status/1275105081210236928?ref_src=twsrc%5Etfw
Granted this was a much younger much more inexperienced version of Diesel. But, a win is a win even if it came before his prime.
Also Read: Amidst Shannon Sharpe And Grizzlies Scuffle, Shaquille O'Neal's Potency Against Steven Adams Is Brought Up By Former NBA Champ
---