"Damian Lillard has to join the Lakers to win a championship": Ice Cube dishes out some words of advice to the Blazers superstar and suggests he team up with LeBron James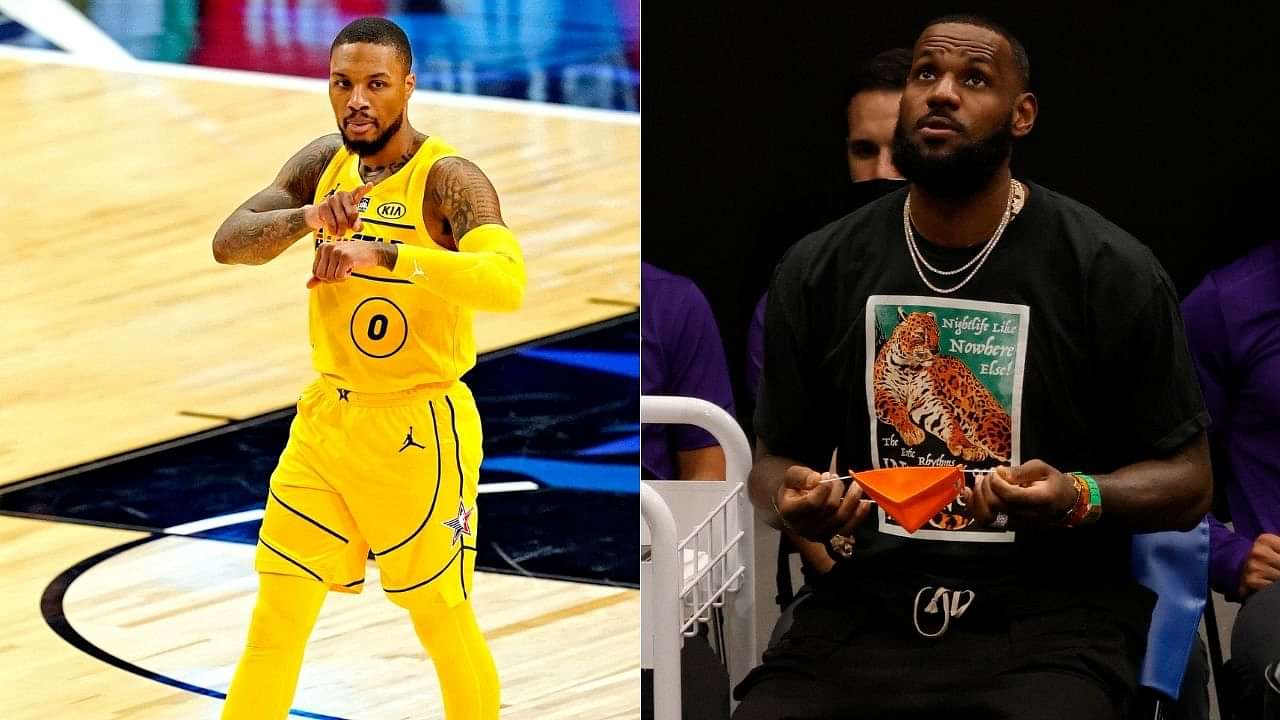 Ice Cube says that Damian Lillard needs to join LeBron James and the Los Angeles Lakers if he wants to win a championship.
Damian Lillard has been the talk of the NBA for weeks now. Ever since the Portland TrailBlazers suffered yet another untimely exit from the postseason, the Blazers have had several questions to answer. The most important of which was if Lillard was happy in a Trailblazers uniform. According to Neil Olshey, all conversations he had with Dame led to him confirming he's staying in Portland. 
The most likely scenario is Damian Lillard staying put this offseason and testing the waters with the brand-new coaching staff consisting of guys like Chauncey Billups and Scott Brooks. Depending on how the 2021-22 NBA season unfolds, Lillard will make a firm decision in the 2022 offseason.
Also read: "Kobe Bryant is not a top 5 player in NBA history": Shannon Sharpe controversially explains why the Lakers legend cannot be put up alongside Michael Jordan and LeBron James
The likeliness of this happening is quite high but this hasn't stopped the NBA trade rumor mill from churning out new pieces every single day on potential trade packages for the 6x All-Star. The most talked about destination for Damian Lillard, currently, is the Los Angeles Lakers. 
Ice Cube believes Damian Lillard needs to join the Lakers to win a championship.
The Lakers and the Blazers were both bested in 6 games in the first round of the Playoffs this year. It was clear that LeBron James is not the 'take over any game' guy any longer and though his production will still be solid, a 37-year-old cannot be the main offensive punch down the stretch for a title contender. 
In a recent interview with Ice Cube, Stephen A. Smith asked the rapper on what Damian Lillard should do in terms of leaving the Blazers. Cube quite it plain and simple and said that if Dame wanted to win a championship, he needs to set course for Los Angeles. The only thing Lillard gets out of staying in Portland is being the man and scoring a lot of points, according to Ice Cube.
Loading embed tweet https://twitter.com/TheNBACentral/status/1414023998699196419?ref_src=twsrc%5Etfw
Also read: "Before Magic Johnson, it seemed like basketball was a job": Ice Cube explains how he became a Lakers superfan during the 80s, and how he was 'close to killing somebody' after the 1984 NBA Finals
Damian Lillard still has 3 years left on his deal so the only way to acquire him is to trade for him. Lakers fans need to understand that no amount of picks, coupled with Kyle Kuzma and Talen Horton-Tucker can suffice in a package for Dame. 
As elaborated on before, Lillard will most likely stay with the Blazers season to see how well the coaching staff holds up when trying to win it all. 
---