"Dennis Rodman is Soft!": Charles Oakley Once Narrated How 2x DPOY Was Terrorizing Clients at His Steakhouse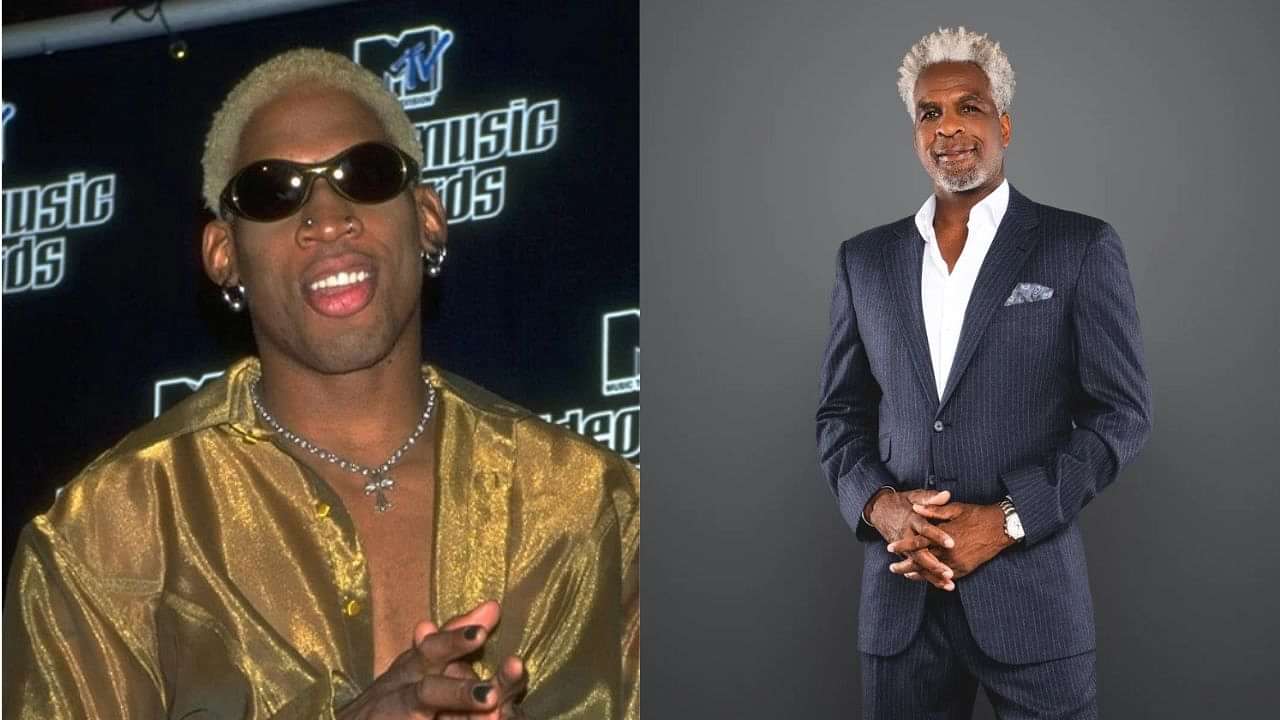 Whenever one thinks about Dennis Rodman, one thinks of the flashy hair color, exuberant dresses, and insane parties. Rodman was one-of-a-kind. He used to dominate the party floors and then show up to work the next day and be the best.
A 2x All-Star, Dennis was known for his defense and rebounding. He'd mastered the art of collecting boards and used to know exactly where to be when a particular teammate of his was shooting the ball.
Rodman won the Defensive Player of the Year honors in 1990 and 1991.
However, more than his on-court action, it was what he did off the court which earned The Worm more recognition. From his Vegas parties to his time with Madonna, Rodman lived very vicariously.
One time, Charles Oakley kicked him out of his steakhouse. Here is what had happened.
Also Read: "LeBron James Is Catching Kareem Abdul-Jabbar Because Of…": Despite 7ft 2" Legend's Head Start, LBJ Is Bridging the Gap Due to an 'Absurd' Ability
Charles Oakley once kicked Dennis Rodman out of his steakhouse
Charles Oakley is a part owner in a steakhouse in Miami. Red, The Steakhouse, is frequented by NBA and NFL players alike. Once, Oakley had to kick Dennis Rodman out of his steakhouse. Talking to GQ, Oakley shared how things went down.
"I get a call from my manager. He said, "Oak, guess what's happening?" I said, "What?" He said, "Dennis is walking around eating off people's plates." I said, "I'll be right over."
"I walked over there, I look through the window and I'm looking at him, doing this. Wow, my agent was right. I made a beeline for him. I did him like I did Charles Barkley, I didn't smack the guy. I just grabbed him by his shirt and asked him, "What the heck is you doing?" He said, "I'm just having a good time." I said, "You don't have a good time like this in my type of establishment." I grabbed him, dragged him to the door and threw him out. I said, "Don't you never come around me again."
Rodman and Oakley had a media appearance together earlier that day. After the same, Oakley went to attend to some business whereas Rodman showed up at the Steakhouse. Safe to say, Rodman was having a good time before Charles showed up and kicked him out.
Also Read: "James Harden Will Not Be A Good Mentor": $68 Million Superstar Receives No Faith From Anonymous GM Amidst Rockets Rumors
Charles Oakley called Rodman 'soft'
In the same interview, Oakley was asked if things are better between him and Rodman, to which he responded and said,
"No! When he sees me, he goes the other way. Did you see "Bronx Tale," when that guy owes that guy that money? Any time he sees him, he says, "I'm gonna pay you" and he runs the other way? That's what Dennis does. I've seen him a couple of times, but he goes the other way. Dennis is soft. He was a good rebounder, but he was soft. When you need that much attention, and you got to do all that, something is wrong."
From the look we get, Rodman is a 'bad boy' who was part of enforcing one of the toughest eras in the NBA. However, hearing that he's soft? That feels weird.
Also Read: "Nikola Jokic Surpassed Michael Jordan and Magic Johnson!": 2x MVP Crosses Hall of Famers, Ties Larry Bird for 30-point Triple Doubles
---