"Don't Hurt My Little Shaquille O'Neal!": Kenny Smith Paid Dearly After Comically Launching 7ft 1″ Man Into Christmas Tree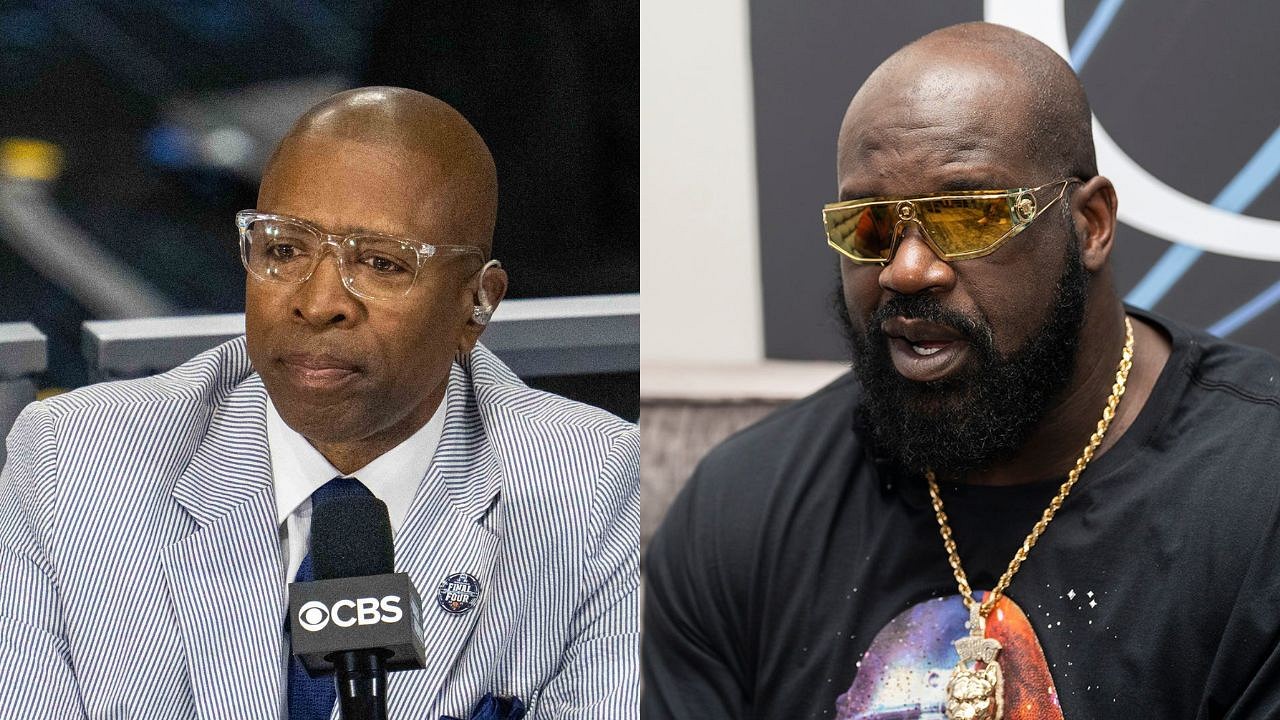 Shaquille O'Neal and Kenny Smith love to spice things up on Inside the NBA, whether it be with some harsh truths of the NBA world, announcing their extreme opinions, or even some activities that bring out the child in everyone involved.
And recently, the latter took place to the point that somebody could have gotten hurt.
Why is that important? Well, it appears that Shaq's dear old mother got involved in the whole situation. And it was to the point that Kenny was forced to say he would never do such a thing again.
Let's get into it exactly how it all happened, shall we?
Also Read: "You Want me to Mentor This Young Flashy Philadelphia Kid, Kobe Bryant?": Reggie Miller Once Revealed Common Agent Arn Tellem's Request
Kenny Smith and Shaquille O'Neal may have run their last race to the board
Shaquille O'Neal especially has been a proponent of the show that has always bolstered the many shenanigans happening on the show. And of course, over the years, that has also included Kenny Smith's race with someone else to the board.
However, the problem is, it had become somewhat of a tradition for a 7'1″ Shaq to go slamming into the Christmas tree around this time of year. And sure it was fun at first.
But recently, it seemed to go just a little bit too far.
KENNY LAUNCHED SHAQ INTO THE TREE 🎄💀 pic.twitter.com/WBltT8jflx

— NBA on TNT (@NBAonTNT) December 7, 2022
We're hoping there were some cushions in there. Because if not, that's the kind of thing that can cause dislocated shoulders, sprained arms, and countless other, more horrifying injuries.
And clearly, Shaquille O'Neal's mother, Lucille O'Neal, was thinking about exactly the same thing.
Kenny Smith hilariously got a call from Shaquille O'Neal's mother about the whole incident
As kids, it was always a bit terrifying for a mother to want to speak to you after you've had a tiff of any kind with a friend.
The thing about that though, is that it doesn't usually happen in adulthood. But, as Kenny Smith and Shaquille O'Neal explained, it most certainly is their situation right now.
"Things got out of control. I had to speak to his mom." 😭@TheJetOnTNT was done racing with Shaq after last week 🤣 pic.twitter.com/zdyKBc4b7P

— NBA on TNT (@NBAonTNT) December 14, 2022
We hope and pray that Lucille wasn't too harsh on Kenny Smith.
That would just about kill all the fun in the studio, altogether.
Also Read: LeBron James' Son Bronny Reveals Reason Behind Wearing "No. 0" and it Having a Russell Westbrook Connection 
---
Share this article