"Everyone Needs to Do Better, Russell Westbrook": Phil Handy Fires Back at Brodie For Demanding More from Coaching Staff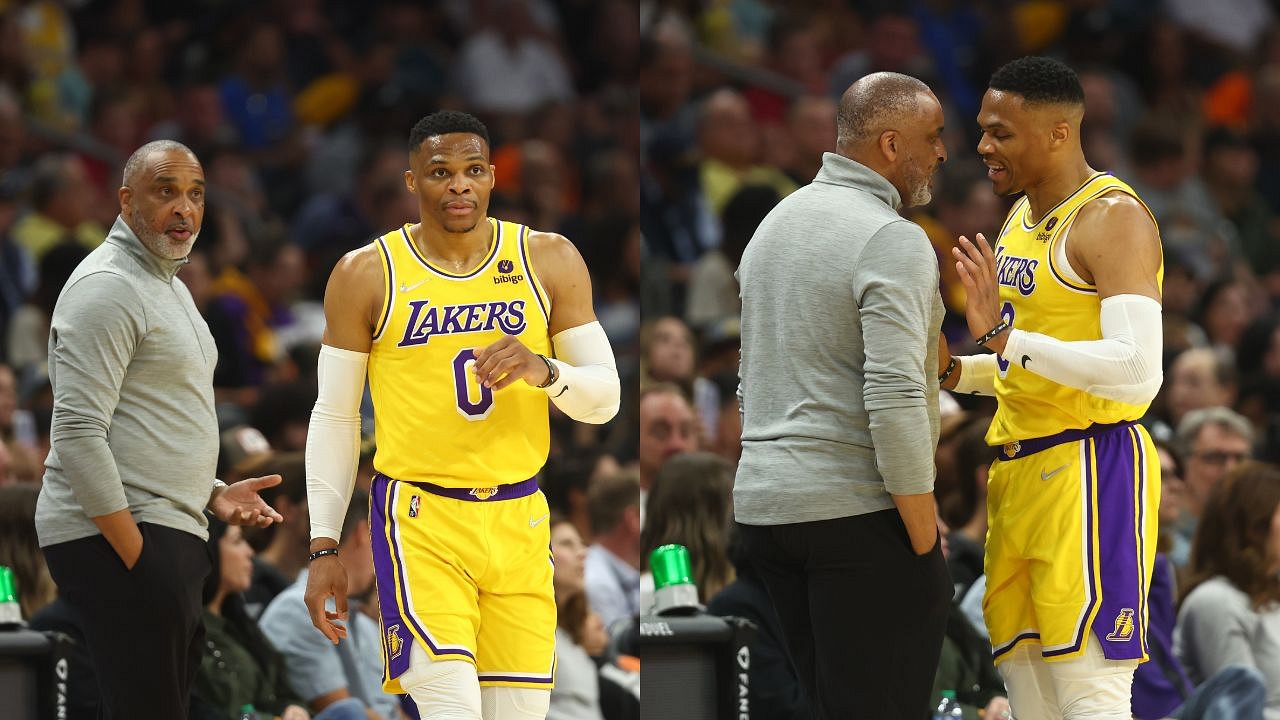 There was a time when Russell Westbrook was a tier-1 superstar in the NBA and not only other teams feared the relentless guard, but his team management also thought twice about saying something to "in the zone" Brodie during the timeouts.
It wasn't long ago. But now the 2017 MVP is not somebody from whom assistant coaches of Phil Handy's status would take whatever he has to say. Not surely after being the only guy in the locker room to say win or lose doesn't matter, just "enjoy" the game.
Yes, they were in a 5-game win streak but were still with a losing record in a star-studded team. He said that when his coach and Darvin Ham and LeBron James had not even finished saying their part of continuing the win streak. And then he goes on to say something absurd to the Lakers coaching staff last night in the game against the Houston Rockets.
Also read: "Wish Russell Westbrook would've given the ball to LeBron James": Shannon Sharpe Reacts to Final Seconds of the Lakers-Sixers Clash
Phil Handy hits back at Russell Westbrook for demanding more from coaching staff mid-game
Westbrook had it coming. Although he has been playing great off the bench since his transition, he was trying to get back to demanding the best out of his teammates and coaching staff.
However, that's not how it works. Not just a day after you let your team down when it's in a need of every possible win. But Brodie, being Brodie, told the coaches mid-game to do better.
Handy looked like he's had enough of Russ and clearly told him, "we all have to be better, Russ." Watch the whole exchange in the following embed.
Indeed, they all need to be better. Coming to his senses, Westbrook did try to cover it up in the post-game press conference.
Also read: "Russell Westbrook Has No Intention to Win": NBA Fans Ridicule 6ft 3" Lakers Guard for Contradicting Lebron James
Westbrook clarified the incident in the post-game presser
Apparently, Westbrook was talking about his minutes with the coaches and got all excited about it. Coach Ham revealed the same after the 140-132 win in which LeBron led the team with 48 points, 8 rebounds, and 9 assists.
Russ had a great game as well, putting up 25-5-4 in his 6th man role. He had this to say after the game.
"Honestly, just a conversation, I didn't get into it with anybody. Obviously, people are going to perceive how they want to, but just voicing my opinion and that was it."
Maybe it's his way to get everyone in the team against him and get traded away somehow to a team that has better chances of winning and where he can add to his new-found quick-fire 15-20 point games. But there might not be any Westbrook takers in the market right now, not with that gigantic contract of his.
Also read:  "Watching LeBron James is Like Watching Ugly Women Fight!": Charles Barkley Gets Hysterically Controversial on National Television
---
Share this article