"I Could've Been Making Over $5 Billion, Right Now!": Magic Johnson Explains Horrible Dealing With Nike He Regrets to This Day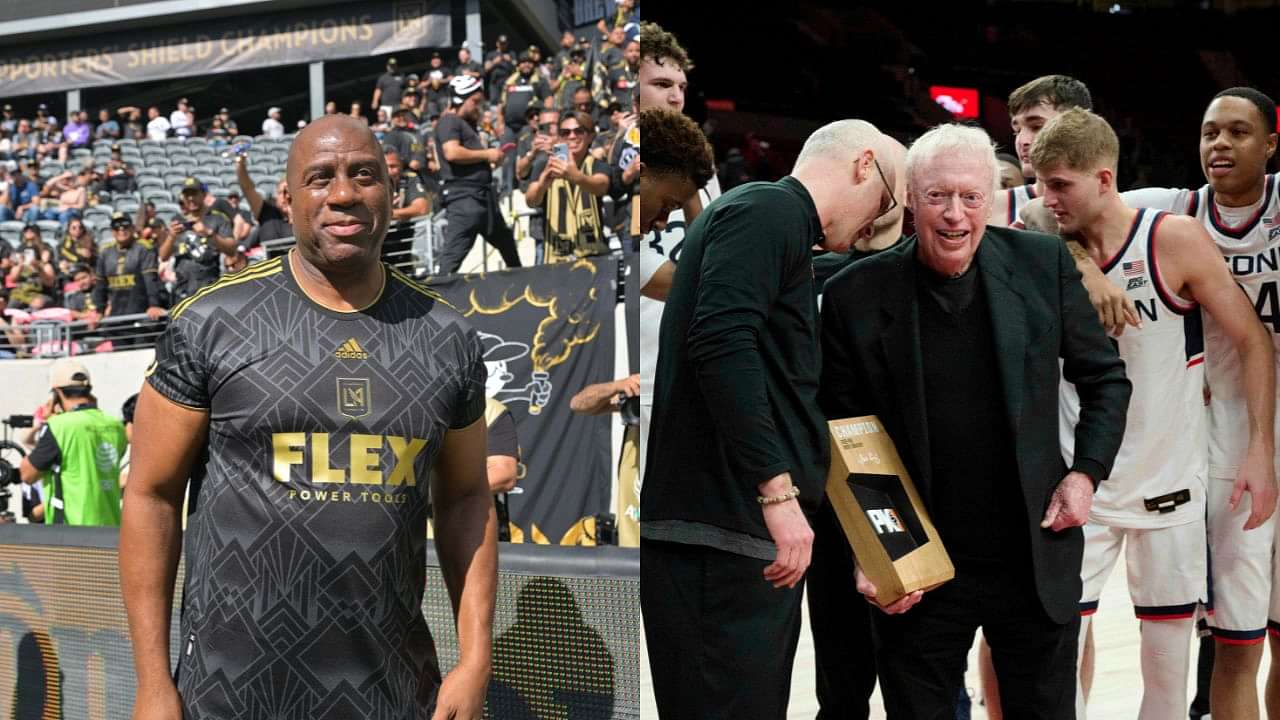 Magic Johnson has made an awful lot of money over the course of his life, whether it be during his time in the NBA or his life after retirement. After all, how else could a man have a gargantuan net worth of $620 million?
But of course, when you're a man with so many business deals with so many different entities, there are bound to be some you regret taking, and some that you regret not doing so. And for Magic, that came a long, long time before just the businessman phase of him took over.
This is the story of how he fumbled a massive, massive bag, with Nike.
Also Read: "I'm Not His Driver, I'm His Slave": $2.2 Billion Michael Jordan's Close Friend Described Working For The 6x Champ
Nike owner Phil Knight offered Magic Johnson stock in the company instead of money as part of a deal
Perhaps the term 'fumbled the bag' is a bit too harsh on this one. After all, who could've known Nike would be the entity it is today?
During Magic Johnson's time in the league, Nike was just barely a competitor, with Phil Knight had just about started the company at the time. So because of the situation, Knight couldn't offer the player the money other companies could.
So, he did him one better. He offered him stock in the company. But of course, Magic went elsewhere, taking a now famous deal with Converse.
He may have been happy at the time. But speaking on it recently, here is what he had to say on the matter, as per BossHunting.com.
"When I first came out of college, all the shoe companies came after me — and this guy, Phil Knight, who had just started Nike. All the other companies offered me money, but they couldn't offer me money because they just started.

"So he said, 'Stock. I'm going to give you a lot of stock.' I didn't know anything about stock. I'm from the inner city. We don't know about stocks.

"Boy, did I make a mistake… I'm still kicking myself. Every time I'm in a Nike Store, I get mad. I could have been making money off of everybody buying Nikes right now."
Experts estimate that Magic Johnson's deal with Nike would have come up to $5.3 billion today.
That right there has got to hurt. And something tells us it's a pain that will never quite go away.
How much was Magic Johnson's deal with Converse worth?
Ever since he stepped foot in the league, Magic Johnson was one of the biggest stars available. And so, he commanded a pretty big offer from whoever was looking to send one his way.
So, when he signed on with Converse, he did so for a then incredibly high $100,000.
Loading embed tweet https://twitter.com/TonoySengupta/status/1603633371866836992?ref_src=twsrc%5Etfw
But, suffice it to say, in the grand scheme of things, it will go down as a bit of an opportunity missed than anything else.
Also Read: "Jeanie Buss May Not Trade Russell Westbrook!": Buddy Hield and Myles Turner May Not Be Enough Anymore, Per NBA Insider
---